Officials Say Jawbone Discovered in River Likely Belongs to Prehistoric Man
Officials with the Marshall County Sheriff's Office in Iowa opened an investigation into a jawbone that was discovered by Marshall County Conservation staff in the Iowa River, and it was recently determined that it likely belonged to a prehistoric Native American man.
A press release issued by the sheriff's office in August said that deputies were called to an area in the river where a "possible human lower jawbone" was found intact by conservation staff out doing a biological and wildlife survey. Three other bones were also found.
"With the lack of rainfall over the last several weeks this has created low water levels in the Iowa River uncovering many river characteristics that are continually changing and normally under water," the release said.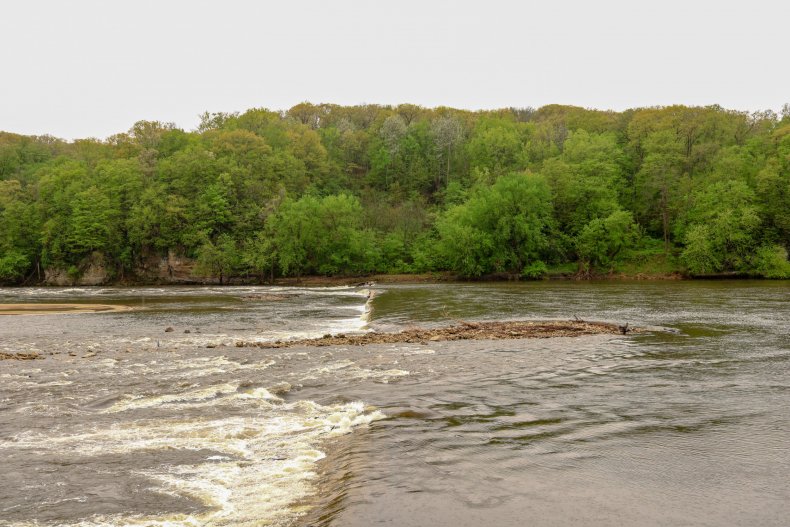 According to National Geographic, winds and floods carrying sand and soil may lead to artifacts getting buried.
"Sometimes catastrophes, like volcanic eruptions, speed up this burial process," the outlet said. "In some places where earth has been carved away—like in the Grand Canyon in the U.S. state of Arizona—you can actually see the layers of soil that have built up over the centuries, like layers of a cake."
Scientists surveying an area may come across accidental finds, which can lead to establishing a dig site.
Sheriff's office officials said there was no safety threat as they began their investigation into the remains. The jawbone was intact but deteriorated.
The Iowa State Medical Examiner's Office was responsible for testing the remains to confirm if they were human.
On Wednesday, the sheriff's office announced that they were informed by the state examiner's office that the jawbone was confirmed as human "with no modern medical significance." The other bones that were found were non-human.
"The mandible was transferred to the Office of the State Archaeologist, University of Iowa for further examination," the sheriff's office said. "The mandible was determined likely to belong to a prehistoric Native American, middle to older age male. Additional historical research is expected."
Lara Noldner, bioarchaeology director at the Office of the State Archeologist, told the Des Moines Register that the remains will be reported to the federal government, per the Native American Graves Protection and Repatriation Act.
This act, the National Park Service said, is meant to ensure a respectful way to return remains and sacred objects to Native American tribes.
Nodner told the outlet that all the tribes in the area will be notified of the remains to prepare for appropriate burial.
Newsweek reached out to Marshall County Sheriff's Office, Marshall County Conservation and the Office of the State Archeologist for comment.
Other remains have recently been uncovered.
Remains from a dinosaur were found in a man's backyard in Pombal, Portugal. A hiker came across human remains in a state forest in West Virginia.
Water levels have dropped in Lake Mead, which resulted in the discovery of several human bodies.