Officials Seized Nearly 20,000 Coconuts Filled With Liquid Cocaine
Officials in Colombia seized nearly 20,000 coconuts filled with liquid cocaine out of more than 500 bags intended to go to Italy.
The shipment was discovered by officials on Thursday at a port in Bolívar, Colombia in a container bound for Genoa, Italy. Anti-narcotics personnel found 19,780 coconuts inside 504 canvas bags, a press release issued Thursday stated.
"Upon inspection, it was established that the water in the tropical fruit had been exchanged for liquid cocaine," the Office of the Attorney General of Colombia said in a statement. "In this sense, the coconuts were transferred to a specialized laboratory to establish the exact amount of drug."
Liquid cocaine is powder cocaine that has been dissolved in various solvents that allow it to become liquid and later converted back into a powder, Vice reported. Liquid cocaine is more difficult to detect than powder cocaine and is commonly ingested.
The investigation was carried out in collaboration with the Attorney General's Office's Specialized Directorate against Drug Trafficking and the National Police's Anti-Narcotics Directorate.
Officials are investigating the party responsible for loading the nearly 20,000 coconuts. Investigators said they have contacted the Italian authorities and are working to establish who was set to receive the shipment.
The amount of cocaine inside the coconuts has not been released but the coconuts have been sent off to a lab for further analysis.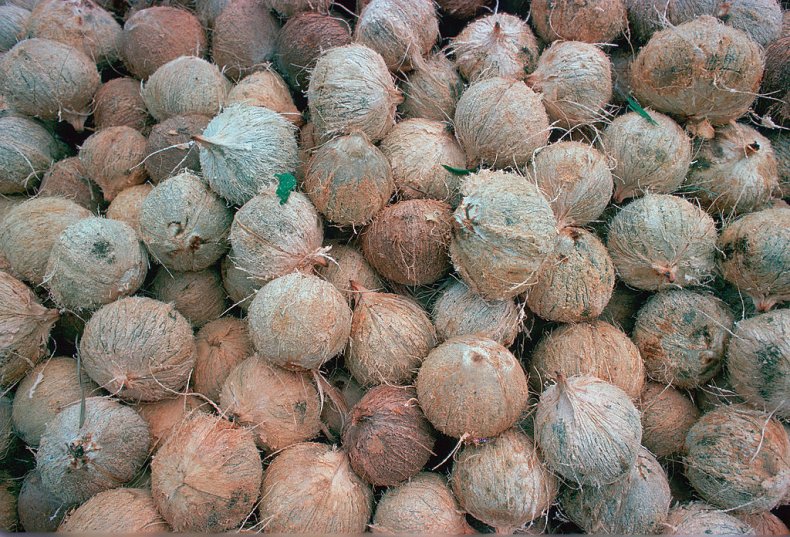 Dissolving powder cocaine is a common technique for drug smugglers since it can be disguised inside various items. For smugglers ingesting liquid cocaine, numerous methods such as small packets or even condoms are popular.
Other methods of smuggling liquid cocaine include injecting it into various fruits. In 2016, authorities at a Hong Kong airport seized nearly 100 dragon fruits injected with more than $1 million worth of liquid cocaine.
The liquid cocaine was discovered after customs officers at the Hong Kong International Airport checked about 2,000 dragon fruits that arrived in a shipment from Colombia, South China Post reported.
After more than four hours and 160 boxes, the group of customs officers successfully discovered the 98 hollowed-out dragon fruits.
Another common technique for smuggling liquid cocaine is to fill various objects or bottles. In 2019, Authorities at George Bush Intercontinental Airport in Houston seized approximately 35 pounds worth of liquid cocaine inside 24 full-sized shampoo containers.
The contents inside the shampoo bottles were valued at over $400,000, according to a release from U.S. Customs and Border Protection (CBP). The contents were discovered inside a 26-year-old man's checked luggage after a baggage check was conducted.
"Our officers are the first line of defense at our ports of entry, so they are trained in the various smuggling methods people use to bring illicit goods into the U.S.," Shawn Polley, CBP Port Director, said. "We take every opportunity to intercept those illicit goods before they enter our communities, in this case it was 35 pounds of liquid cocaine."