Offset Begs Late Rapper Takeoff to 'Come Back' Nearly 3 Months After Death
Rapper Offset penned a heartfelt message to his cousin and Migos bandmate, Takeoff, who was killed in a shooting in 2022.
Takeoff was with third Migos member, Quavo, at a private party at a bowling alley in Houston, Texas, on November 1, 2022, when Takeoff was shot and killed at age 28.
Offset took to Twitter this week calling for Takeoff—whose given name was Kirsnick Khari Ball— to "come back."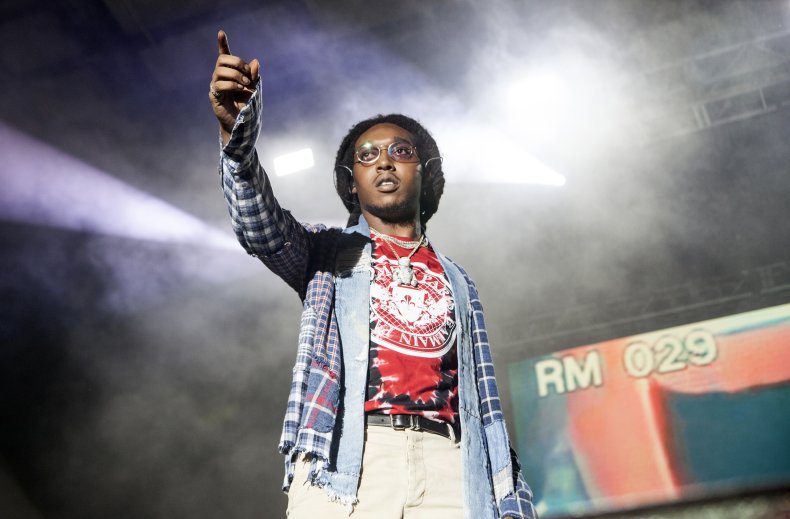 "Come back bra !" Offset tweeted alongside an emoji of a rocket, which symbolizes Takeoff's name and the name of his last solo album, The Last Rocket.
It's not the first public tribute from one of the Migos members, after Quavo released a new song at the start of year dedicated to Takeoff.
In the emotional song, Quavo admits "days ain't the same without you. I don't know if I'm the same without you."
He also rapped about how milestones such as birthdays and Christmases would not be the same without his nephew around.
"I wish I had a time machine, just so you can take a ride with me, I miss just how you smile at me," Quavo raps before adding, "Wrap my arms around and hold you tight, so you can never say goodbye to me."
Houston law enforcement arrested Patrick Xavier Clark, 33, and charged him with murder in December and he was released on a $1 million bond earlier in January as he awaits trial. His attorney, Letitia Quinones, said Clark has a "valid and meritorious claim for self-defense."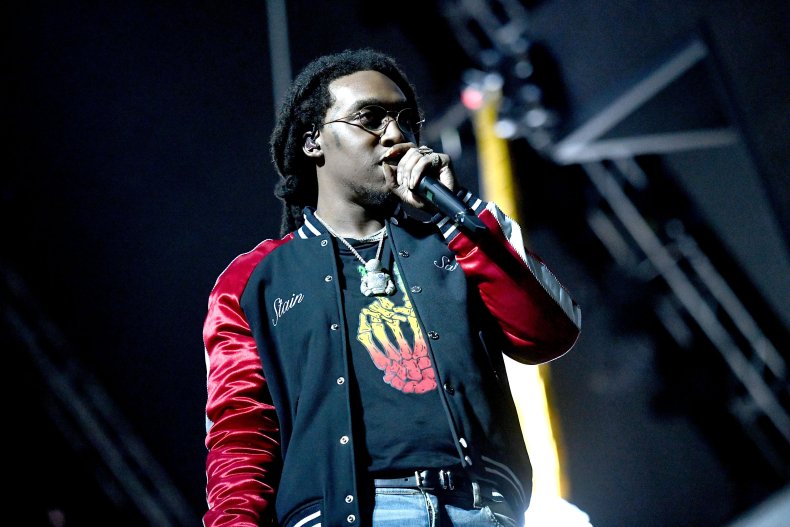 Police also arrested and charged Cameron Joshua, 22, for felony possession of a weapon.
In a press conference in December 2022, police said Takeoff had been an "innocent bystander" at a high-stakes dice game when tempers started to flare. Houston Mayor Sylvester Turner also spoke, calling the shooting "unfortunate."
"I want to express my regret and disappointment that this was the case of another young man taking the life of another young man for no reason. The gun violence everywhere—not just in the city of Houston—has to stop," he said. "People are dying for literally no reason and people are reaching for a deadly firearm to settle, sometimes, a minor disagreement. But pulling a firearm can have deadly consequences that you cannot undo."
Thousands of mourners attended Takeoff's funeral at the State Farm Arena in Atlanta, Georgia. He grew up in Lawrenceville, about 30 miles west of Atlanta.
Migos began performing together in 2008 in Georgia under the name of Polo Club, but changed their name to Migos in 2011.
Takeoff was part of the group alongside his uncle Quavo—Quavious Keyate Marshall—and cousin Offset—Kiari Kendrell Cephus.
Their song "Versace" was a big hit in 2013, but they really hit the big time when Donald Glover named them in his 2017 Golden Globes speech.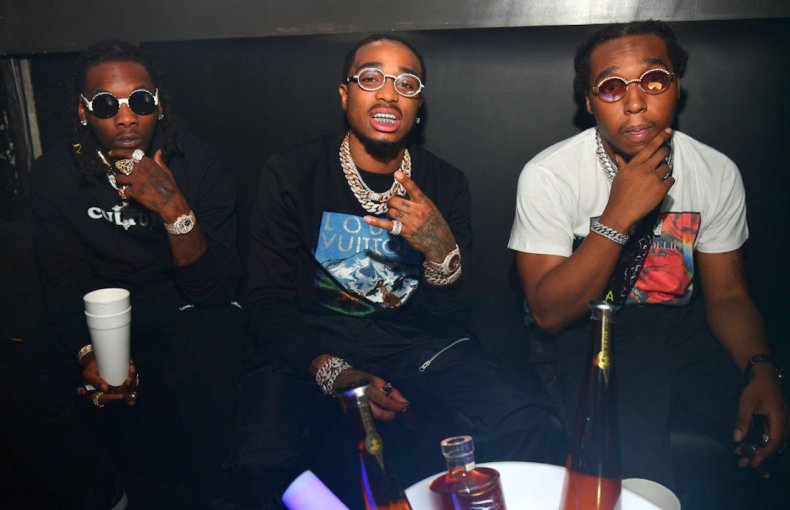 Glover was accepting the award for best comedy series for his FX show Atlanta when he said Migos was "The Beatles of this generation."
"I'd like to thank the Migos—not for being on the show, but for making 'Bad and Boujee,'" Glover said in his acceptance speech.
He later added backstage: "I think that they're the Beatles of this generation and they don't get a lot of respect, I think, outside of Atlanta.
"Not that they don't get respect, but there's a generation, sort of like the YouTube generation that I kind of came up with. There's a generation of kids that are growing up on something that's completely separate from a whole group of people."