An Offsite Tour of Coney Island, Through Time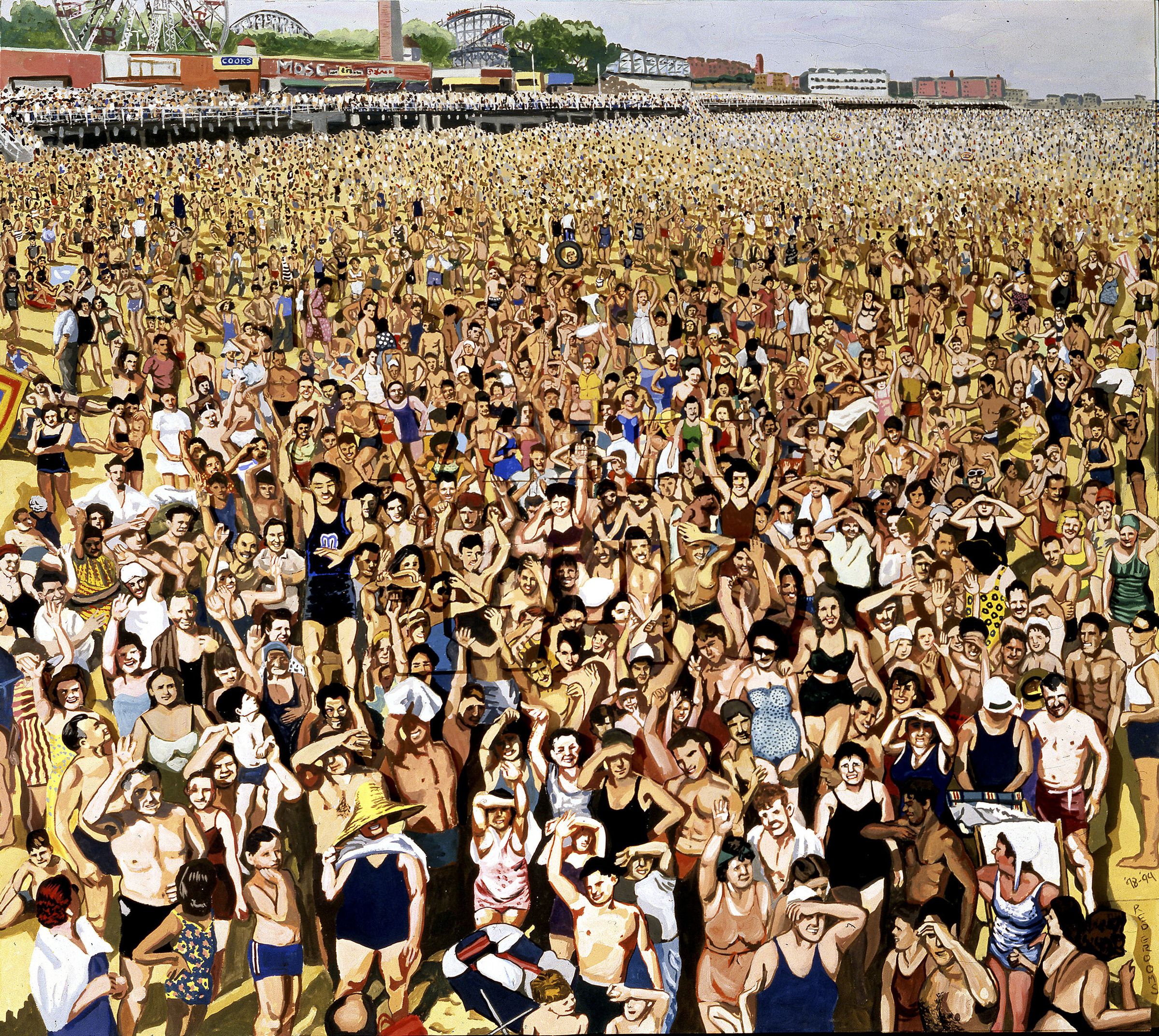 I'm embarrassed to admit I've never been to Coney Island. I spent eight years of my childhood nearby in northern New Jersey, and after even more years on another continent and on this country's other coast, I moved to New York City two years ago. And yet, I've still never paid Coney a proper visit. Not physically at least. I've had encounters via Annie Hall and when I reread Sophie's Choice this fall. Most recently, I visited Coney Island, in spirit, in the fifth floor galleries of the Brooklyn Museum, where a trio of exhibits devoted to the iconic destination opened on November 20.
Coney Island: Visions of an American Dreamland, 1861–2008, originally curated by Robin Jaffee Frank for the Wadsworth Atheneum Museum of Art in Hartford, Connecticut, is making a stop in the borough that inspired it. The Brooklyn Museum also put up two smaller exhibitions in tandem with the main show: Forever Coney: Photographs from the Brooklyn Museum Collection, which features a selection of 42 images and invites patrons to submit their own on social media with the hashtag #ForeverConey; and Stephen Powers: Coney Island Is Still Dreamland (To a Seagull), a site-specific installation by an artist who has embraced the Coney Island tradition of sign painting.
The day before Visions of an American Dreamland opened, Assistant Curator of American Art Connie Choi, who organized the show's Brooklyn iteration, walked me through its five sections. Each is named after a contemporary quotation, from "Down at Coney Isle," inspired by Charles Fremont's 19th-century song, to "A Coney Island of the Mind," taken from Lawrence Ferlinghetti's book of avant-garde beat poetry by the same name, and "Requiem for a Dream," a nod to Darren Aronofsky's 2000 film, an excerpt of which is screened in the final room of the show.
"Each section reflects the mood of the nation at that particular time," Choi says. "Thinking about how Coney Island really reflects America is something that you really see running through the exhibition all the way through to 2008."
"Down at Coney Isle"
The first snapshot that comes to mind when one hears the phrase "Coney Island" is likely of roller coasters, bright lights and sideshows, all of which come in time. But the exhibition begins earlier, just as amusements start to take over, when Coney "isle" was still a mostly serene strip of beach, a place to get away from troubles and war. The section's dates, 1861-1894, coincide with the start of the Civil War and continue into the Gilded Age.
From the beginning, visitors to Coney Island came from different classes, races and backgrounds. "Coney Island has always attracted people and has always attracted artists because it has always been accepting," says Choi. It was also known already in this period as "Sodom by the Sea," a site of prostitution, gambling and other unsavory activities. She points out a tiny painting—William Merritt Chase's roughly 8-by-12-inch "Landscape, Near Coney Island" from 1886—where the outline of an elephant is barely visible on the horizon. Chase has surreptitiously captured the newly built Elephant Hotel, which housed a cigar shop in one of the legs and rooms in the body and head that could be rented by the hour.
"You find that throughout a lot of the works as well—the ups and downs, the highs and lows, the idea that Coney Island is very cyclical," Choi adds. It "has always had periods where it's fallen down, where it's gotten a little grungy and scary, [but] it always comes back."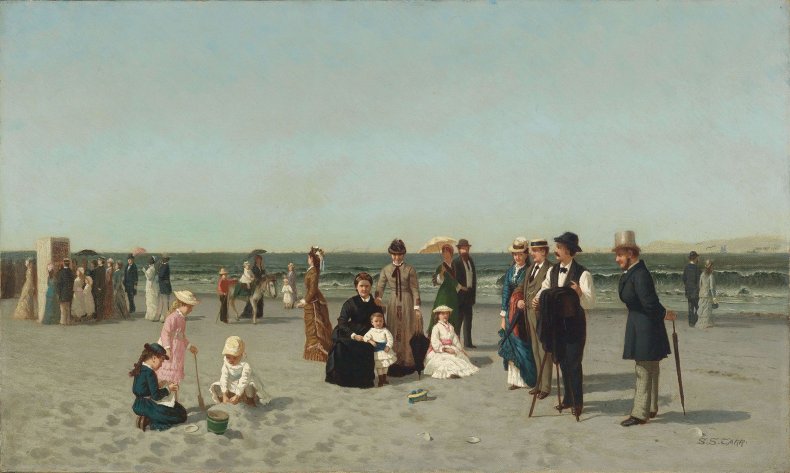 "The World's Greatest Playground"
The images in the next room are more recognizably inspired by Coney Island, which around the turn of the century became known as "The World's Greatest Playground." This second section of the exhibit covers the years 1895, when the first enclosed amusement park opened, through the collapse of the stock market in 1929. One of the first things visitors see is Steeplechase Park's "Funny Face," which Choi calls a maniacal grin with hair that comes up into two slightly devilish points.
One painting, a huge canvas by Joseph Stella, was one of several works from from Yale University's collection that inspired Robin Jaffee Frank to explore Coney Island and its influence on artists. In "Battle of Lights, Coney Island, Mardi Gras," from 1913-1914, Stella, an Italian immigrant, uses European modernist techniques to depict "the greatest American modernist spectacle at the time," Choi says. "Immigrant artists were attracted to Coney Island because it was the melting pot, it was what they expected America to be."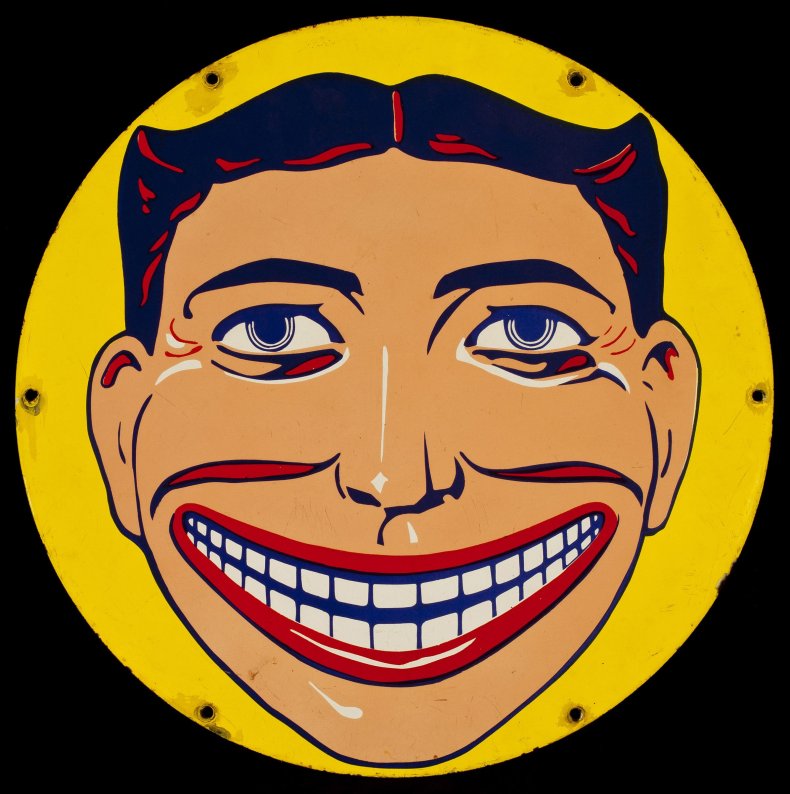 "The Nickel Empire"
During the years of the Great Depression, Coney Island became known as "the Paradise for the Proletariat," "the Poor Man's Riviera" and "the Nickel Empire," according to the label marking the start of the exhibition's third section. It was no longer the same playground it was during the first decades of the century, but it still attracted masses. Subway rides at the time cost a nickel, as did a Nathan's hot dog, Choi says, and many of the amusements were either free of charge or cheap.
This rocky financial period saw the sideshow rise in popularity, reflected in the exhibit by three large painted banners advertising Shackles the Great, Quito the Human Octopus and Jeanie the Living Half Girl, as well as several paintings and a clip from Tod Browning's 1932 film Freaks.
Six of Reginald Marsh's paintings appear in this section of the exhibition, which, though colorful, also contains shadows and dark edges. In "Pip and Flip," he includes a portrait of a sideshow performer contrasted with the exoticized, sexualized version of the same woman that appeared on the sideshow's banner depicted in the same painting, and he pays careful attention to the diversity of expression and body language in the crowds and throngs.
One of the museum guards remembered the ride depicted in Marsh's "George C. Tilyou's Steeplechase Park." He told Choi he remembered going on the Human Roulette as a kid, and that it was one ride where men and women were prohibited from going on together.
"That's the fun thing about this exhibition, too, especially being in Brooklyn," Choi says. "So many people are going to come with their own memories and be able to stand in front of a Reginald Marsh painting or be able to stand in front of a Walker Evans photograph and say, 'I remember that,' or 'I remember when.'"
Charles Denson, a Coney Island native who is now the executive director of the Coney Island History Project, has been collecting oral histories about the landmark for years. "For a lot of people it's a visceral experience," he says of the memories of going with family, going on a first date or later taking their children. "The stories are very emotional. Whether you love it or hate it, no one's neutral about Coney Island."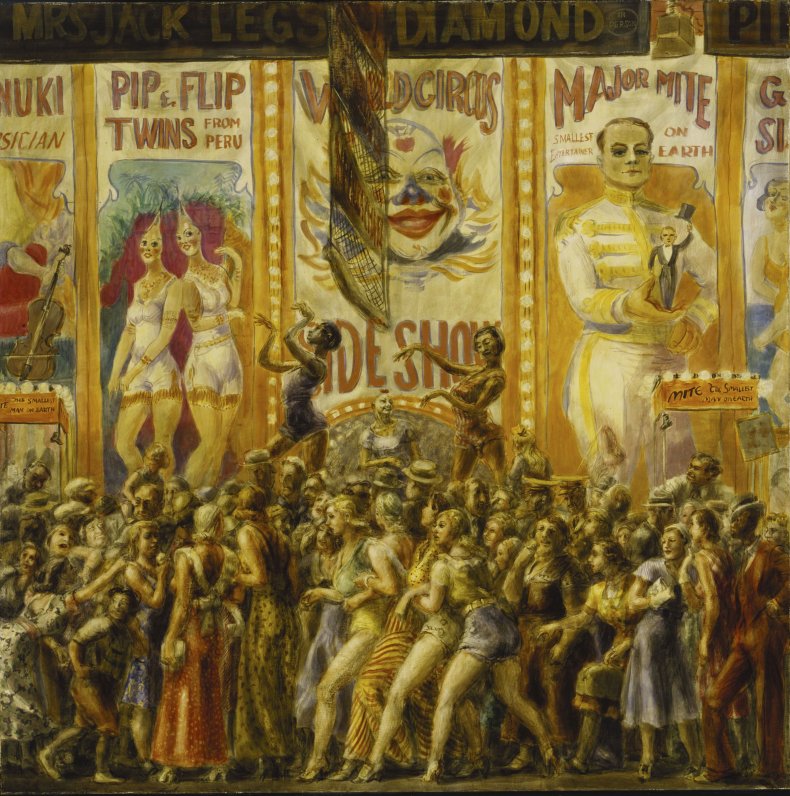 "A Coney Island of the Mind"
Between 1940 and 1961, the years covered by the exhibition's fourth section, the United States became involved in World War II and saw the start of the Cold War. The photographs and other works on display are often tangled with foreign affairs. Another Marsh painting, "World in Wax," for example, includes someone holding a newspaper whose headline screams about an attempt on Hitler's life and a sign reading "Jap Atrocities."
Shooting galleries became popular with soldiers on leave and those about to ship off, and in May 1942, Coney Island shut down for a month to serve as training grounds for U.S. troops, Choi says. A 1943 painting by Japanese American artist Yasuo Kuniyoshi titled "My Man" shows a blond sailor who appears to be saying goodbye to his Japanese girlfriend. They stand entwined in front of a railing. Even at a time when Kuniyoshi was considered an "enemy alien," he shows Coney Island as a place where interracial relationships were possible.
Some of the post-war works reflect a disillusionment, in contrast to the optimism espoused by artists inspired by Coney in earlier years. Bruce Davidson, a photographer who became known for documenting the Civil Rights movement, followed and photographed the members of the Jokers, a Brooklyn gang. Davidson was one of several artists who was "looking at Coney Island as a place in this case that reflects the downs."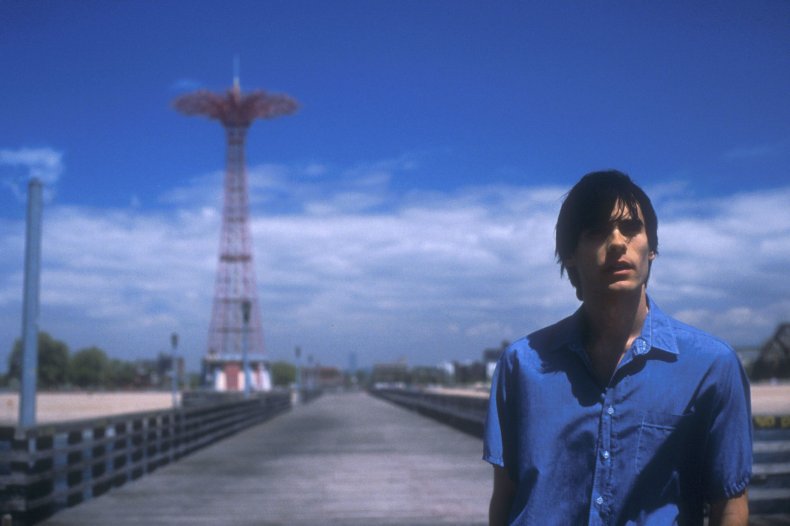 "Requiem for a Dream"
The last of the big amusement parks, Astroland, opened in 1962 and operated until 2008, providing the dates for the fifth and final section of Visions of an American Dreamland. Each bookend also has added significance, Choi explains, because of John F. Kennedy's speech in 1962 encouraging Americans to support the space race and the election of the country's first black president in 2008.
A 2005 work by the artist Red Grooms titled "The Funny Place" echoes the idea that Coney Island welcomes and thrives on diversity. Choi points out homosexual couples, a man painted green (Choi calls him "the Hulk"), sunbathers, sailors and more. "Above them all you have the Steeplechase Funny Face, the grin that's kind of encouraging this rowdy behavior but also rising like the sun," she says.
That diversity and energy continues to draw people like Mike Monello, chief creative officer at the marketing company Campfire and a Coney enthusiast who has devoured books about the landmark. "In summertime there's no better place to people watch," he says. "The rides are in constant motion, people are in constant motion," he adds. "It feels like everyone is there from every borough, all intermingled in this crazy environment."
After nearly two hours walking through works of art that conjure Coney Island, past and present, and hearing people like Choi, Denson and Monello speak about it, I know I won't be able to let another summer go by without seeing it for myself.