Oh, Canada! Toronto Raptors Beat Golden State Warriors for NBA Title
All of Canada might celebrate well into Friday morning as the Toronto Raptors pulled off feats unseen in NBA history when they defeated the Golden State Warriors on Thursday night. They became the first team to win three NBA Finals games on the road, and they became the first team based outside the United States to win it. The below graph from Statista shows just how rapid Toronto's recent rise has been.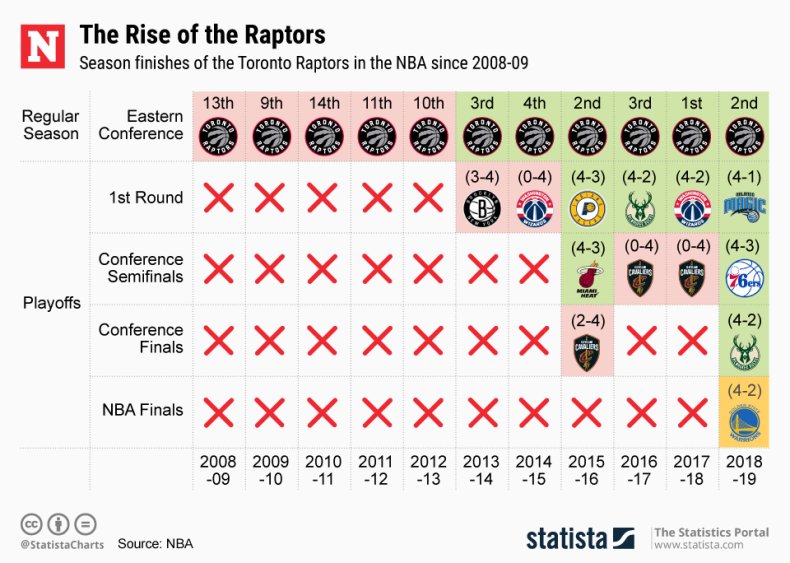 The Toronto Raptors defeated the Golden State Warriors, 114-110, on Thursday in Oakland, California to win the NBA title in Game 6 of the NBA Finals on Thursday.
Toronto's Kawhi Leonard, who was named the NBA Finals MVP, sank two free throws late in the game to sink the Warriors, who were seeking their third-consecutive NBA title.
The Warriors appeared to be on track for their third-straight title after LeBron James left the Cleveland Cavaliers and signed with the Los Angeles Lakers, who failed to make the playoffs. But when Warriors' guard Kevin Durant, the two-time defending Finals MVP who went down with an injury during the playoffs and again during Game 5 of the Finals, the Warriors needed to rely on their other stars.
The tight game on Thursday came down to the Raptors making shots down the stretch. And not since Joe Carter's home run to clinch the 1993 World Series for the Blue Jays have Toronto fans been so exuberant.
The Raptors, who won Game 6 on the Warriors' home court of Oracle Arena, got 20 points each from four different players to seal the championship.