Oh Hell No: Ice Cube Abandons Jack Black Film Over Vaccine, Sparks a Sad Friday For Some
Twitter is reacting after rapper Ice Cube abandoned Jack Black's new movie, "Oh Hell No" due to his refusal to get the COVID-19 vaccine.
On Friday, public figures and fans of Ice Cube took to Twitter to voice their opinion regarding the businessman's decision to ditch the set altogether because of his rejection of the vaccine.
MSNBC Medical Contributor @EbonyJHilton_MD said, "Let me just remind everyone, including @icecube, that this #Pandemic is not over. We are STILL burying 1,300 people a day. That's 1 person DYING every 66 secs. They include the young, otherwise healthy. Children at home. It does not have to be this way. #GetVaccinated."
Bodybuilding superstar @MarcLobliner said, "Wonder why @icecube won't get the useless Covid vaccine? 1) He's real and not a sellout b****. 2) Remember Tuskegee? The government has a bad history of experimenting on certain cultures. The vax-Nazis are racist b*****s."
Meanwhile, Twitter user @JoeyBla09768382 said, "Oh well, u don't wanna get Vaccinated than you shouldn't be around people on a set and you damn sure shouldn't be making $9M. That was my dude when I was a teen. Listening to his music and The Friday films. I guess it's true what they say, never meet your heroes. What a disappointment.
While another Twitter user @thatguyshaq1 said, "When you're wealthy, what's 9M to risking your health and well-being taking a mostly unnecessary vaccine. Majority of the population would be fine from COVID."
In June 2021, media outlet Deadline reported that both actors were starring in the Kitao Sakurai-directed Sony feature film, which centers around Black's character falling in love with the mother of Ice Cube's character. But, according to Hollywood Reporter, Ice Cube turned down a $9 million payday after refusing the COVID-19 vaccination.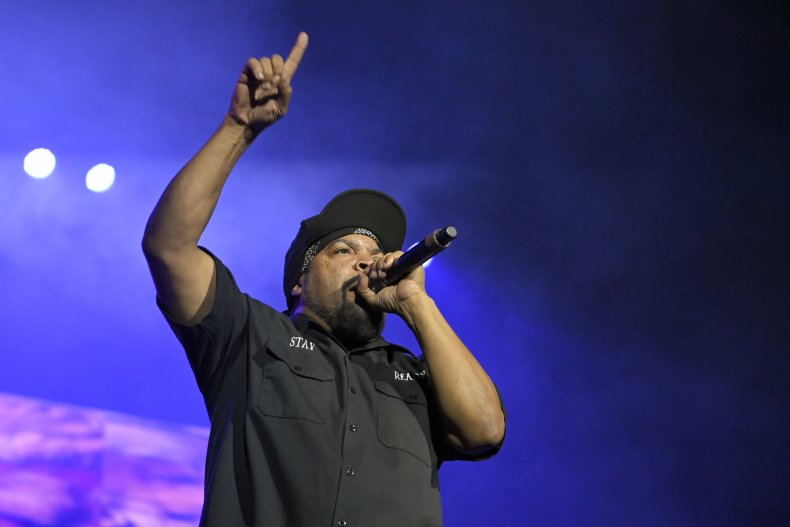 Sony Pictures had no comment, while Ice Cube's agency WME and a personal representative also declined comment.
Even though Ice Cube hasn't been too vocal about the COVID-19 vaccine, he did lend his voice during the 2020 election where he was urging voters to vet out both former President Donald Trump and current President Joe Biden rather than solely voting for them on a whim.
In an October 2020 interview, Ice Cube stated that he wasn't siding with either candidate. "I'm not on team blue or team red," he said. "[Racial inequity is] not a Democrat problem, it's not for them to solve. It's not for the Republicans to solve. It's for both of them to solve."
Newsweek has reached out to Ice Cube's team for further comment.