Alarming footage of a pair of sharks swimming close to the shoreline while several nearby bathers look on has been posted online.
The breathtaking video was first shared to Tiktok by Sandra Hayes, a mobile hairdresser who filmed the sharks in Keem Bay on Achill Island in County Mayo, Ireland.
Posting the clip online using the handle KMM Hairstyles, she wrote: "How amazing was this."
The fins of two sharks can be seen moving through the water just feet away from several awestruck adults and children swimming nearby.
A number of beachgoers can also be seen watching from the shore as the two sharks move steadily across the bay's shallow waters.
While most of those featured in the video seem more shocked than scared, audible shouts of "oh my god" can be heard several times on the clip.
One of the two fins seen in the clip is considerably larger than the other, suggesting it may have been an adult shark swimming along with its infant.
The two sharks have been identified as giant basking sharks, with sightings proving relatively common off the coast of Ireland.
Basking sharks are capable of growing up to 26ft in length, and represent the second-largest living shark or fish in the world, behind the whale shark.
Despite their intimidating size, sharks of this kind pose little danger to humans as they get by on a diet of microscopic plankton.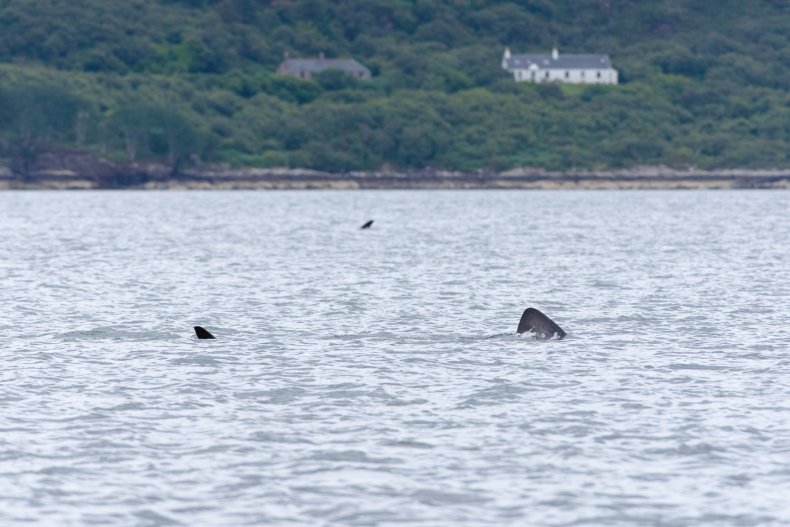 Despite this, many commenting on Tiktok still expressed concern about the sighting.
As g7_9 put it: "People saying they are harmless! With shark in the name I'd find it hard to stay in the water myself."
The original poster, Hayes, appeared to agree, replying that there are "some very brave people out there."
Tiasecretpriv wrote "I'd be gone the second I saw them and people still in the water."
Evankelly134 also commented: "Nah us Irish play too much...we go in to have a nose at the shark next thing you know we in Jaws."
Plenty of people had Steven Spielberg's classic shark movie on their minds too.
Melissa79mcdonnel said: "Jaws music in the background would have been good."
"Oh let me tell you it was playing very loudly in all our heads," Hayes replied.
Others like dianecashman, meanwhile, saw the sighting as something to savor.
"What a beautiful experience so many people together got to share," she wrote.
"I love there is practically silence apart from the OMGs in amazement."
Another two basking sharks were previously spotted off the coast of Keem Beach on Achill Island back on July 15.
In a video uploaded to Twitter by John Roche, two large fins can be seen gliding through the waters, while onlookers shout "over here" to nearby family members as the sharks go by.
Basking sharks are most commonly seen off the coast of Ireland from late spring to late summer, when the waters are considerably warmer.
Newsweek has reached out to Sandra Hayes for comment.