Ohio Bans Hydroxychloroquine For Coronavirus Treatment as State Records One of Highest Days for New Cases
Ohio's Board of Pharmacy has banned the use of the anti-malarial drug hydroxychloroquine for the treatment or prevention of COVID-19.
A new regulation came into effect on Thursday that prohibits pharmacies, clinics and other medical institutions from dispensing or selling hydroxychloroquine, and the related drug chloroquine, for these purposes, although there are certain exceptions, for example, if the prescription is for a pet or the board's director approves a specific case.
Furthermore, patients enrolled in any approved clinical trials evaluating the drug for the treatment of prevention of COVID-19 will also still be able to access the medication if they have the correct documentation.
All previous approvals for the use of hydroxychloroquine or chloroquine "shall be deemed void," according to the Board's regulation.
Hydroxychloroquine has been touted as a treatment and preventative for COVID-19 by President Donald Trump, as well as other others, such as Brazilian President Jair Bolsonaro.
But despite some early promise in the initial stages of the pandemic, emerging scientific evidence suggests the drug, which is approved for the treatment of malaria and other conditions like rheumatoid arthritis, is not effective against COVID-19 and could even cause serious side effects, including heart rhythm problems.
In fact, the U.S. Food and Drug Administration (FDA) revoked its emergency use authorization (EUA) of hydroxychloroquine and chloroquine for the treatment of COVID-19 in June. The agency based this decision, in part, on recent results from a large, randomized clinical trial, the gold standard of drug testing, which found no benefit for decreasing the likelihood of death or speeding up recovery.
The FDA said chloroquine and hydroxychloroquine "are unlikely to be effective in treating COVID-19 for the authorized uses in the EUA," which was the treatment of certain hospitalized patients.
"Additionally, in light of ongoing serious cardiac adverse events and other potential serious side effects, the known and potential benefits of chloroquine and hydroxychloroquine no longer outweigh the known and potential risks for the authorized use," the FDA said.
Several high quality studies, including those commissioned by the World Health Organization and the U.S. National Institutes of Health, have found no evidence to suggest that Hydroxychloroquine, when used with or without the antibiotic azithromycin, helps to fight the virus.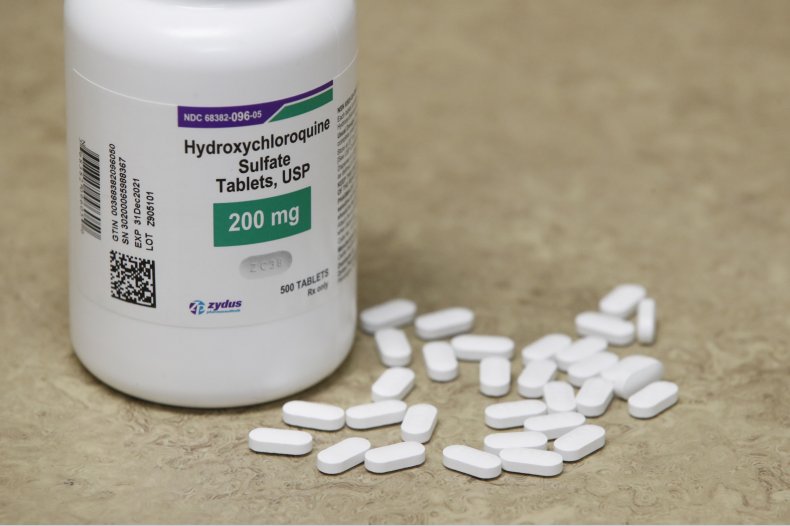 "We know that every single good study—and by good study I mean randomized control study in which the data are firm and believable—has shown that hydroxychloroquine is not effective in the treatment of COVID-19," Dr. Anthony Fauci, the U.S. government's top infectious disease specialist, told the BBC on Wednesday.
Nevertheless, some researchers think there is a good case for continuing to evaluate whether or not hydroxychloroquine is effective in preventing COVID-19 infection for those who are likely to be exposed.
"You have a much better chance of preventing something with a weak drug than you have of curing a fully established infection," Nicholas White of Mahidol University in Bangkok, who is currently studying hydroxychloroquine for this purpose, told Science magazine.
The State of Ohio's Board of Pharmacy director of policy and communications, Cameron McNamee, said analysis of the available scientific evidence informed the decision to prohibit the use of hydroxychloroquine for COVID-19 treatment in the state, and was not related to the President's continued endorsement of the drug.
"Basically, it's a patient safety issue. We're looking at the best science to determine what's best for the patients of Ohio," McNamee told The Columbus Dispatch. "The long and short of it is, we want people to focus on what works, such as social distancing and mask use. We ultimately want to make sure people are being safe and not exposing themselves to drugs that have shown not to be effective in treating COVID-19."
Medical institutions in the state who are caught selling or dispensing hydroxychloroquine for this purpose could face fines or have their licenses suspended depending on the severity of the case, according to McNamee.
Ohio now joins other states such as New York, Nevada and Idaho that have placed restrictions on the dispensing of hydroxychloroquine and chloroquine, according to the National Academy for State Health Policy.
On Wednesday, the Ohio Department of Health reported 1,396 new daily COVID-19 cases, one of the highest figures since the pandemic began, and 40 new deaths. Furthermore, the state recorded 128 new coronavirus hospitalizations and 25 ICU admissions.
Nevertheless, the number of new cases in Ohio appears to be leveling off, unlike several other states across the country where the figure is still increasing. In total, the state has recorded more than 87,800 coronavirus cases and over 3,400 deaths.
Ohio Bans Hydroxychloroquine For Coronavirus Treatment as State Records One of Highest Days for New Cases | U.S.