Rep. Tim Ryan (D-Ohio) walked out before President Donald Trump could complete his State of the Union address on Tuesday night, outraged by the "fake" narrative he believes the president was presenting.
Ryan attended the address but said he had to leave before Trump was finished in a Twitter post. He compared Trump's speech to the theatrics presented in professional wrestling. Several prominent Democrats refused to attend the event, which was given before the president's impeachment trial in the Senate had concluded.
"I just walked out of the #StateOfTheUnion. I've had enough," Ryan tweeted. "It's like watching professional wrestling. It's all fake."
Before leaving the speech, the Ohio congressman criticized Trump crediting himself for a "great" economy, despite difficulties faced by workers in his home state.
"The President spent the first half of his #SOTU speech talking about how great the economy is for American workers," tweeted Ryan. "But if that's true, why are so many Ohioans working 2 or 3 jobs and struggling to make ends meet?"
Ryan was not the only member of Congress who apparently had trouble stomaching Trump's rhetoric. Rep. Bill Pascrell (D-N.J.) and Rep. Rashida Tlaib (D-Mich) also left the speech early.
"I walked out of that speech," Tlaib tweeted. "The lies, the bigotry, and the shameless bragging about taking away food stamps that people depend on to live—it was all beneath the dignity of the office he occupies. Shame on this forever impeached president."
The speech was delivered at the House of Representatives, as is traditional. Democrats had voted to impeach Trump in the same room on December 18. It is expected that he will be acquitted by the Senate on Wednesday.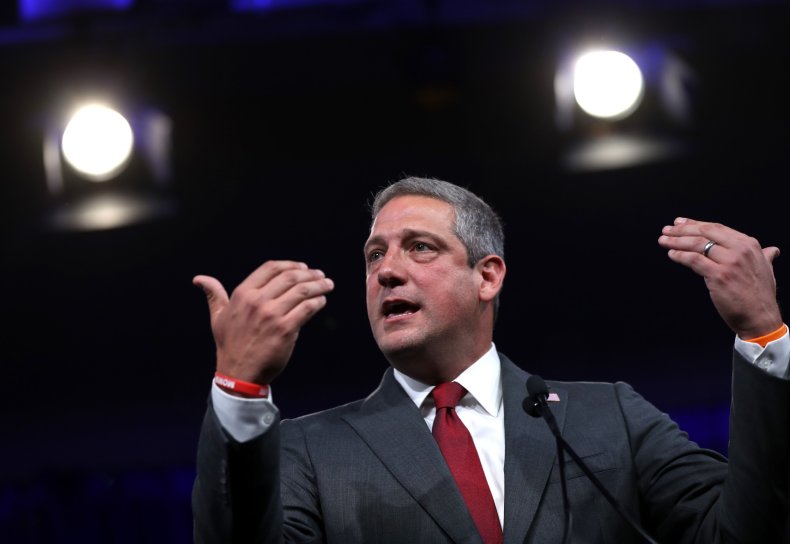 Trump's speech was given in a tense atmosphere to a sharply divided audience, as was expected. Republicans cheered and applauded the president, chanting "four more years," while Democrats sat silently or quietly expressed their disapproval.
House Speaker Nancy Pelosi extended her hand to the president before the speech began, but he appeared to snub her offering. Sitting directly behind Trump, she could be seen shaking her head in disagreement at several points during the speech.
Rep. Alexandria Ocasio-Cortez (D-NY) had announced earlier that she would not be attending the address, saying she refused to "use my presence at a state ceremony to normalize Trump's lawless conduct & subversion of the Constitution" in a Twitter post. Several other Democratic House members also refused to take part, upset over what they see as the impeached president's belief that he is above the law.
Ryan was one of many Democrats to characterize the GOP handling of the impeachment trial as a "cover up." He has had ambitions to become president himself, having run an unsuccessful race for the Democratic nomination before dropping out in October 2019 after consistently polling below 1 percent nationally.