Author of Ohio's New Strict Abortion Bill Says Trump Supreme Court Will Welcome It With 'Open Arms'
The Ohio Senate approved a bill that would ban abortion after the detection of a fetal heartbeat and the legislation's author says it won't be long until the legislation is welcomed by the Supreme Court "with open arms."
The legislation, dubbed the heartbeat bill, was approved by state lawmakers this week. If passed by Gov. John Kasich, it would make abortions illegal from the instant that a heartbeat is detected in a fetus, which could be as early as six weeks into a pregnancy.
The bill's author, Janet Porter, is the founder of Faith 2 Action. The organization is one of the largest pro-life networks in the country. She first introduced the heartbeat bill in 2011, an effort she says "inspired" Arkansas and North Dakota to pass similar legislation that is "now the most protective pro-life laws in the nation."
Porter told NBC News this week that the bill is "one we believe the Supreme Court is ready for."
Porter's heartbeat bill is one of two abortion restrictions that has been sent to Kasich. The other piece of legislation bans dilation and evacuation abortions, one of the most common ways to terminate a pregnancy.
Kasich, who has hinted that he might challenge Donald Trump in the Republican primary in the 2020 election, has vetoed similar legislation in the past. But Porter said that with a more conservative Supreme Court bench following Trump's appointment of two new justices, the governor should feel better about the bill's odds.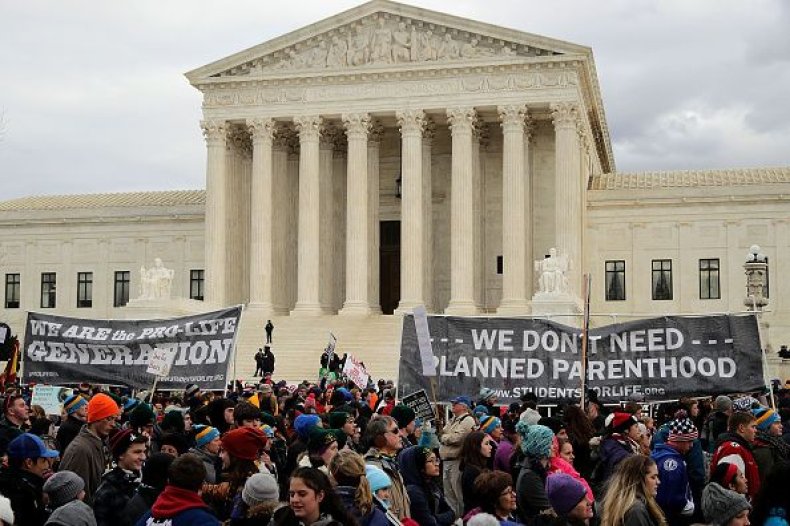 "My hope is that Gov. Kasich returns to his pro-life roots and keeps hearts beating," Porter said. "He can't claim that this is unconstitutional with a court in place ready to welcome it."
Trump's latest Supreme Court appointment, Brett Kavanaugh, sparked a national debate over reproductive rights and the future of Roe v. Wade. During his confirmation process, the judge repeatedly claimed the landmark decision was "settled law" but wouldn't shed light on his political views of abortion rights.
Porter said that the bill is "crafted in such a way that it actually doesn't have to bring down" Roe v. Wade. Instead, it changes the way that the Supreme Court defines life in fetuses.
But even with Trump justices like Kavanaugh and Neil Gorsuch sitting on the bench, it is unlikely that the bill would hold up if taken to the the Supreme Court. And social justice groups like the American Civil Liberties Union are threatening to challenge the bill's constitutionality if it were passed by Kasich.