Ohio Cop Fatally Shot Outside Home Depot in Line of Duty on July Fourth
A police officer from Toledo, Ohio was fatally shot in the line of duty early on Saturday morning outside a Home Depot.
Officer Anthony Dia was shot in the chest and killed by an unknown suspect at a Home Depot parking lot on the 1000 block of Alexis Road this morning. He was out on patrol in West Toledo when he responded to a 911 call of an intoxicated person shortly after midnight on Friday.
The call to Ohio dispatch alerted authorities to an intoxicated suspect walking around the Depot's parking lot. Dia, the first officer to respond, approached the allegedly intoxicated suspect when he arrived at the scene.
According toABC6, the 57-year-old suspect walked away from Dia. Witnesses said the shooter then "turned and fired a round from the handgun."
The suspect then fled to the woods near the Depot's parking lot. Canines and a drone were sent into the wooded area to chase after the suspect. At approximately 3:15 in the morning, officers found the suspect dead.
The suspect, whose identity has not yet been released, reportedly died from a gunshot injury to the head.
Chief of Police George Kral and Mayor Wade Kapszukiewicz described the incident during a press conference on Saturday morning, according to WTOL.
"Witnesses tell us the suspect was walking away from the officer, and for some reason, turned and fired a round from a handgun, striking officer Dia in the chest," said Kral. "Officer Dia's fellow officers scooped him up and took him to Toledo Hospital, where he, sadly, succumb to his injuries."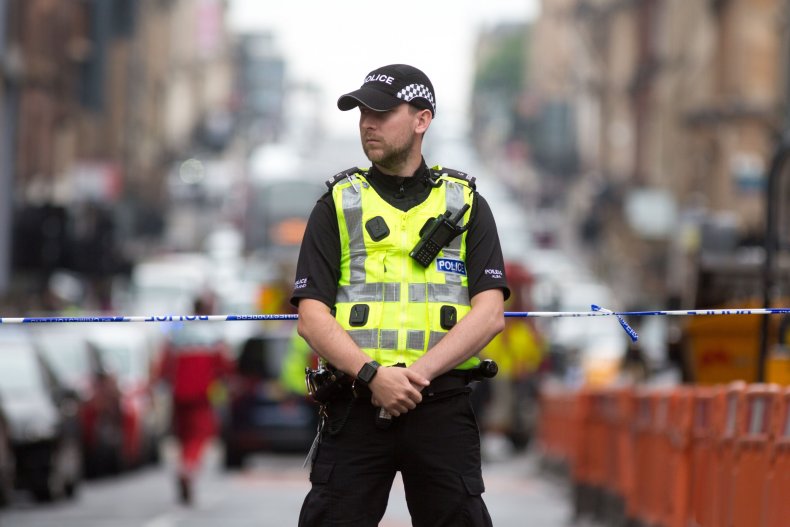 Kapszukiewicz arrived at the emergency room at around 2 a.m. local time to witness a large group of Toledo officers paying tribute to Dia.
"Until my dying day, I will never forget the sight of officer Dia wheeled out of the hospital on a gurney, his body wrapped on an American flag, flanked by about 30 Toledo officers, saluting and weeping," Kapszukiewicz said.
"We are all in mourning, and we will never forget his sacrifice," he continued, "Sacrifice comes in all forms and we cannot forget the struggle that our police officers face on a daily basis."
Another press conference is scheduled for Monday, during which further details are expected to be released about the suspect and chain of events leading to Dia's death.
Dia is survived by his wife and their two-year-old child.
Newsweek reached out to the Toledo Police Department for comment but did not hear back before publication.