Ohio Cop's Son Under Investigation for Allegedly Stealing Biden Campaign Signs
The Ohio Union County Democratic Party has alerted the Marysville Police Department after they discovered a video on Instagram of someone named Drew Hardy allegedly showing a trove of stolen signs promoting the Democratic nominees for President and Vice President, Joe Biden and Kamala Harris.
The video included the caption "F*ck Biden" and tagged four other Instagram accounts.
On Twitter, the county Democratic Party reposted the video and alleged that Hardy is the son of a Marysville police officer. The police department currently has an Officer Steve Hardy, but it's unclear if Drew is his son.
Newsweek contacted Steve and the Marysville Police Department for comment.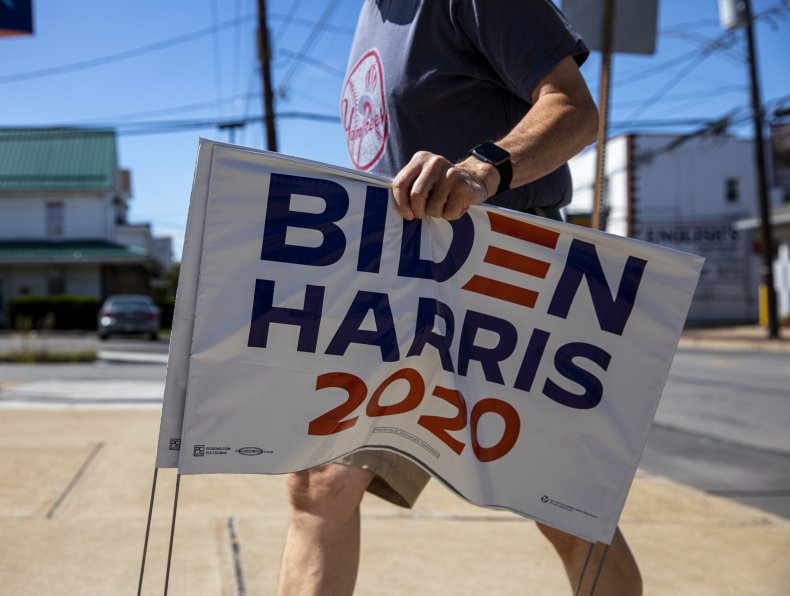 "Local cop's son shows off the Biden signs he and his friends stole, then tags the accomplices on his Instagram post, Because, y'know... Law & Order," the Ohio Union County Democrats wrote in their tweet.
"Hey @MarysvilleOHPD," the tweet continued, "You know where he lives. When can we pick up our signs?"
Of the four Instagram accounts tagged in Hardy's video, three—@mcbelt2727, @tyler6175 and @lane_ohio4—have since been deleted. Only one, @monarch_reedxi, remains active, but the account has zero posts and is set to private so that only followers can interact with it.
In response to the county Democratic Party's tweet, the Marysville Police Department replied on Twitter, "The recent incidents of campaign sign thefts are under investigation by a Detective from our Investigations Bureau. We will share more information when it is available."
Mike Larsen, Vice-Chair of the Union County Democrats, told 10 TV, "[Sign theft] happens every election a little bit, but it was extreme. Some people were losing signs three or four in a row."
"Stealing a sign, it's not the end of the world," Larsen added. "The issue for me was that the guy who did it felt he could do it with complete impunity even posting it on social media."
In a tweet published on September 13, the county's Democratic party wrote, "Union County voters of all stripes are putting up Biden signs faster than frightened Republicans can steal them."
The tweet continued by directly addressing the local Republican party. "BTW, Union Co GOP," the tweet said, "everytime you steal a Biden sign, the Dems make money. Even though we offer to replace signs for free, voters insist on donating!"
In a statement issued Monday night, the Union County Republican Party said it was "distressed" to learn about the sign theft.
"We absolutely do not support this type of activity, either for or against any candidate of any political party," the county GOP stated. "We believe campaigns should be conducted fairly and ethically, and we commit to do our best to hold our candidates, volunteers and supporters to these high standards."