Ohio Coronavirus Lockdown Rules: What Does Stay at Home Order Mean?
Ohio has declared a state lockdown and has told all residents that they must stay at home to prevent the spread of the coronavirus. The lockdown will go into force at 11.59 p.m. on March 23 and will remain in place until 11.59 p.m. on April 6.
Public spaces such as movie theaters and playgrounds will be closed, and gatherings of more than 10 people are banned. But Ohio residents are still allowed to go outside and socialize with members within their household. So what does the stay at home order mean?
People should stay at home
Firstly, Ohio residents have been ordered to stay at home. People exempt from the order include Ohio residents experiencing homelessness, who are urged to seek shelter, and those whose home is unsafe, such as victims of domestic violence, who are allowed and encouraged to leave their home to find an alternative location.
Secondly, when using shared or outside space, everyone has to stay six feet away from each other, except for members of the same household.
Ohio residents can only leave their home for "Essential Activities, Essential Governmental Functions, Essential Business and Operations" which are explained below. Non-essential businesses must close, except for those where employees can work from home.
People have to stop socialize with people outside of their household, as all public and private gatherings of people (from different households) are banned and any gathering made up of 10 or more people is prohibited. However, members of the same household are allowed to gather, so families who live in the same house can continue socializing.
Public amusement places, such as zoos, playgrounds, theme parks, and movie theatres will be closed.
When people are outside of the home, they must stand six feet apart from other people, regularly wash their hands for 20 seconds with soap and water or use an alcohol-based hand sanitizer if there is no soap and water available, and must cough or sneeze into their elbow and not their hands.
The Department of Health will also be able to issue and enforce isolation or quarantine.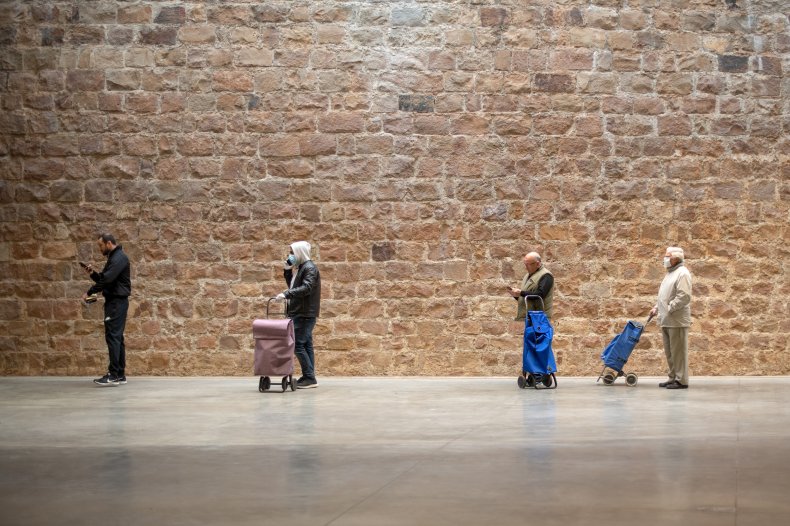 When you can leave your home
You can leave your home for health and safety reasons, for example, if you're seeking emergency health care, to get medication or visiting a health care professional, on behalf of yourself or somebody in your household who cannot or should not leave the home.
Ohio residents are allowed to leave their homes to purchase essential items, such as groceries, or household items like cleaning supplies. People are also allowed to leave to get items they need to be able to work from home and automobile parts.
You can also leave your home to go walking, running, hiking and cycling, but you must stay six feet away from other people. Public parks will stay open, but children's playgrounds will be closed.
Who can go to work
Essential workers will be allowed to leave their homes to attend work, such as healthcare workers, essential government workers, and utility maintenance workers.
Employees at essential businesses will be allowed to go to work, such as those who work at grocery stores, pharmacies, food and beverage production, as well as those who work in agriculture, people who take care of animals, and those who work with licensed medical marijuana.
People who work in the media, financial, insurance, and legal institutions can continue going to work, as can people who work at gas stations and other businesses essential to travel, such as auto-repair.
Charitable and social services such as food banks will also stay open, as will religious buildings, and gatherings for weddings and funerals are also permitted.
Other people who can continue working are employees at hardware stores, construction workers, plumbers, electricians, cleaners, janitors, and laundry service providers. Mail and post office workers will continue to work as will those who are performing critical research or essential work at educational institutions.
While restaurants are closed, they are permitted to sell food for delivery or pick-up. Schools are also permitted to provide food to students as long as it is not eaten on the premises. Hotels and motels will remain open but can only provide take out food.
Businesses that manufacture and sell items that the above industries require are also permitted to remain open, such as IT equipment and medical equipment, for example.
Transportation, such as taxis, are allowed to continue working to provide transport to people performing essential activities. Carers of the elderly, children, people with disabilities, or people with substance use disorders can continue working and are permitted to go to the home of the person they care for, and residential services will remain open.
Businesses must allow employees to work from home when possible, and anyone feeling sick or showing symptoms should be sent home from work.
World Health Organization advice for avoiding spread of coronavirus disease (COVID-19)
Hygiene advice
Clean hands frequently with soap and water, or alcohol-based hand rub.
Wash hands after coughing or sneezing; when caring for the sick; before; during and after food preparation; before eating; after using the toilet; when hands are visibly dirty; and after handling animals or waste.
Maintain at least 1 meter (3 feet) distance from anyone who is coughing or sneezing.
Avoid touching your hands, nose and mouth. Do not spit in public.
Cover your mouth and nose with a tissue or bent elbow when coughing or sneezing. Discard the tissue immediately and clean your hands.
Medical advice
If you feel unwell (fever, cough, difficulty breathing) seek medical care early and call local health authorities in advance.
Stay up to date on COVID-19 developments issued by health authorities and follow their guidance.
Mask usage
Healthy individuals only need to wear a mask if taking care of a sick person.
Wear a mask if you are coughing or sneezing.
Masks are effective when used in combination with frequent hand cleaning.
Do not touch the mask while wearing it. Clean hands if you touch the mask.
Learn how to properly put on, remove and dispose of masks. Clean hands after disposing of mask.
Do not reuse single-use masks.