Ohio Court Knocks Down School Gun Policy, Says Armed Teachers Need Police-Level Training
Ohio's Supreme Court ruled Wednesday that school employees can't carry firearms without extensive training or decades of experience.
In a 4-to-3 decision, the state's top court struck down a 2018 Madison Local School District policy allowing employees to carry guns on campus as long as they met certain requirements—such as having a concealed carry license and active-shooter response training, as well as passing a background check and mental health exam.
The policy was put into place after a 2016 shooting in the high school cafeteria left four students injured. But five parents sued the district over the plan to arm teachers, arguing it violated Ohio law because it didn't ensure employees had the required amount of training.
The court agreed with the parents, stating Wednesday that state statute "prohibits a school from employing a person who goes armed while on duty in his or her job unless the employee has satisfactorily completed an approved basic peace-officer training program or has 20 years experience as a peace officer."
Chief Justice Maureen O'Connor, a conservative justice, was joined by three Democratic justices in Wednesday's ruling. The remaining three Republican justices dissented from the court's decision.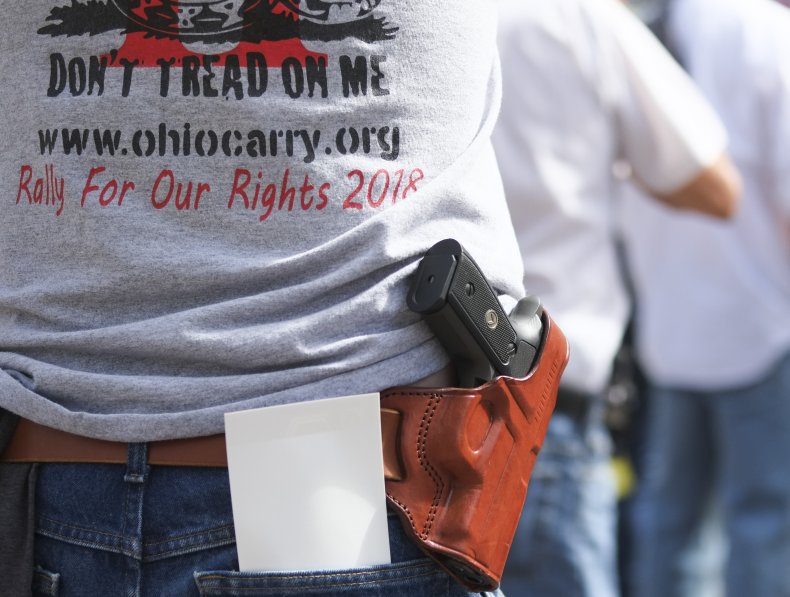 Erin Gabbard, one of the parents challenging the policy, called the ruling a "relief."
"Like any parents, we just want our kids to be safe," Gabbard said in a statement. "The Madison school board armed minimally-trained staff, one of whom even failed the accuracy test multiple times. Once this ruling is implemented, parents will at least know that the teachers who carry firearms in our schools are properly trained, as required by state law."
The president of Madison Local Schools, Dave French, said they're "disappointed" with the Ohio Supreme Court's decision but pleased with the three conservative justices who backed the policy.
"The Board has always done, and will continue to do, what is in the best interest of our community," French said in a statement shared with Newsweek. "Our primary concern has been and continues to be the safety of our students, and what works for our community may not work for others. While this policy has received a substantial amount of attention, it is just one of the many steps that the District has taken to ensure student safety. We are considering and exploring all of our options moving forward, and hope the Ohio General Assembly considers taking action to correct this decision."
Everytown for Gun Safety, the country's largest gun violence prevention organization, represented the parents in the lawsuit. The advocacy group said Wednesday that Ohio's training standards for carrying guns on school grounds "exist for good reason."
"At long last, Ohio parents will now have the assurance that if teachers have access to guns inside the district's classrooms and schools, they have undergone the training required by Ohio law," Alla Lefkowitz, director of affirmative litigation for Everytown Law, said in a statement.
Several groups, including two teachers' unions and Ohio's Fraternal Order of Police, filed briefs in support of the parents during the court battle.
But legislation being considered in the Ohio General Assembly would exempt school employees from the state's training requirement. Full peace officer training is currently set at 728 hours.
State Rep. Thomas Hall, a Republican who sponsored House Bill 99 to lower training standards, denounced the court's decision on Wednesday.
"The Ohio General Assembly has a responsibility to give our school districts the option to protect their students and staff by embracing local control and establishing appropriate baseline training requirements for educators to carry a firearm," Hall said in a statement.
Update (6/23/2021, 3:20 p.m. Eastern): This story has been updated to include comment from Madison Local Schools President Dave French.