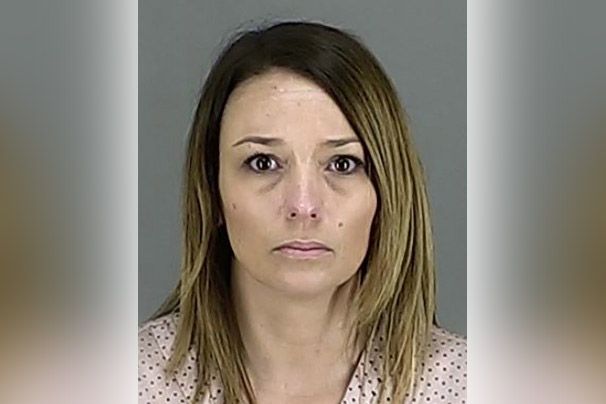 A former school guidance counselor who pleaded guilty to sexual battery last year after having sex with a 17-year-old has been sentenced to two years in prison.
Rebecca Sparrow, 37, of Cuyahoga Falls in Ohio, apologized to the male student and his family during a court appearance yesterday. She was branded a Tier 3 sex offender, meaning she will have to register with a local sheriff every 90 days for the rest of her life, WJW reported.
Sparrow was previously employed at Cuyahoga Falls High School. An indictment filed April last year alleged she became sexually involved with a student between February and May 2016.
The Columbus Dispatch reported that she faced five years in prison after pleading guilty to the third degree felony on November 19. The newspaper reported that the student had originally been referred to the counselor after experiencing suicidal thoughts during his parents' divorce.
"I'm so sorry for my betrayal and broken trust," Sparrow said in court, The Columbus Dispatch reported. She added: "You all expected more from me—and I let you down."
Video from the courtroom showed her crying as the judge read the sentence out loud.
Sparrow's attorney, Mike Callahan, appealed to Judge Amy Corrigall Jones to reduce his client's custodial sentence to probation, stressing that she had showed remorse for her actions. But Jones told Sparrow: "You exploited a vulnerable child and your actions were perverse."
Jones said Sparrow was a "moderate risk" for future sexual offenses, local media reported.
Felicia Easter, assistant prosecutor in the case, argued for a harsher sentence. She noted the student was half the age of the counselor at the time of the offense—and said Sparrow knew it.
The prosecutor said the student was in a "fragile" mental state at the time of the encounters, The Columbus Dispatch reported. "She fully understood what she was doing and the wrongfulness and continued to do it—over and over and over," Easter said.
According to the New York Post, Callahan will apply for early release in six months, which is as soon as permitted under state law. "I know she was remorseful," he told the court. Sparrow, since divorced, noted: "I know no words can heal the pain I've caused."
The Repository, an Ohio newspaper, reported last year that Sparrow was placed on paid leave from the school in January. Officials said she "engaged in conduct unbecoming of a teacher" and had allegedly revealed some student information "to a third party" without consent. Sparrow had been employed at the school since 2015.