Ohio Day Care Workers Caught Holding 5-Year-Old Girl by Her Ankle, Letting Older Students Bully Her on Video, Face Criminal Charges
Police investigating two daycare employees accused of doing nothing while a 5-year-old girl was getting bullied have released a photo showing one of the suspects dangling the child upside down by her ankle to show the "severity" of her ordeal.
Emma Dietrich, 31, and Joshua Tennant, 27, were arrested on suspicion of child endangerment following an alleged incident which occurred on August 13 at the Worthington Learning Center in Columbus, Ohio.
Columbus Police said the pair sat in their chairs and made no attempt to stop the bullying of the 5-year-old girl while older students at the center were "grabbing, pulling, dragging [and] swinging" at her.
Police said that girl, identified only as S.K., was so frightened while she was being attacked in Dietrich's classroom that she kept her eyes closed or covered and attempted to curl up into a fetal position to protect herself.
"At one point S.K. attempts to get away from the other students and they continue to 'bully' her by grabbing her and holding her down," Columbus Police said in a statement.
"During the video, Ms. Dietrich and Mr. Tennant continually sit in their chairs at a table and watch the 'bullying' actions of the other students against S.K. and do not attempt to stop the 'bullying' actions of the students.
"At one point in the video Mr. Tennant picks S.K. up by her right ankle (eventually he grabs her left leg) and carries her upside down and places her back on the rug."
Police have now released a screenshot of surveillance footage taken from inside the center showing Tennant holding the girl upside down by her ankle.
"While we are protecting the identity of the 5yo victim we want to share with you the severity of what [the] little girl endured in a learning center," the force tweeted.
Police said the Worthington Learning Center has been cooperative throughout proceedings and the case remains an ongoing investigation.
The girl's mother, who also has not been named to protect the identity of the 5-year-old, described her anger after seeing the surveillance video showing the attack against her daughter.
"I want to know why, but the same time I don't know if I want to know of, If anything, can justify the reasoning behind what happened," the mother told WBNS. I kind of want to know if this happened before. I don't feel like this is the only time."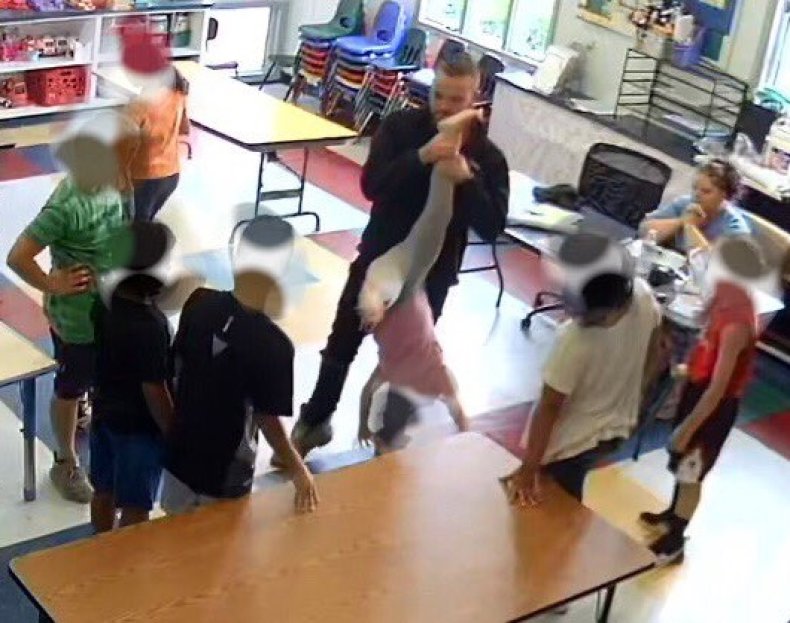 She said the incident only came to light after another child in the classroom told their parent, who informed child services.
"Another child notified their parent and that's how it got brought up, and if that child hadn't said anything, we wouldn't have known," the mother added.
In a statement, Lisa Rowe, owner of the Worthington Learning Center, told Newsweek: "The safety and care of our children are paramount. As soon as we were notified of the situation, we immediately terminated both employees involved.
"We will continue to cooperate with authorities on this case as needed."
The story has been updated to include a statement from Lisa Rowe.