Death Row Prisoner Alva Campbell Should Be Given Firing Squad Option After Botched Execution Attempt, Lawyer Says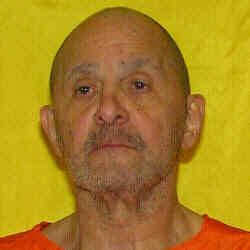 An Ohio death row inmate whose execution was halted after officials struggled for 25 minutes to find a vein into which to shoot lethal injection drugs must be given the option to die by firing squad, his lawyers said in a court filing.
The state is planning the second attempt to execute Alva Campbell, 69, in June 2019. Executioners botched their first try, in November 2017, sticking a needle in four places in Campbell's arm before calling it quits. Before that, his lawyers had requested he be put to death by marksmen, but a judge rebuffed the request, and as a result, Campbell became the third United States prisoner in modern history to survive his own execution.
The inmate, who is on death row for fatally shooting an 18-year-old during a carjacking in 1997 after stealing a deputy's gun while in custody at an Ohio courthouse is "old and sick," his attorney David Stebbins told Newsweek. Campbell suffers from ailments including lung cancer, chronic obstructive pulmonary disease, respiratory failure, prostate cancer, hip replacement and severe pneumonia, according to court documents. All of these conditions affect the likelihood of finding a vein, he explained, and that's why he says Campbell should be given a choice to die by firing squad as part of litigation to halt the execution based on the argument that he will experience unconstitutional pain. As part of the claim, Stebbins is required to offer another option.
"We suggested this as a viable alternative if they can't figure out how to do a lethal injection execution properly that will not cause a great deal of pain," Stebbins told Newsweek. "His vein problems and circulation problems are not likely to get any better. He's had problems accessing veins for medical treatment. I just don't anticipate in 2019 that his veins will be any better and most likely will be worse."
Stebbins's filing from early January also says Campbell could be executed if the state closely regulates the process, including the use of a headpiece to monitor his brain activity and medicine to revive him if the lethal injection drugs don't work.
Without these, his execution would inflict "a sure or very likely risk of serious harm in the form of severe, needless physical pain and suffering," the filing said. The Constitution's Eighth Amendment guards against cruel and unusual punishment.
Ohio law does not recognize firing squads as a means of execution, and the state attorney general's office said in a response filing last week that the request for this method was "beyond the borders of common sense."
"It would seem indisputable that a firing squad produces greater observable effects on the inmate than lethal injection," assistant attorney general Jocelyn Lowe wrote in the document. She also stated there is no mandate to resuscitate a prisoner who has been administered lethal injection drugs.
But Stebbins believes otherwise, pointing out that firing squads have been accepted by other states.
"There are jurisdictions in the country that have a firing squad as their method of execution. I'm not sure why they would say that, because other states have used it as a viable means of execution," he said.
Utah, Oklahoma, and Mississippi all authorize the use of a firing squad. In Oklahoma and Mississippi, the method is used as a last resort if other means of execution are not viable.
Utah brought back firing squad executions in 2015 after abandoning the method in 2004. The last person to be put to death in the United States that way was Ronnie Lee Gardner, who was executed by five marksmen in 2010 since he had been sentenced before the state barred the practice.
Opponents of the method say it inflicts cruel and unusual punishment on the prisoner and doesn't guarantee that an inmate will immediately die.
Stebbins said he has spoken to Campbell about his request, but he did not say how the prisoner felt about it, instead explaining that he would prefer not to be executed at all. He said Campbell is still reeling from the botched execution, which cast an even larger shadow over his imminent demise.
"It's a very traumatic experience," Stebbins said. "Obviously, he was happy to be alive but it traumatized him a great deal, and everybody else around him."
The Ohio District Attorney's office referred a request for comment from Newsweek to the Ohio Department of Rehabilitation and Correction, which did not respond.