Ohio Democratic Primary Postponed Due to Coronavirus Concerns: What Happens Next?
Ohio officials called off the state's Democratic primary at the last minute Tuesday morning, citing concerns about the coronavirus outbreak.
The Ohio Supreme Court ruled that the election could be delayed after it denied a legal challenge to the state's postponement filed by a local candidate. Now, the contest likely won't take place until June 2.
The Supreme Court decision came after Governor Mike DeWine defied the ruling of a Franklin County judge late Monday night when he announced that the state's health department would order all polling stations not to open for Tuesday's election to protect voters and staffers from COVID-19.
"During this time when we face an unprecedented public health crisis, to conduct an election tomorrow would force poll workers and voters to place themselves at an unacceptable health risk of contracting coronavirus," DeWine said in a statement posted to Twitter.
DeWine and the secretary of state had filed a lawsuit earlier in the day Monday requesting the primary be moved to a later date because of the fear of spreading the viral infection to the public. Franklin County Common Pleas Court Judge Richard Frye denied the request, stating that it would set a "terrible precedent."
Tuesday's Supreme Court ruling was in response to a legal challenge filed by a candidate in Wood County alleging that a delay of the primary would violate election laws. The four justices who participated in the ruling did not issue an opinion. According to the Record-Courier, this decision won't affect the case involving Governor DeWine and Judge Frye. That ruling has been appealed.
Ohio's not the only state to postpone its Democratic primary. Georgia, Kentucky and Louisiana, which were set to vote in late March and early April, have delayed their contests due to the COVID-19 outbreak. Puerto Rico also delayed its presidential primary due to coronavirus.
More states are likely to follow suit in the coming weeks. Officials in New York are also considering whether their April 28th primary election should be delayed. Wyoming will be suspending in-person caucuses and asking voters to mail or drop off their ballots.
The number of confirmed COVID-19 cases in the United States has exceeded 3,400, with at least 65 deaths, according to the latest data from the Center for Disease Control and Prevention (CDC). The outbreak was declared a pandemic by the World Health Organization and last week President Donald Trump declared a national emergency to combat the virus.
When asked about the possibility of postponing elections, President Trump told reporters on Monday that he thought such moves were "unnecessary."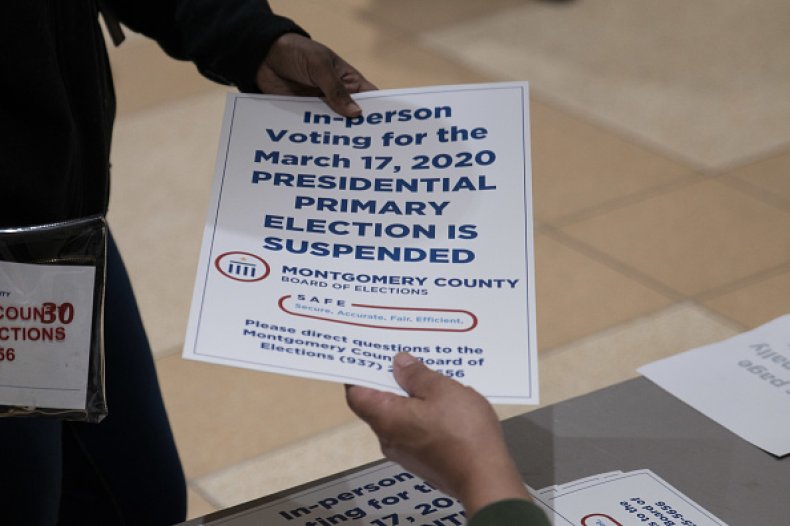 The three other states—Florida, Arizona, and Illinois— set to vote on March 17 will still be holding their primaries as planned. Last week, these states—along with Ohio before DeWine backed out—issued a joint statement stressing that voting would remain safe.
"Unlike concerts, sporting events or other mass gatherings where large groups of people travel long distances to congregate in a confined space for an extended period of time, polling locations see people from a nearby community coming into and out of the building for a short duration," the statement read.
But since the statement went out, the CDC has recommended that no gatherings with 50 people or more take place for the next eight weeks to slow the spread of the virus. DeWine cited the recommendation in his decision to postpone Ohio's contest.
"The only thing more important than a free and fair election is the health and safety of Ohioans," DeWine said in a statement after the judge's decision. "The Ohio Department of Health and the CDC have advised against anyone gathering in groups larger than 50 people, which will occur if the election goes forward."