Democrats Target Anti-Trump GOP Voters as MAGA Declares Victory in Ohio
Ohio Democrats are ramping up their efforts to sway anti-Trump GOP voters across the state, despite the Trump world's big win on Tuesday.
The May 3 primary was the first major test of Trump's grip over the Republican party, and Trump-backed candidate J.D. Vance's victory over state Senator Matt Dolan—who ran a campaign criticizing Trump—was taken as an indication that "the GOP is now the MAGA party," as Donald Trump Jr. said.
With more than 99 percent of the votes reported, Vance secured the Republican nomination for incumbent Senator Rob Portman's seat with more than 32 percent of the votes. He will go head-to-head against Democratic Representative Tim Ryan in the November general election.
But while the Republican Party leans into Trump's "America first" messaging, Democrats are aiming to reach Dolan's supporters, thinking they will swing blue if they voted for an anti-Trump candidate in the primaries.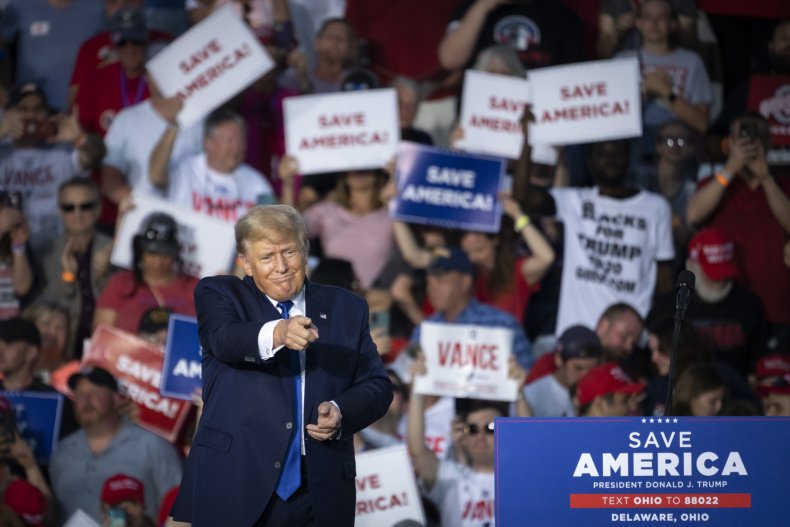 Ryan, who won the Democratic primary in a landslide with nearly 70 percent of the votes, said his campaign will be "going hard" for those Republican voters, who accounted for almost a quarter of Tuesday's vote.
"J.D. Vance only got a third of the Republican vote, so it's not like Trump endorsed him and it was this overwhelming 70 or 80 percent of the Republican voters went for him," Ryan told MSNBC's Morning Joe on Wednesday.
"Matt Dolan, who was the anti-Trump candidate in the Republican primary, got 23 percent of the vote," he said. "He said the election was legitimate, he didn't go kiss Trump's ring, and he got 23 percent of the vote. And those voters are going to be Tim Ryan voters. We're going hard after them."
But while Democrats have interpreted Dolan's voter turnout as an optimistic sign they could flip Ohio's Senate seat, experts call those hopes "wishful thinking."
"It's wishful thinking for Ohio Democrats to think that they can capture Matt Dolan's votes," political strategist Matt Klink told Newsweek. "Their candidate, Rep. Tim Ryan, has voted with Joe Biden 100 percent of the time and is a progressive, even if he is trying to hide."
"Ohio has trended red for the last eight years and while it makes sense for the Democrats to try for these votes, J.D. Vance has done an excellent job of securing the support of his GOP competitors," Klink said.
In a statement conceding the election to Vance, Dolan endorsed his rival, saying: "Just as I will never quit fighting for Ohio, I pledge to unite our party and endorse J.D. Vance to be our next U.S. senator."
Vance also thanked Dolan in his victory speech on Tuesday night, saying that while the two disagreed on many things, Dolan ran a campaign "about substance."
"He has been a great public servant for this country, and I think our party was better for the campaign that Matt Dolan ran. So thank you, Matt," Vance said.
Crisis communications expert Mark Weaver told Newsweek that just like Dolan, Ohio Republicans will stick with the Republican Party.
"A few Dolan voters will vote Democrat but most of the people who choose to pull a Republican ballot in an Ohio primary election are committed party loyalists who will support the party candidate," Weaver said.
While there is a chance that some of Dolan's supporters could be courted by Ryan, Republican strategist Jay Townsend told Newsweek that the Democrat might be better off going after Republican voters who didn't cast a ballot in the primaries.
"Republicans who vote in primaries are very conservative," Townsend said. "That Dolan did as well as he did among the most conservative voters in Ohio suggests there is a sizable slice of the Republican electorate to be mined by a moderate Democrat."