Ohio Doctor Testifies God Will Disapprove of Christian Lawmakers Who Support Required Vaccinations
An Ohio doctor who's staunchly opposed to the COVID-19 vaccine questioned how lawmakers would answer to God if they allow businesses to require employees to be vaccinated.
Dr. Sherri Tenpenny, one of 12 people who are responsible for 65 percent of vaccine disinformation on social media, testified before the Ohio House Health Committee on Tuesday. During her testimony, she raised concerns about vaccinated people putting unvaccinated people at risk, health complications from the vaccine, and the possibility Ohioans could lose their jobs if they aren't vaccinated.
Failure to pass the bill in question would put the responsibility on the legislators for all injuries and deaths that the COVID-19 vaccine causes, Tenpenny claimed.
"For those of you that say that you are Christians, what will your life review look like at the end of your life?" Tenpenny asked the committee. "Will the Lord say to you something like you coerced people to be injected with this gene modification technology that irreversibly disrupts your chromosomes?"
Ohio House Bill 248 would prevent businesses from requiring employees to be vaccinated against COVID-19 and allow individuals to decline vaccination. Reasons for turning down a vaccine shot would be a medical condition, reason of conscience such as religion, and natural immunity.
Introduced by Representative Jennifer Gross, the bill has 15 co-sponsors, all of whom are Republicans.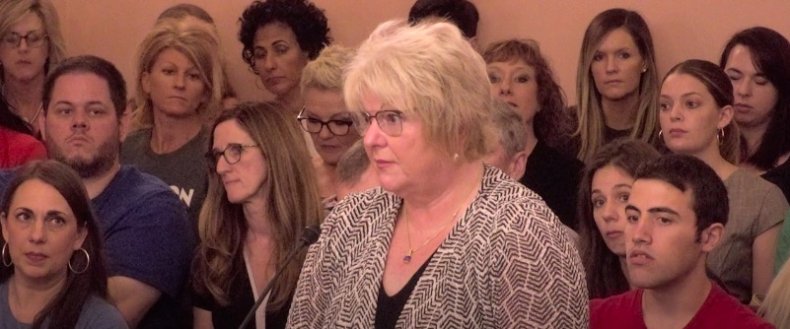 A February survey from Ohio University found 40 percent of Ohioans weren't interested in getting vaccinated against COVID-19. Ohio ranks 35th in terms of the percentage of adults who have received at least one dose of the vaccine—at about 58 percent of the adult population.
Tenpenny referenced the survey during her testimony and said that lawmakers failing to pass the bill would force millions of people to become "part of the experiment."
"If a person is so crippled by fear over a virus that has a documented death rate of less than 1 percent globally and they want to bow to an untested pharmaceutical product out of fear that needs to be their decision," Tenpenny said.
Throughout her testimony, Tenpenny repeatedly claimed the COVID-19 vaccine will alter a person's genetic makeup. That belief has been debunked by scientists and the CDC, who point out that an mRNA vaccine, such as the one from Pfizer and Moderna, never enters the nucleus of the cell, where a person's DNA is kept, and therefore does not interact with or affect a person's DNA.
Tenpenny also took issue with the vaccine's side effects, pointing to the rare cases of blood clots and claims that people became magnetized. Photos circulated online and videos were posted on TikTok of people putting magnets or other metal objects, such as a fork, on their bodies and showing that they stuck to them after they were vaccinated.
In its fact check, however, Reuters debunked the claim there's a metallic ingredient in the COVID-19 shots approved for use in the United States. Medical professionals said even if they did, it wouldn't be enough to attract a magnet.
Newsweek reached out to Tenpenny for comment, but did not receive a response in time for publication.
Newsweek, in partnership with NewsGuard, is dedicated to providing accurate and verifiable vaccine and health information. With NewsGuard's HealthGuard browser extension, users can verify if a website is a trustworthy source of health information. Visit the Newsweek VaxFacts website to learn more and to download the HealthGuard browser extension.