In Battle for Ohio, Candidates Take On Foreign Trade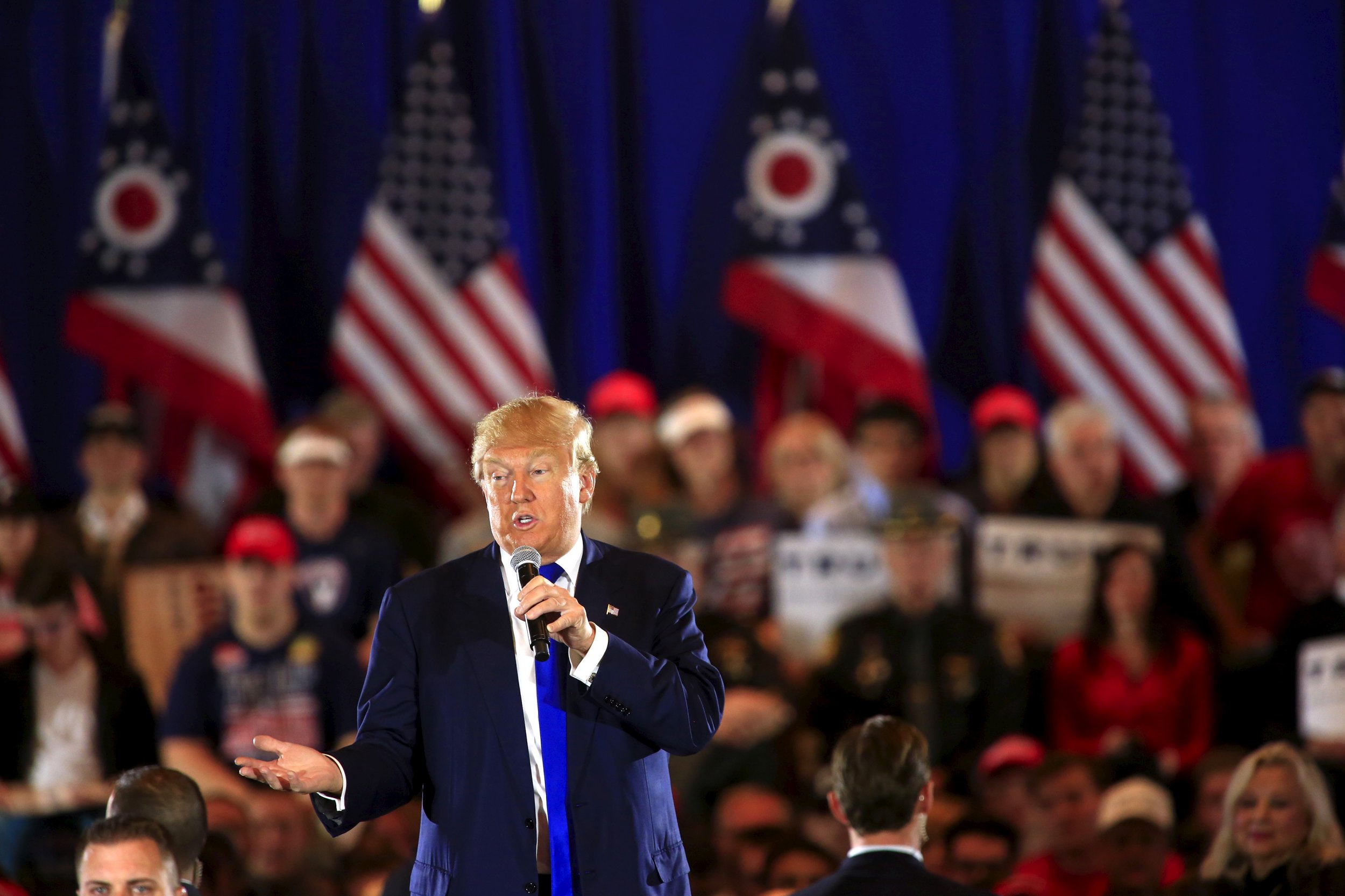 Republican and Democratic presidential candidates haven't agreed on much in this campaign so far, but as they stumped through southwestern Ohio on Sunday, there was a remarkable degree of unanimity, at least on one issue.
"It's time to end our disastrous trade policies—NAFTA, CAFTA, PNTR with China—and tell corporate America that they better start investing in this country, not just in China," Democratic candidate Bernie Sanders told a packed convention hall in downtown Columbus, rattling off a list of trade-deal acronyms.
Earlier in the day, Republican front-runner Donald Trump asked a crowd in suburban Cincinnati, "Remember NAFTA? Get rid of it!"
Even Hillary Clinton, who along with her husband, former President Bill Clinton, has been associated with some of the most extensive trade agreements, struck a tough-on-trade note Sunday night. "I will stop dead in its tracks any trade deal that hurts America and American workers," she declared at the same dinner in Columbus at which Sanders spoke.
Call it the Michigan effect. The results in that state last week caught the political establishment by surprise, particularly exit polls showing majorities of voters in both parties believe foreign trade is costing Americans jobs. Trump, the only Republican left in the field who's a free trade skeptic, won Michigan comfortably over John Kasich, the governor of next-door Ohio. And Sanders toppled Clinton in one of the most unexpected results in recent political history. It was a reminder of how much voters in the Rust Belt continue to hurt from the decline in American manufacturing. It also reinforced just how much this presidential race has upended the political status quo.
The stakes are even higher in Ohio's election on Tuesday, particularly for Republicans—and the anti-trade rhetoric is ramping up accordingly.
The state's GOP is awarding its 66 delegates on a winner-take-all basis. And right now, it appears to be a neck-and-neck race between Trump and Kasich. Should Kasich win, it could help slow Trump's march to the nomination and extend the race, perhaps even to the July convention. But if the governor loses his home state to the real estate mogul, his campaign is done and, combined with victories in other big states like Florida and North Carolina, Ohio could make Trump all but unstoppable.
The billionaire acknowledged as much in his visit to West Chester Township, just outside of Cincinnati. "We've got to win in Ohio, folks. If we can win in Ohio, we're going to run the table," Trump told the crowd, some of whom stood out in the rain overnight to see him. As he's been doing in the last few days, Trump went after Kasich's support of free trade.
"Your governor, as you know, voted when he was a congressman for NAFTA," Trump observed, referring to the North American Free Trade Agreement, which President Bill Clinton signed in 1994. "Ohio has never ever come back from that." It echoed a tweet Trump sent out Sunday morning: "Ohio Gov. Kasich voted for NAFTA, from which Ohio has never recovered. Now he wants TPP, which will be even worse. Ohio steel and coal dying!"
No matter that free trade has been an undisputed tenet of Republicans' business-friendly agenda for decades now. As he's done with so many other issues, Trump has brushed aside party orthodoxy without hesitation or much blowback. And in the Rust Belt, it's resonating.
"NAFTA needs to be gone. We need jobs back in this country," 65-year-old Jerry Huff of Reading, Ohio, told Newsweek after Trump's rally. "Jobs here will take care of everything."
Huff's companion, 62-year-old Nick Glaub, added that the argument from some trade proponents that it gives Americans access to cheap goods misses the point. "If you're employed and you are making a fair wage here, you can afford to pay more for a product that you're dependent on China, Japan, Indonesia to produce."
Democrats have traditionally been the more skeptical of trade of the two parties, an outgrowth of their longtime alliance with the labor movement. The last two Democratic presidents, however, have been unabashed free trade boosters—it was Bill Clinton who signed NAFTA and Barack Obama who is now pushing hard to get Congress to ratify the Trans-Pacific Partnership, or TPP, which would reduce barriers among 12 Pacific Rim countries.
Right now, resistance is stiffening among Democrats, especially in places like Ohio. It was the leading topic of discussion at the state Democrats' dinner in Columbus on Sunday evening. Congresswoman Marcy Kaptur, who has endorsed Bernie Sanders, labeled NAFTA "a continental sacrilege" and called for the country to renegotiate the deal. Ohio Senator Sherrod Brown drew cheers when he observed that he's leading the opposition to the TPP in the Senate.
Clinton addressed trade extensively in her remarks at the Ohio Democrats dinner, an acknowledgment that voters in the region have doubts about her commitment on the issue. "I want to be very clear, I know there has been a lot of discussion in the last week or so about trade," Clinton told the crowd of more than 3,000 at the Columbus Convention Center. "To every worker in Ohio and every worker across America, let me say this: If I am fortunate enough to be your president, I will stand with you and I will have your back."
But in a dig at Sanders, she insisted, "We need a president who is not just opposed to trade, we need a president who knows how to compete against the rest of the world…and win."
Trump made a similar promise to Ohioans in the area on Sunday. "We don't win anymore, folks," he lamented as he wrapped up a Q&A session. "We're going to start winning again."