Ohio GOP Pull Campaign Ad Accusing Democrat of Unpaid Debt Owed by Another Man With Same Name
The Ohio Republican Party has pulled a campaign advertisement that accused an incumbent Democratic state representative of owing a 1999 debt that actually belonged to another man with his same name.
Ohio State Rep. Phillip M. Robinson Jr., who represents the 6th District around Cuyahoga County near Cleveland, was the target of a GOP campaign ad that wrongfully accused him of being sued for an unpaid debt two decades ago. But days after running the ad on Facebook and other social media outlets, Republican campaign officials were forced to pull it once they realized the debtor was another Ohio man also named Phil Robinson. The Democratic state lawmakers ridiculed his opponents for not doing their research, but state GOP officials blamed a third-party for providing misleading information.
"Sued for failure to pay thousands of dollars, Phil Robinson's record of fiscal mismanagement is a record of irresponsibility," reads the campaign ad caption which has superimposed Robinson smiling over a pile of cash. "Phil Robinson can't manage his own finances.… Can we trust him with ours?"
The ad included a link to a since-removed website that showed information about a 1999 Cleveland Municipal Court lawsuit that sought an unpaid debt from another person named Phil Robinson.
Robinson, who assumed office in January 2019 and is currently facing Republican Shay Hawkins for the Ohio House of Representatives seat, issued a statement Saturday addressing the "fraudulent and irresponsible" ad.
"As an elected official, I believe that it is important to always be truthful & not to spread false & misleading information. As the state representative for District 6, this has been my promise to you & will continue to be as long as I have the honor of serving you in Columbus," Robinson tweeted. He noted he was 18 in 1999 and didn't have a credit card after just graduating high school.
The ad has since been listed as inactive and removed entirely from social media, but Facebook's campaign finance ad tracking feature still shows the post. According to the Facebook ad tracker, Robinson's opponents spent between $200 and $299 on the ad, which garnered between 7,000 to 8,000 impressions after being posted on the official Ohio Republican Party page last Friday.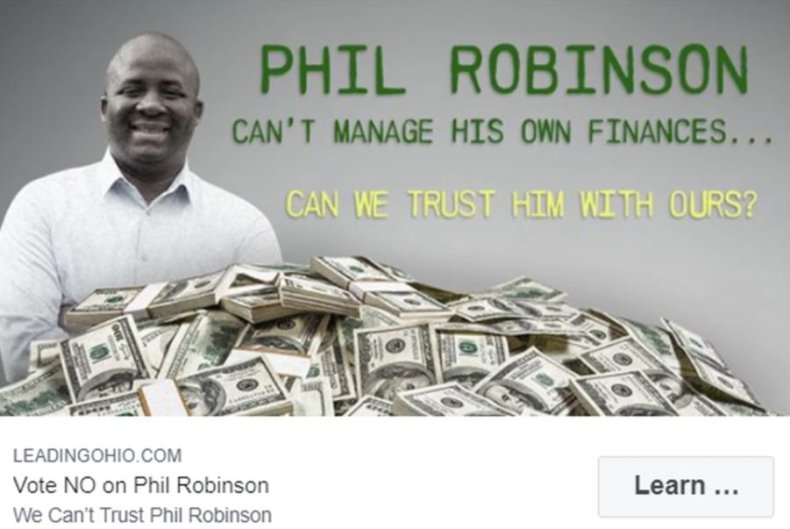 "Upon finding this out, we directed our digital vendor to immediately take down the ads," said Evan Machan, Ohio Republican party spokesman, in a statement to local news outlets.
Representatives with the Ohio Republican Party told Cleveland.com Tuesday that a third-party firm conducted the research that went into the ad. Robinson told the outlet Tuesday that nobody from his opponent's campaign or the state GOP have contacted him to apologize or mention the false ad in any way. Robinson said it was "bad form" to attack a person over financial carelessness during tough economic times.
"They didn't even do the research. They were trying to use that to score cheap political points, and it's really defamation of character," Robinson said in an interview with Cleveland.com.
Newsweek contacted the Ohio statehouse and Robinson representatives who both confirmed the ad but gave no additional remarks.