Ohio GOP Rep. Steve Stivers Supports $1400 Stimulus Check—Provided You Get COVID Vaccine
One Republican congressman is on board with President Joe Biden's call for a $1,400 stimulus check, but only if the recipient gets a COVID-19 vaccination first.
Representative Steve Stivers of Ohio told Yahoo Finance Live earlier this week, "I hope the administration will look at that option because we actually buy something with our $1,400 — and that's herd immunity."
Biden, who was sworn into office on Wednesday, is pushing for a $1.9 trillion emergency relief package to tackle the twin crises of the coronavirus pandemic and resulting economic downturn.
The package would send an additional $1,400 stimulus check to qualifying Americans, extend the child tax credit, provide state and local governments with $350 billion in aid, increase the federal minimum wage to $15 per hour and extend the eviction and foreclosure moratoriums until the end of September.
To address the rising number of COVID-19 cases across the U.S., the legislation would allocate $50 billion for virus testing and $20 billion for a national vaccine program in partnership with state and local governments.
But many Republicans have expressed worry about the price tag of the proposal after Congress passed a $900 billion compromise stimulus package in December. Senator John Thune of South Dakota said he was worried about the "massive amount of debt we are racking up."
Stivers told Yahoo that any debt taken on through a relief plan should be "for the right things."
"The quickest thing we need to do if we really want to help the American people, is get this economy turned back on—get people back to work, get kids back in school, get ourselves some herd immunity, get the vaccine distributed as quick as we can and get the uptake rate up," he said. "That's why I'd be willing to accept a $1,400 stimulus check if people are willing to take the vaccine."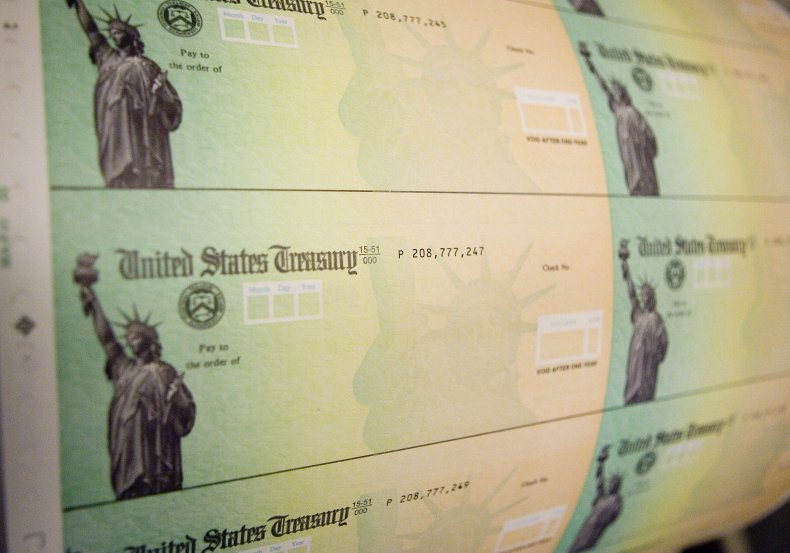 So far, qualifying Americans have received two stimulus payments: a $1,200 check as part of the historic $2 trillion CARES Act passed in late March and a $600 check included in the second relief package passed last month. The inaction from Congress prompted several cities and states to provide their own relief to residents struggling economically amid the coronavirus crisis, including Washington D.C., Colorado and New Mexico.
Brian Deese, the director of the National Economic Council in the Biden administration, justified the $1.9 trillion package during a press conference on Friday with White House press secretary Jen Psaki.
"The risk of under-shooting far outweighs the risk of doing too much," Deese said.
He added, "Without decisive action, we risk falling into a very serious economic hole and an even worse crisis than the one we find ourselves in now."
Newsweek reached out to the White House for comment but did not receive a response prior to publication.