Ohio GOPers Draft Impeachment Articles Against Governor DeWine, Say His COVID Orders Violate 'Civil Liberties'
A Republican member of the Ohio House of Representatives said on Monday that he has drawn 10 articles of impeachment against Governor Mike DeWine for his handling of the coronavirus pandemic.
Rep. John Becker of Union Township in Clermont County said in a news release that he decided to lead the impeachment effort against the Republican governor because "government by fear and intimidation must end."
The release said Becker is encouraging his 98 fellow House members to join him in pursuing DeWine's impeachment. At least two other Republican members of the state House—Rep. Paul Zeltwanger of Ohio's 54th District and Rep. A. Nino Vitale of Ohio's 85th District—signed on as co-sponsors by midday Monday, according to the website that Becker's office created to track the impeachment effort's progress. In order to remove DeWine from office, the impeachment effort must receive support from a majority of members in the state House and support from two-thirds of the state Senate.
DeWine has been accused of violating the state and U.S. constitutions, among other alleged infractions, through efforts he made to curb the spread of the virus in Ohio, according to Becker's news release.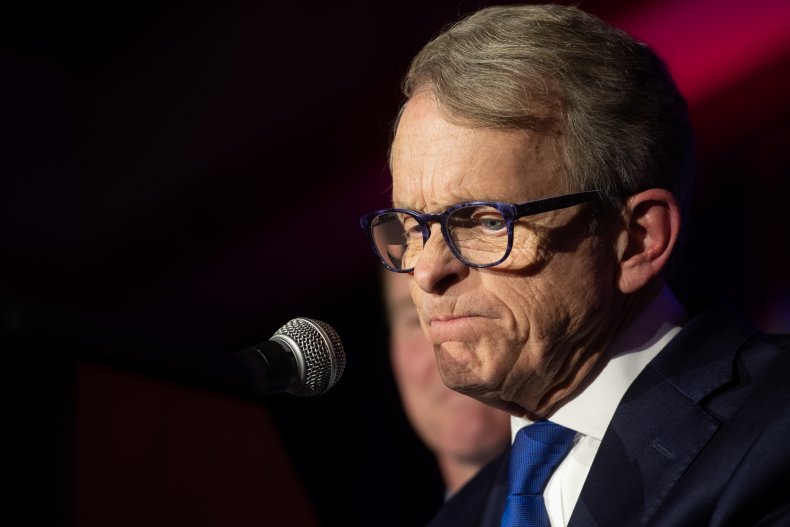 "Among his abuses of power, he meddled in the conduct of a presidential primary election and arbitrarily closed certain businesses, while allowing other businesses to remain open," the release said of DeWine. The release said that the statewide mask mandate DeWine introduced last month made the state a "hostile work environment" and was "offensive, degrading, humiliating, and insulting" for many Ohioans. The mask mandate also made religious residents choose between practicing religion in the ways they preferred and "worshipping at the altar of unbridled government," according to the release.
Becker said in the release that his impeachment effort was a response to calls from his constituents who have demanded a halt to DeWine's pandemic strategy.
"Living in fear, many have turned to drugs and yes, even suicide, to end or tolerate the unbearable pain inflicted by the governor upon their livelihoods, and the damage caused by his unraveling of the fabric of Ohio," Becker said. "It is long past time to put an end to government gone wild."
The articles contend with DeWine's decision to postpone the state's primary election in March, temporarily close schools and businesses, expand the authority of the state health department and implement a mask mandate, which the articles allege violate Ohioans' First Amendment rights and other civil liberties.
In a statement shared with Cleveland.com, Ohio Republican Party Chairwoman Jane Timken criticized the impeachment effort, which she described as "despicable."
"In a time of harsh political division, and an important election year, Republicans should be united," Timken told the local news website. "Ohio and the world have witnessed an unprecedented global pandemic—one that Governor DeWine has done a great job at leading us through."
DeWine's press secretary, Dan Tierney, told Newsweek that the governor is "focused on saving lives during the pandemic."
"He is focused on helping the economy and getting Ohioans back to work. That is what he is focused on. Not this," Tierney said.