Ohio Gov. Mike DeWine Says COVID 'Coming after All of Us' as Cases in State Skyrocket
Ohio's Republican Governor Mike DeWine warned on Thursday that the coronavirus is "coming after all of us," and "doesn't care" if people voted for Donald Trump or Joe Biden. His comments came as the U.S. continued to wait for the results of the 2020 election, and broke new records for COVID-19 cases.
During a news briefing on Thursday, DeWine said Ohians must refocus their efforts on the virus once the election is over. "It's coming after all of us," he said. That day, Ohio reported 4,961 new cases, after surpassing 4,000 for the first time on Tuesday. According to the Ohio Department of Health, a total of 235,170 cases have been reported in the state since the start of the pandemic, and 5,461 people have died.
The uptick in cases has been accompanied by a rise in hospitalizations, up by 55 percent in the past two weeks, DeWine tweeted Thursday. Some 541 were in ICU beds on Thursday, up from a previous high of 533 in April, he said.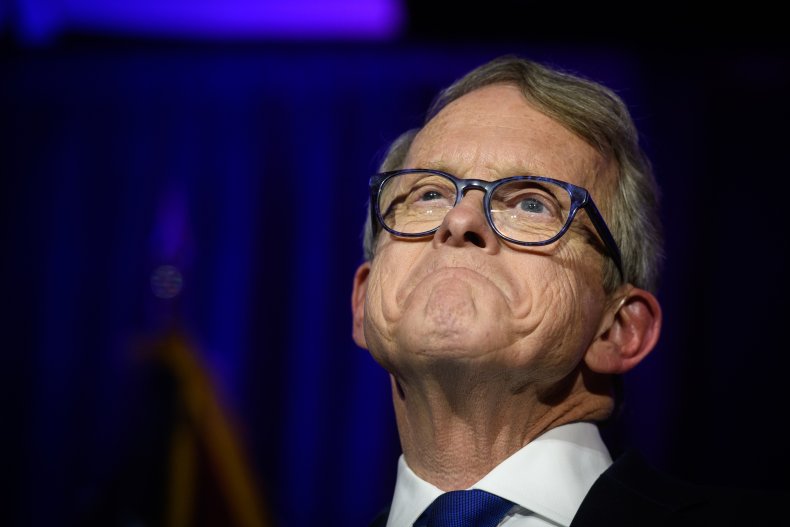 "This virus doesn't care if we voted for Donald Trump, it doesn't care if we voted for Joe Biden," DeWine told the press briefing.
On Friday, the race, which had eclipsed the COVID-19 pandemic in the news cycle, was too close to call, with Biden on 264 electoral votes and Trump on 214. Ballots were still being counted in the Western states of Nevada, Arizona, the Southern states of Georgia and North Carolina, and the eastern state of Pennsylvania.
As the votes were totted up, so were new COVID cases. For the second day in a row on Thursday, the U.S. broke its record for diagnoses, at 120,276 according to Reuters, up from 102,591 on Wednesday.
According to Reuters, 20 out of 50 states reached new records for daily cases on Thursday, a new high from October 30, when 16 states had record breaking increases in one day.
For months, the U.S. has had the highest coronavirus case and death count, at more than 9.6 million and over 235,000, respectively. One in 18 new cases and one in 11 new deaths reported worldwide each day occur in the U.S., according to Reuters.
Midwestern and Western states, such as Ohio, have emerged as the latest epicenter in the U.S. outbreak, after the Northeast was ravaged in the spring, and the Sun Belt in the summer.