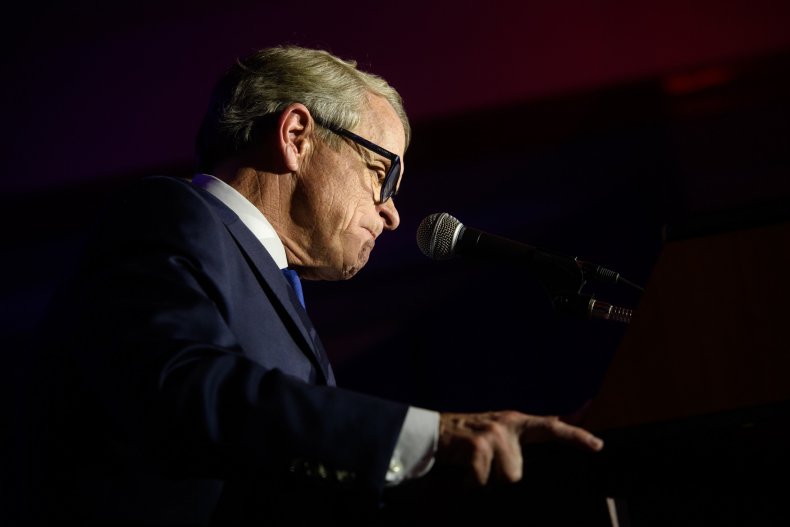 Ohio Governor Mike DeWine urged residents to wear face masks to help halt the spread of COVID-19 on Wednesday, insisting that those who refuse to do so are playing "Russian roulette" with their lives.
DeWine made the remarks during a televised address to Ohio residents. The governor said his state, which reported 1,316 new cases and six deaths on Wednesday, was experiencing the consequences of not strictly adhering to preventative measures like wearing masks.
"Let's be honest, all of us have started to let our guard down, I know I have," DeWine said. "We're tired, we want to go back to the way things were, and that's very, very understandable. But when we do, we're literally playing a Russian Roulette game with our own lives, and our families and our neighbors."
Ohio has recorded more than 69,000 cases of the virus, including over 3,000 deaths since the pandemic began. Like most states, cases have been on the rise recently, with an average of more than 1,000 new cases being reported each day of the last three weeks.
DeWine was one of the first governors to adopt lockdown measures when the virus began to spread throughout the country. Last week he ordered that masks be worn in public in the hardest-hit parts of the state, but he has so far resisted calls to expand the order.
However, he spoke about the importance of wearing masks during the address and urged those who refuse to wear them to reconsider, noting that public health experts agree they could reduce the spread of the virus.
"I know some may still question the wisdom of wearing masks, but as we used to say when I was a prosecuting attorney—the jury's back, the verdict is in," DeWine said. "There is a broad consensus today in the medical, health and business communities that masks are critical."
DeWine then quoted Dr. Robert Redfield, director of the Centers for Disease Control and Prevention, who yesterday said that the virus could be tamed if all Americans to wore face coverings for 4 to 8 weeks.
The Republican governor touted potential benefits of widespread mask wearing for the state's economy, describing the practice as an "alternative to lockdowns." He suggested new restrictions could be adopted if people did not voluntarily wear masks or adhere to other preventative measures like washing hands and maintaining social distancing.
DeWine also spoke about the skyrocketing spread of the virus in Florida and Arizona, two states with GOP governors that have been more resistant to imposing public health restrictions.
"If we do not change course, Florida and Arizona will be our future," he said.