Ohio Governor Condemns 'Disgusting' Anti-Semitic Sign at Coronavirus Lockdown Protest
Ohio Governor Mike DeWine spoke out Wednesday against protesters who brought anti-Semitism into the mix at a demonstration last weekend opposing the state's stay-at-home order.
The order, which went into effect on March 23 as governors across the country began issuing similar measures to slow the spread of the coronavirus pandemic, was extended to May 1 earlier this month.
Protesters in left- and right-leaning states have been gathering over the last couple of weeks in opposition to the orders. At the protest outside the Ohio Statehouse in Columbus last weekend, participants carried signs with broad messages like "Open Ohio Now" and "Unlock Our Economy" as well as more targeted denouncements of DeWine. But the anti-Semitic sign DeWine addressed during a Wednesday news conference sparked a wider debate in the state about the rights of the protesters, with the Cleveland branch of the Anti-Defamation League (ADL) quick to respond with its own condemnation Saturday.
"It was disgusting. It was vile," DeWine said Wednesday of the sign, adding that he had not seen the sign in person but had seen photos of it circulating online. "It should have no place in this discussion or any other public discussion."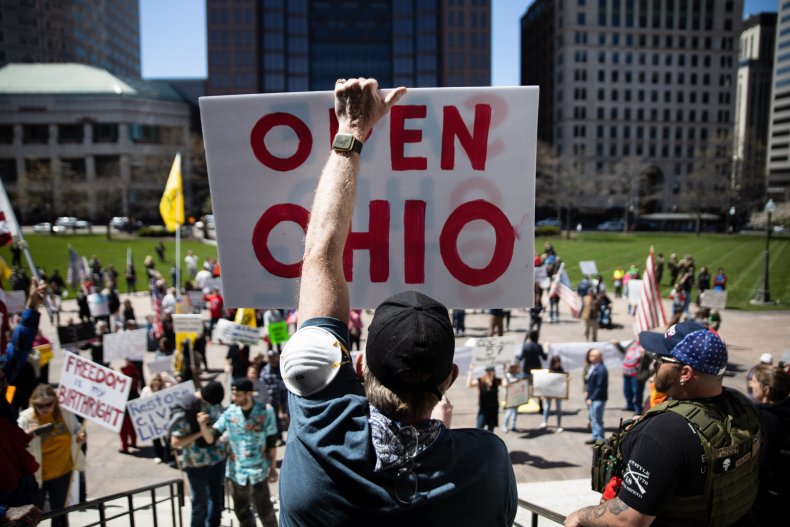 Other local leaders joined DeWine in denouncing the sign on social media, with Ohio Secretary of State Frank LaRose calling it a "disgusting, pathetic display of ignorance" and State Representative Casey Weinstein saying he would "call this out and stand right up to antisemitism."
The controversy surrounding anti-Semitism in the state over the last week comes two months after the ADL published data showing the rise of anti-Semitism throughout the U.S. In the report, the ADL said white supremacist propaganda had doubled in the U.S. from 2018 to 2019.
James Pasch, regional director of the ADL in Cleveland, said he wasn't surprised by the display of anti-Semitic signs at the protests in Columbus. "The levels of white supremacism and hate are rising," Pasch told Newsweek. "It's not surprising these same individuals are using this global pandemic to spread their message of hate and anti-Semitism."
The signs, which portrayed a rat bearing the Star of David on its side with the phrase "the real plague" above its head, "play on some of the oldest anti-Semitic tropes around," Pasch said. "It's unfortunate that I was not surprised by it. It's not new."
Though DeWine spent most of his Wednesday news conference discussing updates on the pandemic in Ohio—during which state health officials reported a total of 14,117 cases and 610 deaths—he took a moment to call on others to denounce the displays of anti-Semitism at protests.
"People have a right to protest. They have a right to say they don't like Mike DeWine, or they don't like what Mike DeWine is doing, or anybody else," DeWine said. "If they're carrying anti-Mike DeWine signs, they have a right to do that. But anti-Semitic signs? That's just wrong."
Pasch agreed with DeWine's call for others to step forward in condemning the signs and praised local leaders who have already done so.
"Our leaders at every single level need to use their microphones to speak out against hate and anti-Semitism whenever and wherever they see it, in all its forms," Pasch said.