Ohio Governor Mike DeWine Supports North Dakota Governor on Use of Face Masks: 'This Is Not About Politics'
Responding to North Dakota Republican Governor Doug Burgum's emotional Friday statement regarding use of face masks to prevent those most vulnerable from contracting the new coronavirus, Ohio Governor Mike DeWine voiced his support for what he called "spot-on" guidance during an interview Sunday morning.
"The governor is right. The governor is spot on," DeWine, who is also a Republican, told NBC's Meet the Press of Burgum's comments, which urged North Dakota residents to put political affiliations aside and regard face coverings as a necessary contribution to public health.
"I've watched that clip a couple times, and this is not about politics. This is not about whether you're liberal or conservative, left or right, Republican, Democrat," DeWine continued. "It's been very clear what the studies have shown you. You wear the mask not to protect yourself so much as to protect others, and this is one time when we truly are all in this together. What we do directly impacts others."
As regions across the United States begin to reopen their economies after months-long business closures and stay-at-home orders, civilian opposition to ongoing face mask requirements has picked up nationwide. Last week, a video recorded inside a Costco store in Colorado showed a confrontation that broke out between an employee and a patron who refused to wear a mask while shopping, in defiance of health protocols. Numerous incidents similar to that one have been reported recently, with most dissenters claiming face mask requirements violate their constitutional rights.
On Friday, Burgum said residents of his state who have chosen to wear face coverings in public despite lack of official mandates should not be subjected to "mask shaming," as their decision is most likely unrelated to politics and instead motivated by intentions to keep loved ones safe. The Centers for Disease Control and Prevention has recommended face mask use as means to lower risk of transmission.
"If someone is wearing a mask they're not doing it to represent what political party they're in, or what candidates they support," he noted. "They might be doing it because they've got a 5-year-old child who's been going through cancer treatments. They might have vulnerable adults in their life who currently have COVID and they're fighting."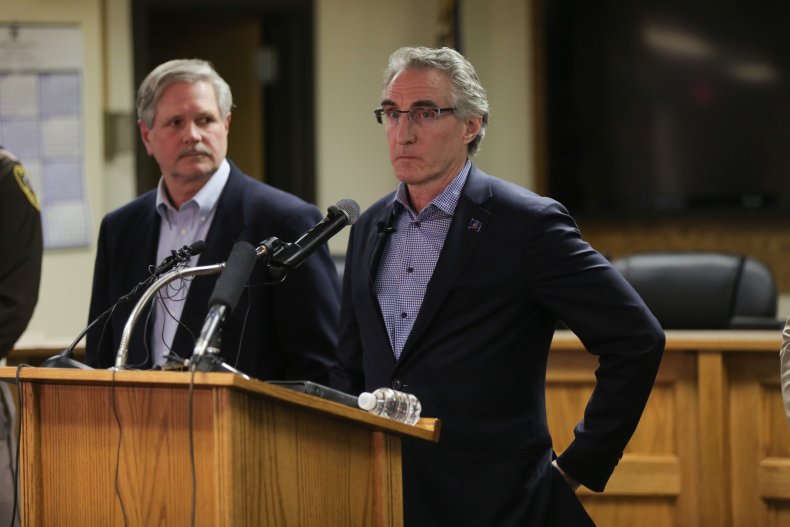 States that have permitted nonessential businesses—like restaurants, retailers and personal care service facilities—to resume in-person operations amid the pandemic have also implemented requirements for continued virus mitigation, including mandatory use of face coverings in various settings. Although wearing a face mask in public spaces is not required in North Dakota or Ohio, both governors' reopening plans stipulate that they must be worn inside workplaces and other business environments.
"Our order does say that every employee in every business...unless there is some reason that they can't wear that mask, every employee is wearing a mask today," DeWine said of his state's reopening requirements on Sunday.
Guidelines for mask use are stricter in Ohio than in North Dakota, accounting for substantial differences in the volume of residents diagnosed with the new coronavirus in each state. As of Sunday morning, Ohio had confirmed at least 31,408 cases and 1,956 deaths related to the new coronavirus, according to Johns Hopkins University's tracker. In comparison, North Dakota had confirmed 2,365 COVID-19 cases and 52 subsequent deaths.
Newsweek reached out to Governor DeWine's office regarding his response to Governor Burgum but did not receive a reply by time of publication.