Ohio Governor Warns State Heading in 'Wrong Direction' as COVID Cases Rise: 'Could Become Florida'
Ohio Republican Governor Mike DeWine, warned on Sunday that his Midwestern state is headed in the "wrong direction" with the novel coronavirus pandemic and could soon be facing an outbreak as bad as Florida, which has seen record-breaking surges in new infections over the past couple weeks.
"We're going the wrong direction, we're at a crucial time," DeWine told NBC News' Meet the Press in an interview, pointing out that his state initially did very well at curbing the pandemic's spread and flattening the curve of new infections. "This week you may see a lot more counties under that mask requirement," he said.
DeWine explained that he may issue a "statewide" mask mandate, as the current one only applies to hard-hit counties, and that there would be a new television ad campaign to promote masks throughout his state.
"Really the message is you wear the mask for other people. You wear the mask to protect your grandmother," the GOP governor said.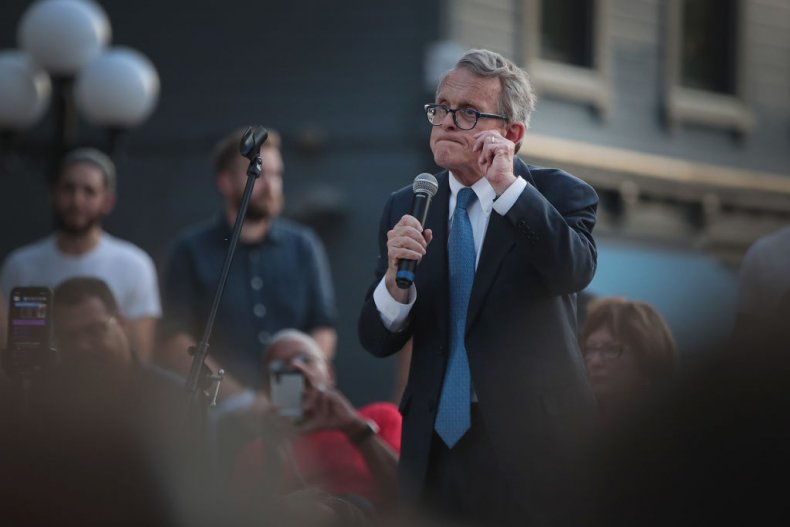 "Look, we are at a crucial stage," DeWine said. "We are at the point where we could become Florida. If you look at our numbers today, versus where Florida was a month ago, we have very similar numbers. So we're very, very concerned."
Newsweek reached out to the Ohio Department of Health for further comment on the outbreak there, but did not receive a response by the time of publication.
Florida has confirmed the third highest number of novel coronavirus infections of any state, with the country's highest number of new cases over the past week, according to a tracker maintained by The New York Times. As of Sunday, the state had reported more than 350,000 total infections, over 83,000 of which had been confirmed in just the past seven days. The state has also reported 4,981 deaths since the start of the pandemic, nearly 700 of which occurred in the past week.
In Ohio, the state has confirmed 73,822 infections and 3,132 deaths since the start of the pandemic. Of those totals, 9,608 new infections have been reported in the past week as well as 96 new deaths.
Meanwhile, the U.S. continues to be the country with the highest number of infections and deaths from COVID-19, disease caused by the novel coronavirus. As of Sunday, the country had reported more than 3.7 million confirmed cases and over 140,000 deaths. New infections have been on the rise in the majority of states nationwide over the last two weeks as well. Deaths have also risen, with the nationwide seven-day average now standing at about 768 new deaths per day.