Ohio School Stops Naming Valedictorians and Sparks Debate About Capitalism vs. Socialism
An Ohio lawmaker has proposed a bill that would require high schools to name one valedictorian and one salutatorian in each class after a district decided to get rid of the GPA-based class rank distinctions in order to improve students' mental health.
Ohio Republican State Representative Niraj J. Antani told Newsweek that the American concepts of competition and capitalism are what's really at stake after several school districts dissolved valedictorian and salutatorian designations. Antani responded by proposing House Bill 281, which would require Ohio public schools to designate one valedictorian and one salutatorian for each graduating class.
Antani insisted the class rank debate is an element of a widening partisan political divide between how Republicans and Democrats view success through capitalist or socialist economic systems. The "competitive culture" controversy in Ohio also comes amid a national conversation going all the way up to the president and 2020 candidates about socialism's prevalence in academics and among young Americans.
Antani argued there was a strong possibility of a slippery slope within academics across the state which could lead to high schools one day doing away with grades altogether.
"First it's valedictorian, then class rank, then GPA, then grades, then pass or fail," he said. "This is the first brick in building up to a society in which everyone passes or fails. Failure is not a bad thing. I was not valedictorian, but you learn from failure and you learn from not being number one."
Mason City Schools, in a suburb of Cincinnati, announced last month they will no longer recognize a valedictorian or salutatorian after a year of meetings and focus groups involving students, staff and families. Mason administrative officials told The Cincinnati Enquirer in May that students were wasting academic opportunities and effort chasing tenths of a decimal point on their GPA and class rank. Instead, the administrators have argued, students could be focusing on more meaningful academic endeavors and reduce the "competitive culture" causing stress and other mental health issues.
"It's decisions like not naming a valedictorian that creates the 'everyone gets a trophy,' lazy culture that is often discussed," Antani stated when announcing the bill earlier this month.
"If you enter the arena to compete, you compete, if you don't, then you don't compete," Antani told Newsweek Tuesday. "They shouldn't take that away—if you don't want to play football, don't join the team."
Antani said the class rank debate is divided along party lines among Ohio legislators, with Republicans offering him verbal support for his proposal and "zero Democrats" expressing any backing.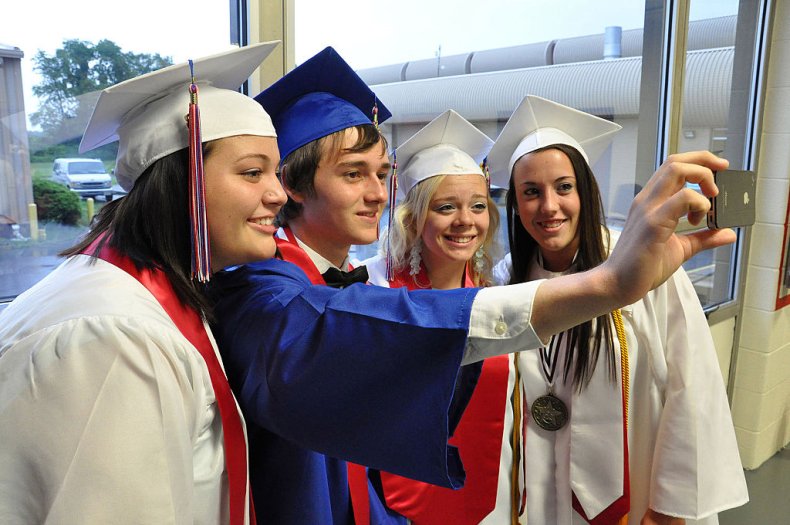 "It's a very partisan reaction, Republicans are very for it, Democrats are very against it," Antani told Newsweek Tuesday. "I think it is a larger social commentary on capitalism and competition and Democrats are against competition."
"I think I know what President Trump would say," he added.
Antani, who acknowledged the dubious use of a slippery slope argument, warned of a "dilution of the system that we have," and cautioned that schools are moving away from a system of competition and toward a system of "oh it's okay for everyone to be equal."
"They're not getting rid of captains of football teams, there's not going to be sports played with no scoreboards under the Friday night lights," he said.
As the Cincinnati Enquirer first reported, students at Mason High School who earned a grade of C or higher in Advanced Placement (AP), honors or College Credit Plus classes can tack on an extra .03 points to their GPA. The additional credit was then applied to their overall GPA in regular classes. However, some students would chase higher and higher GPAs as there was no cap in place and could reach far above the standard 4.0 "A" grade benchmark.
Mason High School will offer the Latin distinctions of summa cum laude, magna cum laude and cum laude to graduating seniors.
"The recognition system will reward our students for genuine academic success based on their academic accomplishments," Mason High School Principal Bobby Dodd said in a statement earlier this month. "This will help reduce the overall competitive culture at MHS to allow students to focus on exploring learning opportunities that are of interest to them."
In 2002, Northwest Local School District's Colerain High School had seven valedictorians, the Enquirer noted.
"If there are 200 kids in a class of 1,000 who all have a 4.4 GPA then they are all the best—but to get rid of the title is very wrong," Antani told Newsweek.
The district joins Oak Hills High School, the Forest Hills School District, Indian Hills High School and Wyoming High School in not naming valedictorians. In terms of demographics, Antani said a diverse set of school districts have embraced the concept of doing away with valedictorian and salutatorian distinctions.
Despite Antani viewing the debate through a lens of partisanship, school administrators have not cited any political reasons behind the removal of class rank awards.
Antani said Mason administrators who are arguing they made the change in order to improve students' mental health "should apologize to every single person with a real mental health issue." That defense, he said, "trivializes" legitimate concerns over young people's mental health.
"At the end of the day, there is someone who is the best," Antani said. "Yes, it might be close, but at the end of the day, there is someone who is the best."