Ohio Man Paints Entire Yard into Trump 2020 Banner, Says He's Had 'Lot of Positive Feedback'
The 2020 election is still four months away, but that didn't stop one Ohio man from showing his friends and neighbors who he will be supporting in November.
J.R. Majewski, a resident of Bay Township, has a reputation of going big when it comes to decorating his large triangular front yard, according to the Port Clinton News-Herald.
Majewski used 120 gallons of biodegradable chalk-based paint to create a giant banner supporting Trump in his re-election campaign to remain in the White House.
"We've had a really good turnout,"Majewski told the newspaper. "A lot of my neighbors have come by and I've had a lot of positive feedback."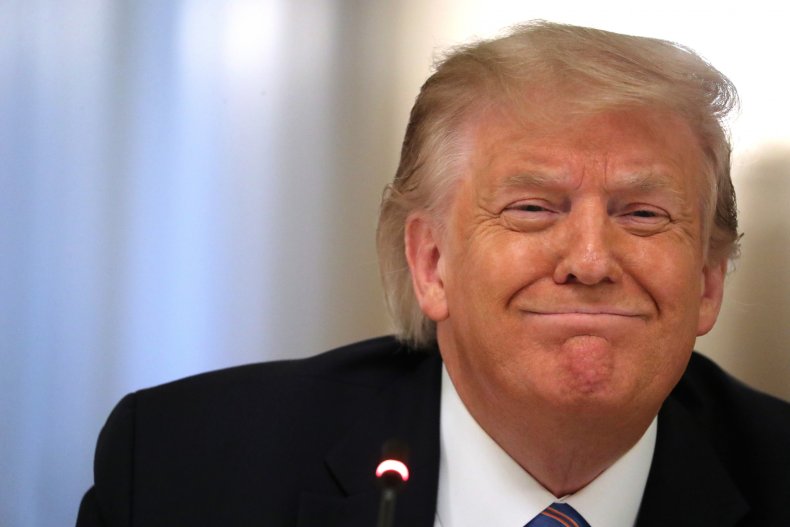 Last year, Majewski painted a large American flag depicting the original 13 colonies on his front yard as a way of showing his love for his fellow veterans, and the country he served.
This year, he planned on painting the iconic black POW/MIA flag, also known as the National League of Families POW/MIA flag, on his front yard.
But according to the News-Herald, Majewski had concerns about the amount of black paint needed for the project and decided to go in a different direction.
Majewski said he spoke with several members of a nearby veteran's organization, many of whom are Trump supporters about the project, and after getting their feedback, decided to move forward with the banner.
"You see and hear a lot from the president on his support of the military. New weapons, new equipment, new technology—all of those things matter," he said. "I think as a veteran, it's highly appreciated."
The massive 19,000 square-foot banner is painted in a sea of dark blue with the words "Trump-2020" underscored with "Keep America Great" in bold white letters on a navy blue square. The entire banner takes up almost every square inch of Majewski's triangular front yard.
Majewski said he hasn't just received comments from his neighbors, he has also gotten positive feedback about his banner from the Ottawa County Republican Party and state Rep. Douglas Swearingen, R-Huron, of the 89th District, which includes Ottawa and Erie counties, who actually came to see the banner for himself, the News-Herald reported.
Majewski said even though he heard good things about the banner, he'd expected to have some negative comments from people who don't like the president and won't support his reelection bid, but so far people have been nice.
"We do not have to be vicious to one another; that's what's dividing us right now," he told the newspaper.