Ohio Man Who Posted Threats Online Had Over 10,000 Rounds of Ammo, Told FBI His Posts Were 'Only a Joke'
Last week, Justin Olsen, 18, of Boardman, Ohio was arrested for threatening to assault a federal law enforcement officer. On Monday, Olsen was charged.
According to the FBI, Olsen was a contributor to the chatroom and website iFunny, where he posted as "ArmyOfChrist." That account had 4,400 subscribers.
Olsen is accused of using the ArmyOfChrist account to make a number of threats, including messages in support of recent mass shootings and talking about targeting Planned Parenthood, WKBN reports. Olsen allegedly threatened federal officers in a discussion with another iFunny user about the 1993 siege in Waco, Texas.
"In conclusion, shoot every federal agent on sight," Olsen wrote, according to court documents.
Though this was the comment the charges focused on, Olsen made a number of other inflammatory comments on iFunny.
"Hell, even the Oklahoma City bombing shows that armed resistance is a viable method of political change. There is no legal solution," Olsen wrote in another conversation, as reported by Cleveland.com.
He also advised people ignore gun laws, writing "Stock up on stuff they could ban. In fact, go out of your way to break these laws, they're f*cking stupid."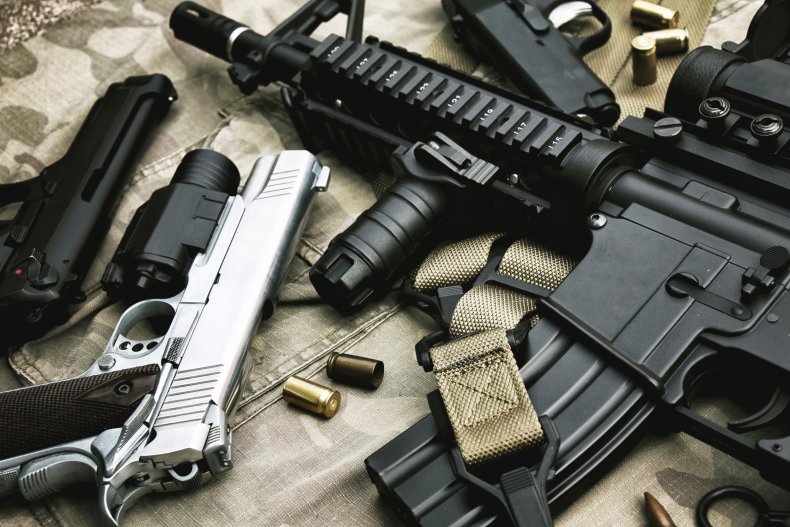 Olsen was arrested on August 7 at his father's house. Agents discovered a vault of 25 guns, including AR-15 style automatic rifles and shotguns. A machete was found in Olsen's car, and agents also found over 10,000 rounds of ammunition. In addition to the weapons and ammunition, agents confiscated a computer, iPad and iPhone, as well as camouflage clothing and backpacks.
Olsen admitted to agents that he'd made the posts, but claimed they were "only a joke." He also told agents that during the Waco siege, "the ATF slaughtered families," according to court documents.
FBI agents in Alaska started to investigate "ArmyOfChrist" in February, because of his posts that supported violence.
Olsen was at least the second person the FBI arrested last week for making threats online. Conor Climo, 23, was arrested August 8 after law enforcement discovered he had been in contact with members of Atomwaffen Division, a neo-Nazi terrorist network.
In encrypted chats, Climo had threatened to attack a Las Vegas synagogue and a downtown bar Climo believed catered to the LGBT community.
"As this complaint illustrates, the FBI will always be proactive to combat threats that cross a line from free speech to potential violence," Aaron C. Rouse, the Special Agent in Charge of the FBI Las Vegas Division, said in a statement about the Climo case.