The mayor of an Ohio town recently voiced his opposition to allowing ice fishing at a local park by inexplicably linking the pastime to prostitution.
Mayor Craig Shubert of Hudson, Ohio, made his comments at a council meeting this week during a discussion about the safety and liability issues that might arise if the city allows ice fishing at Hudson Springs Park.
"If you open this up to ice fishing, which while on the surface, it sounds good, then what happens next year? Does somebody come back and say, 'I want an ice shanty in Hudson Springs Park for X amount of time?'" Shubert asked. "And if you then allow ice fishing with shanties, then that leads to another problem: prostitution. And now you have the police chief of the police department involved. Just some data points to consider."
Ice shanties are portable sheds used to provide shelter while fishing.
It's unclear why Shubert thought the shanties would lead to prostitution. Newsweek has contacted Shubert's office for comment.
In response to the mayor's comments, city council member Chris Banweg responded, "That's why I'm not in favor of shanties." Attendees laughed.
Ice fishing has been prohibited at the park for several years, according to WOIO. While the city council's decision on whether to allow it is unclear, city council members said that the city should make residents aware of ice fishing's dangers.
Ice fishers can fall through the ice into sub-zero waters, injure themselves with fishing equipment, set themselves aflame or even inhale toxic levels of carbon monoxide due to rudimentary heating systems inside of ice shanties, according to a 2017 Mayo Clinic study on ice fishing injuries.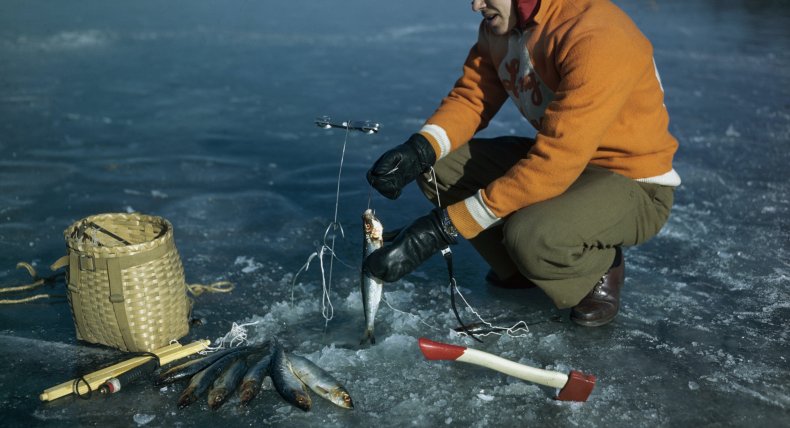 Video of Shubert's comments have since gone viral. It has also drawn attention to his past statements accusing a local school board of peddling "pornographic content." His statement caused an uproar and was one of several incidents regarding opposition to school materials.
In September 2021, Shubert accused the Hudson City School District board of allowing students in a high school senior-level college credit writing class use of a book titled 642 Things to Write About, which contained two sexual writing prompts. One prompt suggested writing a parent-friendly version of "a sex scene you wouldn't show your mom" and another said to "describe your favorite part of a man's body using only verbs." Neither prompt was assigned to students.
"Your educators are distributing essentially what is child pornography in the classroom," Shubert told the school board's members, according to WEWS-TV. "So I'm going to give you a simple choice. You either choose to resign from this Board of Education or you will be charged."
Prosecutors determined the assignments weren't child pornography, no charges were filed and no board members resigned, the Akron Beacon Journal reported.
Summit County Prosecutor Sherri Bevan Walsh said Shubert didn't understand child pornography laws, and that he "wants to create a public battle over censorship." She also called his actions "reckless" and said they led to threats to the school board members, making some too frightened to leave their homes.
In January, Hudson parents demanded that three books with LGBTQ themes be reviewed and possibly removed from school libraries. The books were A Girl on the Shore by Inio Asano, Lawn Boy by Jonathan Evison and Gender Queer: A Memoir by Maia Kobabe.
In September 2021, a Hudson city high school canceled its production of an LGBTQ-themed play entitled She Kills Monsters after parents complained.
Uncommon Knowledge
Newsweek is committed to challenging conventional wisdom and finding connections in the search for common ground.
Newsweek is committed to challenging conventional wisdom and finding connections in the search for common ground.