Ohio Officer Fired for Detaining Daughter's Boyfriend He Didn't Like: 'We'll Make S*** up as We Go'
An Ohio police officer has been fired for abusing his authority after he illegally detained a man who was dating his daughter during a traffic stop.
John Kovach Jr., of the Lorain Police Department, was found to have violated a string of conduct and policy procedures after pulling over Makai Coleman, 18, who was in the car with his daughter Katlyn Kovach on April 16.
According to the Chronicle-Telegram, Kovach pulled over Coleman without cause and told him to get out of the vehicle as he's "going to jail."
Dashcam footage from Kovach's patrol car shows Coleman asking why he is being arrested. "Have a seat in my car, we'll make shit up as we go," the officer replies.
Kovach can be heard arguing with Gloria Morales who came out of her nearby house as two of her children were in the car with Coleman. Kovach can be heard asking Morales if his daughter is inside the house, as well as inquiring why her computer is apparently in the house. Kovach had used police resources to track his daughter's laptop.
Morales tells Kovach that his daughter is not inside the house. "If I check and you're lying to me, you're going to jail," he says.
The officer proceeds to accuse one of the other women inside the car of not wearing her seatbelt, and that she faces a $300 fine. It is then that he spots his daughter in the back seat and tells her to get out of the car.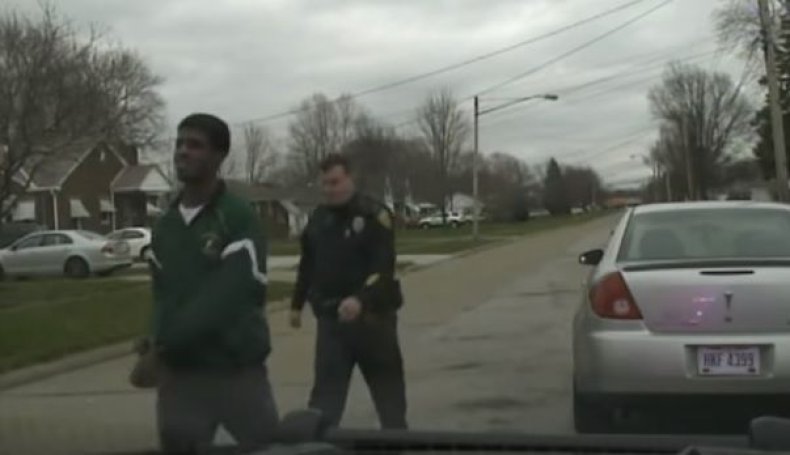 Kovach then tells Coleman to get out of the patrol car and pushes his daughter into the back seat. "You can't arrest me for no reason!" the 18-year-old repeatedly cries out.
During the incident, Kovach ignores an emergency call he receives about a road rage incident.
The officer said he was taking his daughter in after she recently talked about being suicidal. The dashcam footage shows the officer driving away with his daughter still in the back seat.
According to police documents relating to the investigation of the incident, Kovach said he was worried about his daughter being with Coleman, believing he "wasn't a good person" because of his previous arrest for marijuana possession.
Following an internal investigation, officials confirmed that Kovach was fired as a result of his conduct.
Safety-Service Director Dan Given described his actions as "not acceptable and warranted an immediate dismissal."
Police Chief Cel Rivera said Kovach's behavior was "an abuse of police authority and a serious departure from appropriate protocol… they are contrary to the mission, values and policies of the Lorain Police Department."
Kyle Gelenius, president of Fraternal Order of Police Lorain Lodge #3, said Kovach will be contesting his case, reports The Morning Journal.
"Officer Kovach is contesting his termination through the grievance procedure and is being afforded all of his contractual rights," Gelenius said in a statement.
"Because the Collective Bargaining Agreement stipulates that disciplinary procedures are private, I will reserve my comments until after the case has been decided. Nonetheless, Officer Kovach is looking forward to presenting his side of the story to a neutral arbitrator this coming September, when the arbitration is scheduled. We do not intend to try this discharge case in the media."