Ohio Parents Say Masks in School Infringe on Religious Beliefs, Sue Health Director
A group of more than two dozen Ohio parents are suing the state's health director over an imposed mask requirement at schools, arguing that the mandate infringes upon their religious beliefs and the ability to raise their children as they wish.
The complaint, filed last week in Putnam County Common Pleas Court, responds to Ohio Department of Health (ODH) Interim Director Lance Himes' order signed August 13, which requires that face coverings be worn in K-12 educational settings in an effort to help mitigate the spread of coronavirus.
Himes' order names several exemptions from the mandate, including students with a disability, mental health condition or medical condition, or if an "established sincerely held religious requirement" does not permit the use of a mask, according to the order.
But the complaint argues that the plaintiffs' right to the free exercise of religion has been violated by the order's language, which insists upon a "religious 'requirement' rather than a belief.'"
When Jennifer Miller, a parent in Putnam County's village of Leipsic, attempted to use the religious exemption, she was denied by her child's school district.
"The School District relied upon [Himes'] order, and acknowledged that Ms. Miller had a sincerely held religious belief, but that was factually distinct from a 'religious requirement' and that Ms. Miller would need to provide evidence of said 'requirement' to qualify for an exemption," according to the complaint.
Lee Strang, a plaintiff and constitutional law professor at the University of Toledo, told The Cincinnati Enquirer that the school board is acting like a church court, effectively deciding whose religious belief is "OK" and whose "isn't good enough."
Strang joined the lawsuit because he believes his son, a first-grader, and other children will be emotionally and psychologically harmed by being required to wear masks all day, he told The Enquirer.
"Plaintiffs believe that the wearing of masks in an educational setting is not conducive to learning and causes emotional, psychological and social problems due to the impersonal and unnatural reality that wearing masks creates," the complaint reads.
A spokeswoman for the ODH declined to comment to Newsweek on the pending litigation.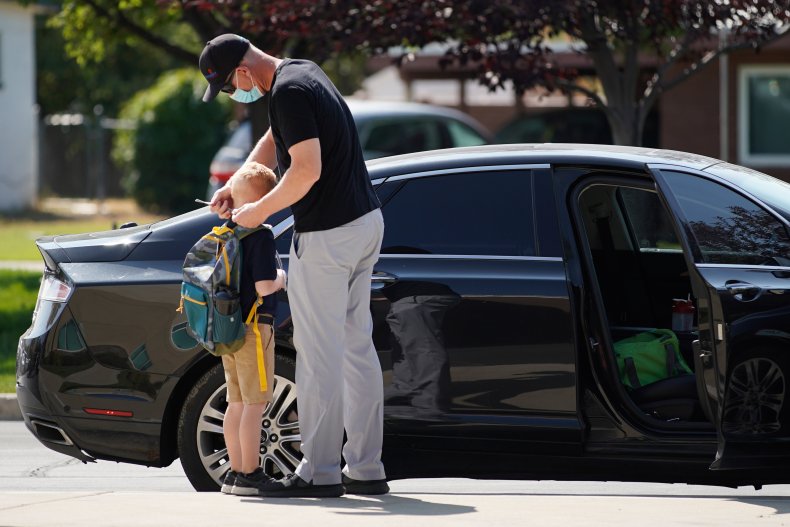 The attorneys further argue that Himes' mask mandate "erodes or destroys" students' personalities, identities and public projection of self, according to the complaint.
Another key argument is that mask mandates have become a political issue, and that by forcing their children to wear a mask, the parents are being forced to make a political statement, The Enquirer reported.
"Plaintiffs dissent from this view, yet are being compelled to participate, and have their children participate in the state's symbolic endorsement of panic over process," according to the complaint.
In addition to these claims, Michael Stahl, an attorney representing the plaintiffs, told Newsweek that another major concern shared by him and the plaintiffs is whether Himes has the legal authority to issue orders such as mask mandates and whether he is using proper processes to enact these orders.
"While other state agencies have used Ohio's process for emergency agency rulemaking regarding COVID, the director of health has not," Stahl said. "Further, it does not appear that the director is acting in conjunction with the administrative body but, rather, on his own claimed authority."
While this is a "terrible time" and COVID-19 is an "awful disease," it does not relieve the government of its duty to act within the bounds of the law, Stahl added.
Newsweek contacted the other attorney listed on the complaint for comment, but did not hear back in time for publication.
Mask mandates have maintained their status as a hot-button issue amid the coronavirus pandemic, both in the U.S. and around the world.
Canada's Global News reported that thousands of anti-mask protesters gathered in Vancouver and Montreal Sunday to criticize the country's response to the pandemic.
Ryan Kulbaba, the organizer of the "March for Freedom" protest in Vancouver, claimed that the rally was to go against "government tyranny" and "government corruption," according to the Global News.
"We want our body, our choice," Kulbaba told a crowd gathered outside the Vancouver Art Gallery, according to the outlet. "This is all due to a virus that has spread [around] the world. It's not called COVID, it's called socialism and communism."
In Missouri, former gubernatorial candidate Saundra McDowell wrote in a Facebook post September 10 that masks are a "symbol of deception and oppression," and that she would no longer be wearing a mask unless she chose to do so.
"Its compliance training for what's to come," McDowell wrote, adding that mask wearing is part of a "demonic ritual" to take away "God-given rights."
This story has been updated to include a comment from Michael Stahl, one of the attorneys representing the plaintiffs.