Ohio Police Fraternal Group Calls on School District to Reconsider 'Thin Blue Line' Flag Ban
A police fraternal organization in Ohio is asking a school district to reconsider a recent ban on a 'Thin Blue Line' flag.
The Ohio Fraternal Order of Police sent a letter Thursday to the Chardon Local School District. The order's president, Gary Wolske, wrote the note to school superintendent Michael Hanlon and posted it on the order's Facebook page.
"On behalf of 25,000 Ohio law enforcement officers, I'm writing to you today to ask your reconsideration of your ban on the use of the 'Blue Line Flag' for two reasons," Wolske wrote.
He indicated that any suggestion that the flag "could even be interpreted as racially motivated is ill considered."
"Second, to find that the feelings of one class of people is more valid than the free speech rights of another class of people isn't acceptable," the letter also read. "The 'Blue Line Flag' is used as a sign of support for law enforcement."
The letter from the fraternal order comes shortly after the school district announced a ban on the "Blue Line Flag." The district was prompted to announce the ban after a high school football player carried the flag onto the field prior to a game last Friday.
In a letter sent to the district's community members, Hanlon stated that while the display of the flag did not appear to be racially motivated, "it is understandable how this could be interpreted as a racially-motivated action and, therefore, not acceptable in a school community."
Hanlon's letter added that the school's district policy does not allow engagement in political activity, and that they understand how displaying the flag "could be perceived as political in nature."
"As a result, this display will not be a part of future pre-game activities at Chardon athletic contests," Hanlon's letter stated. "In addition, measures will be put in place by our Athletic Director to review any planned pre-game displays for possible connections to any form of discrimination or particular political views."
The fraternal order's letter mentioned the Black Lives Matter movement, which has clashed with those in support of law enforcement officials amid the ongoing protests following the death of George Floyd in Minneapolis and the police shooting of Jacob Blake in Wisconsin.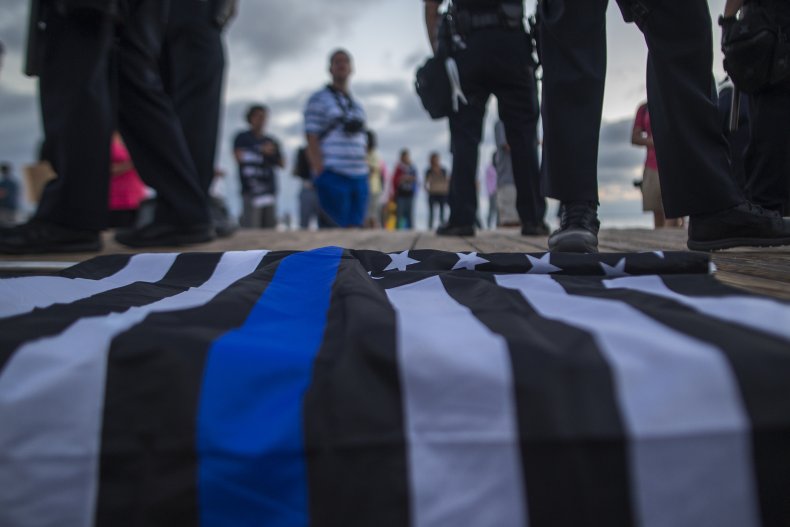 "We live in an era where an organize called Black Lives Matter has called for defunding of police. THAT'S political," Wolske wrote. "Waving a flag supporting police isn't political just because an angry mob has tried to make it so."
Before signing the letter, Wolske added "there's still time to reverse course here and to achieve a result that would be positive. We encourage you to fix this situation."
In an email sent to Newsweek, Wolske wrote "it is very sad that we now live in a society where people believe that a flag that supports law enforcement officers is racist."
"Law enforcement officers are comprised of men and women from many many different races and ethnicities and strive everyday to protect and serve in an unbiased way. In a town like Chardon it is even more disappointing because they have enjoyed a great relationship with the police before and especially since the tragic school shooting there on February 12, 2012," Wolske said, referencing an incident at Chardon High School that resulted in the deaths of three students.
Newsweek reached out to the Chardon Local School District and Hanlon for comment, but did not receive a response in time for publication.