Marjorie Taylor Greene, Who Opposed Capitol Police Medals for Jan. 6 Riot, to Speak at Back the Blue Rally
A month after opposing a move to reward law enforcement officers for defending the U.S. Capitol, Rep. Marjorie Taylor Greene has said she will address a rally in support of the police officer who shot and killed the Black teenage girl Ma'Khia Bryant.
The Georgia congresswoman joined 11 other GOP lawmakers in opposing a resolution passed by the House to award Congressional Gold Medals to the Capitol Police and Metropolitan Police Department officers who protected lawmakers when a mob breached the U.S. Capitol Building on January 6.
The vote passed overwhelmingly 413-12, but Greene later told a town hall in Georgia she detected a blasphemous tone in the resolution's wording, which called the Capitol "the temple of our American Democracy."
Greene said that far from being a temple, the Capitol "is one of the most evil places; horrible things happen there."
When contacted by Newsweek, Greene's spokesperson Nick Dyer, said that she had supported a separate bill proposed by Texas Republican Representative Louie Gohmert to award Capitol police Congressional Gold Medals.
This bill does not refer to the events of January 6 and refers to officers who "passed in January 2021." Greene had also introduced a bill to award medals to police "who have protected our country against Black Lives Matter terrorism," Dyer added.
Greene will lend her support to law enforcement in another way, announcing she would travel to a rally which follows the fatal shooting of 16-year-old Bryant by the Columbus Police Department officer, Nicholas Reardon.
The death of Ma'Khia Bryant sparked protests in the state capital and occurred at just before jurors found former Minneapolis police officer Derek Chauvin guilty of murdering George Floyd.
Michael Woods, the interim chief of the Columbus Division of Police, presented bodycam footage appearing to show Bryant lunging at a female with a knife just before she was shot in the southeast of the city at around 4.45 p.m last Tuesday.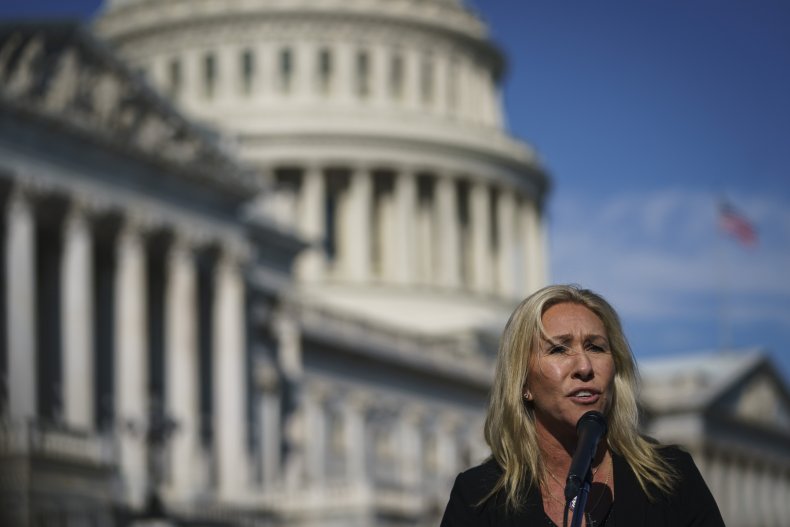 Woods said that officers were allowed to use deadly force against someone if their lives or those of someone else were in danger. The Ohio Bureau of Criminal Investigation (BCI) will conduct an investigation into the shooting.
Greene tweeted on Monday night: "I have been invited to speak at the #BackTheBlue & Freedom Rally at the Ohio State House this Saturday in Columbus.
"As we all saw on video, Officer Reardon saved the young woman's life and should be treated like a hero. See y'all there!" On April 23, she tweeted: "What happened in Columbus, Ohio is a tragedy. The police officer is a hero."
Her Facebook page offers a link for people to register for the event which is due to take place at the Ohio State House West Lawn in Columbus between 9:30 a.m. and 11:30 a.m. local time on Saturday.
The online posting for the event is also on the website of the Ohio Gun Owners group and calls on people to "join us to back the blue and celebrate freedom this Saturday in Columbus."
In a statement provided to Newsweek, Greene said: "I'm proud to 'Back the Blue' and stand with the men and women who protect our communities every single day.
"The attempts at smearing Officer Reardon by hate America leftists are despicable," she added. "As we all saw on video, he saved the life of a young girl who was about to be stabbed to death. I'm proud to rally with those who believe he is a hero. Because he is one."
Also speaking at the event will be Ohio Senate candidate Josh Mandel and former Republican legislator Ron Hood, according to an online poster for the event, ABC 6 reported.
Newsweek has contacted the Ohio BCI for comment.
Update 4/28/21, 12:25 p.m. ET: The headline and article has been updated for clarity and the article updated with comments from Greene's office.