Ohio Priest Rev. Mark Hodges Suspended, Could Be Removed From Church, After Participating in Capitol Rally
Rev. Mark Hodges, an archpriest affiliated with several orthodox churches in southwestern Ohio, was temporarily barred from fulfilling his usual duties after participating in the January 6 rally that preceded the violent assault on the U.S. Capitol came to light. His suspension from priestly responsibilities is due to last three months, and could result in his "defrocking," a term to denote permanent removal from his status within the church.
Hodges claims the disciplinary action stemmed solely from his presence at the rally, where protesters baselessly challenged the presidential election's outcome, according to an email originally dispatched to the archpriest's family and friends, which he sent to Newsweek on Thursday afternoon. However, in additional comments, a spokesperson from the Diocese of the Midwest told Newsweek that its decision was motivated by a collection of factors.
"Fr. Mark was not suspended for his presence at the rally. This suspension is a result of various circumstances that is currently part of an internal process. All of the facts can not be disclosed at this current time. The suspension is not due to one event, but also involves other matters," the spokesperson said.
Hodges, whose official Facebook page prominently showcases anti-abortion rhetoric, homophobia, transphobia and racism, in addition to unfounded claims related to election fraud. A supporter of Donald Trump, the archpriest has posted countless articles that made clear his alignment with the former president's unsubstantiated allegations that President Joe Biden's election victory was illegitimate.
Photos included in an open letter, penned by orthodox priests attached to parishes outside of Hodges' jurisdiction, appeared to confirm his attendance during the "Stop the Steal" rally that invited enormous crowds of Trump's proponents to Washington, D.C., on the first Wednesday of the month. It took place while Congress held joint sessions to certify Biden's Electoral College victory, and thus his overall election triumph.
Despite a forced hiatus, prompted by the violent siege that took place at the Capitol complex immediately after the pro-Trump gathering in which Hodges participated, Congress did eventually ratify Biden's win. He was sworn into office during Wednesday's inauguration ceremony.
Priests addressed their open letter, dated January 9, to leadership at the Orthodox Church in America, Diocese of Chicago and the Midwest. An addendum added to the letter several days later noted that Hodges removed content from his Facebook page that initially substantiated his presence during the "Stop the Steal" event.
"Fellow Orthodox believers and I wanted to report that one of your clergy, the Very Rev. Mark Hodges, was present at Capitol Hill in Washington, D.C. during the siege attempt of the U.S. Capitol building," the letter read.
The archpriest said that he did not participate in the Capitol riot, wherein thousands of Trump's followers stormed and breached the complex itself. Their attack resulted in five deaths and dozens of injuries.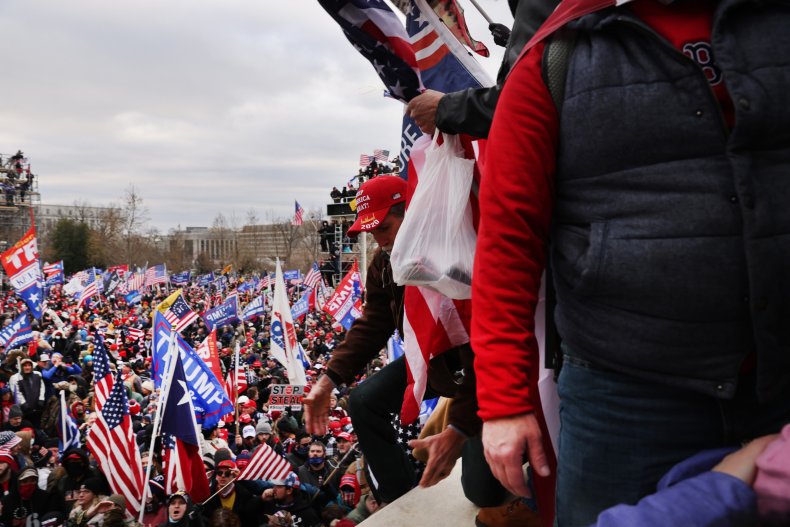 Hodges was "suspended from all priestly functions" on January 12, according to a brief advisory notice shared to the Diocese of the Midwest's website. He previously served at St. Stephen Orthodox Church in Lima, but is no longer affiliated with the religious establishment. According to the Journal-News, a local paper based in southwestern Ohio, Hodges has reportedly acted as a "supply" priest, fulfilling short-term tenures at various congregations, over the past several years.
The archpriest said he found the suspension to be "unjust," reported the Journal-News.