Ohio County GOP Chairman Defends Deleted Image Saying Wildfires Were 'God's Punishment to Liberal California'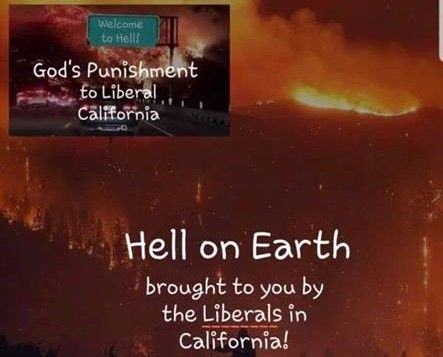 An Ohio county Republican Party chairman and local businessman has sparked controversy and created calls for his resignation after posting an image on Facebook that claimed the deadly wildfires in California were "God's punishment" to liberals.
The image, posted by Columbiana County GOP Chairman Dave Johnson on Sunday, read, "Hell on Earth, brought to you by the Liberals in California!" It also contained smaller writing in the upper left-hand corner that said, "Welcome to Hell! God's punishment to Liberal California." The image featured a background image of a burning forest.
The post, which has since been deleted, caused swift condemnation from local Democrats who called on Johnson to resign.
"I think his demented comments disqualify him from holding positions of public trust," neighboring Mahoning County's Democratic Party Chairman David Betras said on Facebook. "He should, therefore, immediately resign from all the public positions he holds."
Johnson, in addition to being Columbiana County Republican Party chairman, was a delegate to the 2016 Republican National Convention. His LinkedIn shows he is a member of the Columbiana County Elections Board and is a district committeeman for the state GOP party. He also owns two local businesses, Summitville Tiles and Spread Eagle Tavern and Inn.
"Johnson owes the victims, their families and the heroes who fought the fire and participated in rescue efforts an apology," Betras said.
Johnson could not be immediately reached by Newsweek on Tuesday.
Defending his post to Cleveland.com on Monday by saying the phrases were a "figure of speech," Johnson has vowed not to resign. He said the post was made after reading an article and because of his feelings that California Democrats had mismanaged the state. In a statement to the local Ohio newspaper The Vindicator, Johnson said Betras was exploiting the point of the image "to cover his miserable performance in the last election."
"If anyone should resign," Johnson said, "Betras should resign."
Johnson said the intent of the post was "in the eyes of the beholder," and that if he "offended anyone that had a loss of life, then I'm sorry."
As of Monday evening, local officials said the death toll had risen to 79 people with nearly 700 more still missing, making it the deadliest wildfire in a century. What started as a brush fire on November 8 quickly swelled into a raging forest fire that, at its peak, was burning 60 football fields worth of land every minute.
Nearly 12,000 homes, 472 businesses and more than 3,300 barns or sheds had been destroyed as of Monday evening, according to the California Department of Forestry and Fire Protection. Hundreds of fire trucks and thousands of firefighters had contained the blaze to 70 percent.
"Look, that's a meme," Johnson told Cleveland.com of his posted image. "And it's how I feel about liberals, but did I mean that God is going to punish everyone who lives in California? No. It's a figure of speech, and I probably shouldn't have done it. But I did, and it doesn't change how I feel about what's happened in California."
President Donald Trump has also made recent controversial statements regarding the California wildfires. Over the weekend, the president said Finland does not have the same problem with wildfires because they spend "a lot of time on raking and cleaning."
"You've got to take care of the floors," Trump said, standing with California Governor Jerry Brown and Governor-elect Gavin Newsom. "You know the floors of the forest, very important. You look at other countries where they do it differently and it's a whole different story."
Finland's president later said he did not know what Trump was talking about and had no such conversation with him about raking leaves.
In a November 10 tweet, Trump threatened to withhold federal funding to California over the state's "mismanagement" of forests.
In an interview with Fox News on Sunday, Trump said that climate change "contributes a little bit."