Ohio Republican Primary Highlights Need for Trump to Unify GOP if He Wants to Oust Cheney
Tuesday's Republican primary election in Ohio offered a glimpse into what a primary challenge against Representative Liz Cheney could look like and the need for the GOP to rally around one candidate if they want their best chance at ousting the three-term legislator.
Cheney's had a target on her back ever since she voted to impeach former President Donald Trump and laid the blame for the Capitol riot at his feet. Trump's been urging Republicans to only put forth one challenger to Cheney to avoid what happened on Tuesday, where a crowded field of candidates split GOP votes.
"The easiest way to defeat Deplorable Liz Cheney is by having only ONE Conservative candidate run and WIN!" Trump said in a recent statement.
Historically, it's much more difficult to oust an incumbent politician than win in an open race. So, the best way for Trump's supporters to oust Cheney is to consolidate votes to one candidate in the hopes of depriving the legislator of a plurality of votes.
On Tuesday, 11 Republicans faced off in a primary election for the seat left vacant by Representative Steve Stivers. Open seats often attract a lot of candidates, and prominent Republicans were split on who to support.
While Trump endorsed Mike Carey, Governor Kristi Noem, a potential vice presidential pick for Trump if he runs in 2024, backed Ohio GOP chair Jane Timken. Senator Rand Paul threw his support behind former state Representative Ron Hood, who also identifies as a Trump loyalist.
Voters were also split on who the best candidate was to represent the GOP in November's special election. Carey garnered 37 percent of the vote, giving him a plurality and a victory on Tuesday. While he had more than double the support of the next three closest candidates, who each had about 13 percent, he didn't win a majority and in a primary where multiple people challenge an incumbent, that 13 percent could make the difference in the election.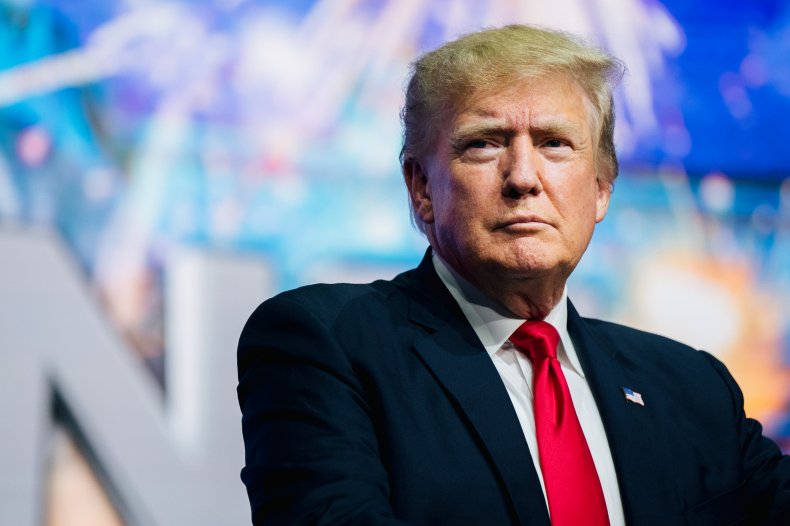 The split vote that played out on Tuesday is exactly what Trump's trying to avoid in the next Wyoming primary. Trump pushed Wyoming legislators to change the primary rules to require that a candidate get a majority of votes to win. In the event no candidate breached the 50 percent threshold, the primary would go into a runoff election, where the top two candidates went head-to-head.
However, the attempt to change the rules failed and Wyoming legislators decided to keep the rule in place that whichever candidate gets the most votes wins, even if it's not the majority. This upped the need for Republicans to coalesce around one candidate and Trump met with several people last week, hoping to make his endorsement in the "next few months."
By pushing for only one candidate to enter the field, the goal is that Republicans will fall in line and drop out of the race if Trump doesn't endorse them.
Facing pressure from her own party to temper her disdain for Trump, Cheney went the other direction and has doubled down on her belief that Trump is not the future of the party. It's cost her a leadership position in the GOP and she's amassed a number of challengers.
"Whatever that primary looks like, whoever I'm going to be up against, I'm gonna fight hard and I'm not gonna take it for granted, but I anticipate that I'll prevail," Cheney told Punchbowl News. "I'm confident I'm gonna win."
Cheney, the daughter of former Vice President Dick Cheney, has a massive financial backing behind her and as of April, she'd out-fundraised her challengers. However, polls indicate Cheney's rejection of Trump has hurt her image in the GOP nationwide.
A Morning Consult poll found Cheney had only a 15 percent favorability rating and was three times more popular among Democrats than members of her own party. Her acceptance of a position on the January 6 committee made House Republican Leader Kevin McCarthy question whether she was closer with Democrats than Republicans and she's already under an onslaught of attacks from people within the GOP.
While polls spell trouble for Cheney, those who want her gone would be foolish to underestimate her ability to win a primary given her name recognition and ability to fundraise.