An Ohio state Republican senator participated in a virtual Zoom meeting while using an office background as he drove his vehicle this week.
During the 13-minute meeting of the Ohio Controlling Board on Monday, State Senator Andrew Brenner could be seen fiddling with his phone, while also turning his camera on and off as he drove with the office background displayed.
"I wasn't distracted. I was paying attention to the driving and listening to it (the meeting,)" Brenner said, The Columbus Dispatch reported. "I had two meetings that were back to back that were in separate locations. And I've actually been on other calls, numerous calls, while driving. Phone calls for the most part but on video calls, I'm not paying attention to the video. To me, it's like a phone call."
He also added, "I was wearing a seat belt and paying attention to the road," and maintained he was parked for a majority of the Controlling Board meeting.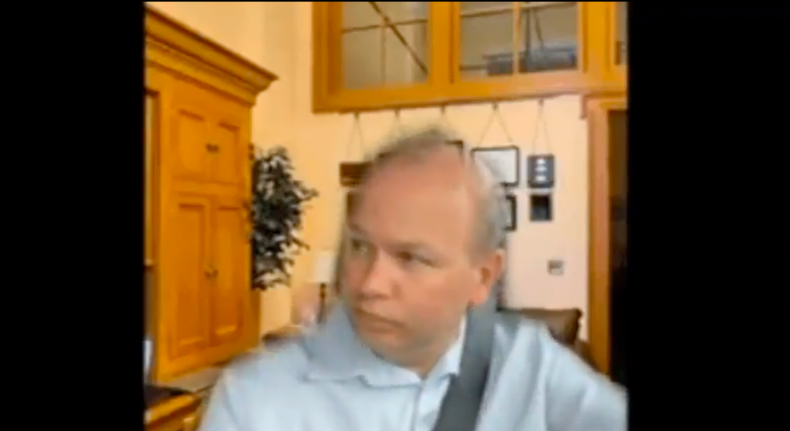 Brenner can be seen wearing his seatbelt and repeatedly turning his head to scan the road and traffic in the video from the Zoom call.
Some users on social media took aim at the state senator after the video clip was shared online.
"This Ohio State Senator thought he was slick, using a Zoom background of his home office while driving... debating a bill for harsher penalties for distracted driving," Brody Logan, a morning news anchor at California-based NBC News affiliate KSEE channel 24 tweeted. Notably, however, the meeting was not actually about harsher penalties for distracted driving—although there was a bill, House Bill 283, introduced the same day regarding distracted driving.
"This Senator is just reminding everyone to always wear your seatbelts and look both ways at intersections," Logan quipped.
"State Sen. Andrew Brenner was wearing a seatbelt and appeared to be driving during today's Ohio Controlling Board virtual meeting. That's a first for me!" Ohio statehouse reporter Andrew Tobias tweeted.
Proposed Ohio House Bill 283, which was not discussed in the virtual meeting, would ban live-streaming, viewing videos, taking photos, using phone applications, and texting while driving in Ohio.
Newsweek reached out to Brenner's office for further comment, but did not immediately receive a response.
Correction May 6, 2021 at 5:35 p.m. ET: This article and its headline inaccurately reported that House Bill 283 was being discussed during the meeting while Brenner was driving. The bill was introduced the same day but not discussed in the virtual meeting. The article and headline have since been corrected.