Ohio Sheriff's Facebook Post Says He Won't Tolerate 'Lawless' Protesters: 'Expect Us to Shoot Back'
Butler County, Ohio, Sheriff Richard Jones threatened to "shoot back" at protesters in a Wednesday Facebook post.
"I won't tolerate it, period. You shoot at the police expect us to shoot back," Jones wrote. "I will not allow my deputies or any law enforcement officer in Butler County to take the abuse I have seen over the past several months."
In a statement titled "If you think about coming to Butler County to abuse police, think again," the sheriff's department said that Jones "has seen the lawlessness in the country over the last few months directed towards police." The department cited clashes between protesters and law enforcement in New York City, Chicago and Portland, Oregon.
"If you come to this county expecting a free pass to harm one of my men or women in uniform, keep in mind, nothing in life is free," Jones added in the statement, which was shared on the department's Facebook page.
His comments came in response to the months-long protests against racial injustice and police brutality that erupted across the nation in the wake of George Floyd's death in Minneapolis police custody.
In a statement released the week after demonstrations began, Jones condemned kneeling during the national anthem—a gesture that has become a symbol of protest among many professional athletes.
While the sheriff called Floyd's death "criminal and unacceptable" and said "there should be justice for all," the release said that "kneeling will always be tied to disrespecting our National Anthem."
"I will kneel before God, but until then, I will not kneel for any cause," Jones said in the June 3 release.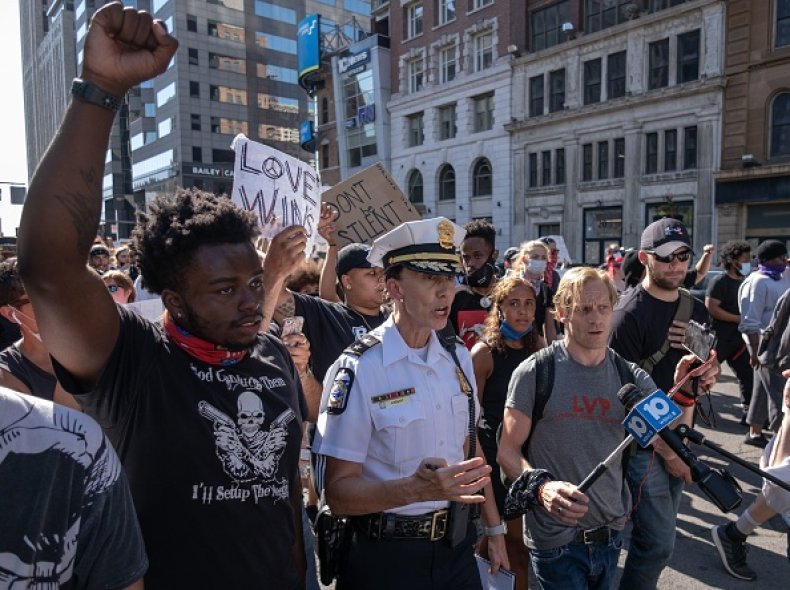 This is not the first time the sheriff has been publicly outspoken about his personal beliefs. Earlier this month, Jones criticized the government's response to the coronavirus pandemic, saying, "We the people are allowing the government too much control. We the people need to take our country back."
In the August 6 Facebook post, he continued, "What is going on here, these cities are using law enforcement to enforce these mandates which I want no part of. My deputies can be more effective elsewhere; this is not the definition of the land of the free."
Again, the department cited happenings in other states, particularly in New York, where traveler checkpoints were being set up, and California, where officials were "threatening to cut off water and electric to churches and any large group that are not complying with the coronavirus enforcement."
Back in July, Jones sent a clear message to Butler County residents that his deputies would not be enforcing Ohio Governor Mike DeWine's face mask mandate. In a video posted to Facebook, the sheriff said. "I am not the mask police. I am not going to enforce any mask wearing. That is not my responsibility. That is not my job."
Asked by CNN Newsroom if he wears a mask, Jones said he does "all the time," adding, "But it should be a choice. You shouldn't have to wear a mask if you don't want to."
Newsweek reached out to Jones for comment but did not hear back before publication.