Ohio Special Election 2018: Why Results Could Be Huge Warning Sign for Trump and Republicans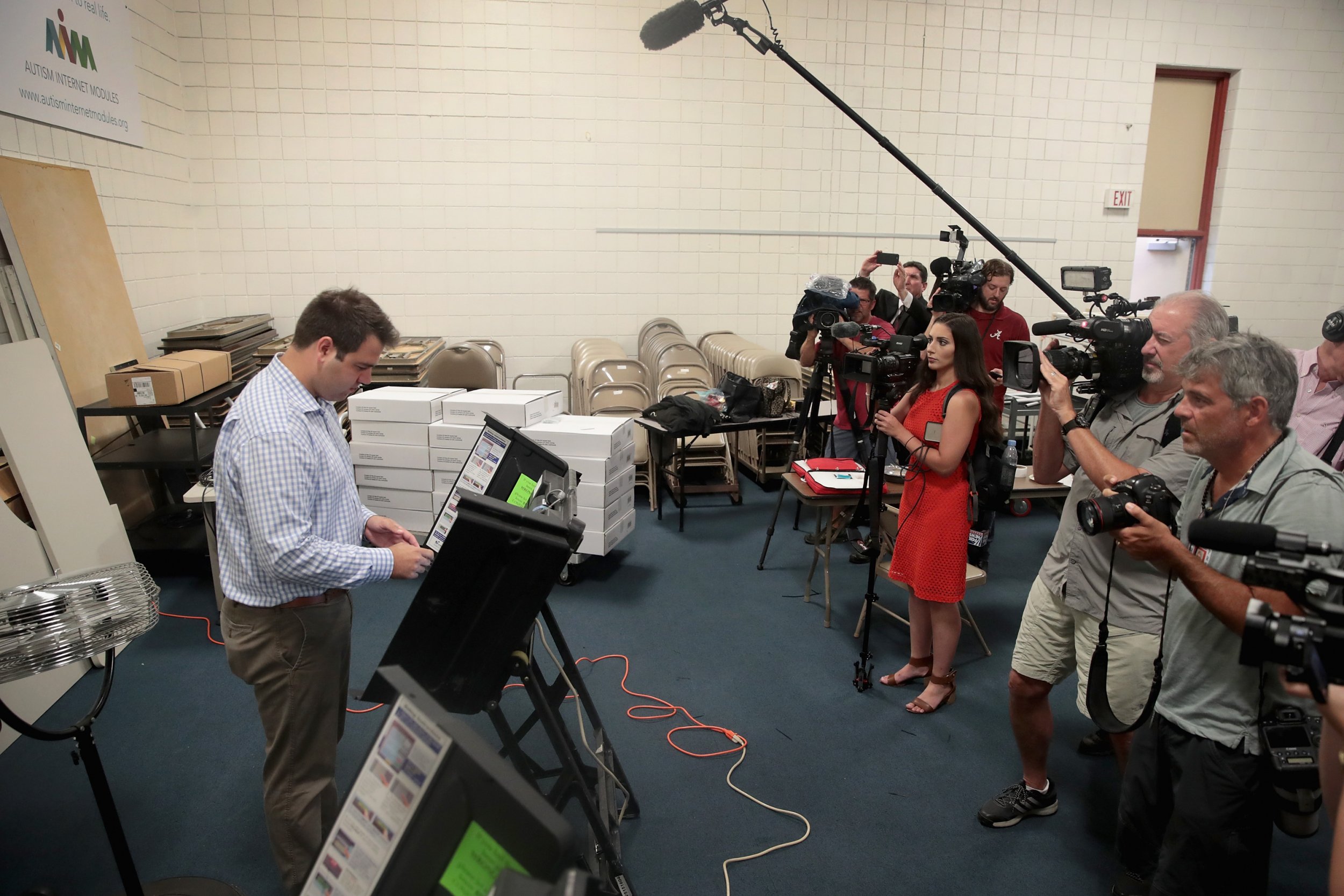 A special Congressional race in Ohio that should be an easy win for Republicans is suddenly competitive, boosting Democratic hopes that a blue wave is coming this November.
When Republican Representative Pat Tiberi announced his retirement in October 2017, it was assumed that the historically Republican district which President Donald Trump won by 11 points in 2016 would remain red. But just hours away from the special election, Danny O'Connor, a 31-year-old Democratic recorder for Franklin County is neck-and-neck with the 56-year-old State Senator Troy Balderson.
Much to the shock of the Republican establishment, O'Connor has outraised his opponent. His campaign has been bolstered by Governor John Kasich's initial reluctance to support his opponent and by O'Connor's criticisms of House Minority Leader Nancy Pelosi.
A Monmouth University poll last week showed Balderson with 44 percent of the vote and O'Connor with 43 percent, just a one-point difference, within a rounding error.
In a last-minute effort to widen the gap between the two candidates, Republicans are throwing money at the election. Republican outside groups have now spent nearly $6.2 million to support Balderson and oppose O'Connor. Outside Democratic groups have spent only about $1.2 million on the same election.
Trump flew to Ohio to rally on Balderson's behalf Saturday just one night after criticizing Ohio native LeBron James on Twitter. The next day, Kasich told ABC's This Week that Balderson had not asked Trump to speak on his behalf and that "the chaos that seems to surround Donald Trump has unnerved a lot of people."
"Suburban women in particular here are the ones that are really turned off," Kasich, a vocal critic of Trump said. "It's really kind of shocking because this should be just a slam dunk and it's not."
A number of special elections in districts Trump won have gone to Democrats. Doug Jones became the first Democrat to win a Senate election in Alabama in 25 years this December when he beat Roy Moore in a special election. Democrat Conor Lamb took Pennsylvania's 18th district after Trump won it by 20 points in 2016.
"Most special elections have seen a shift in favor of Democrats," explained Geoffrey Skelley, a political analyst with the University of Virginia Center for Politics. "Democrats feel emboldened and enthusiastic. You can't take it as a good sign for Republicans that they have to significantly defend seats Trump overwhelmingly won."
Even if O'Connor loses his election Tuesday, there's been significant damage done to the Republican Party, said Skelley. "Even if a Democrat loses by 2 points in a district that Trump won by 11, you have to take that as a sign of a shift," he explained. "This is historically one of the most Republican parts of the state."
Looking forward to November, said Skelley, "there are some open seats that aren't that different from the Ohio 12th and there might be some upsets. You can see that this environment is Democratic-leaning and that there's a decent shot at the left taking back the House."