Ohio Special Election Leaves DNC Chair 'Optimistic' About Midterms—but Trump Says the Same Thing
The close result in the Ohio special election on Tuesday has left Democratic National Committee Chairman Tom Perez optimistic about the November midterms, he said in an interview with CNN on Wednesday.
Speaking in the wake of a result that teeters on a knife edge and remains too close to call, Perez suggested the tight race was good news for Democrats—particularly given that Ohio's 12th District has been held by a Republican for 35 years.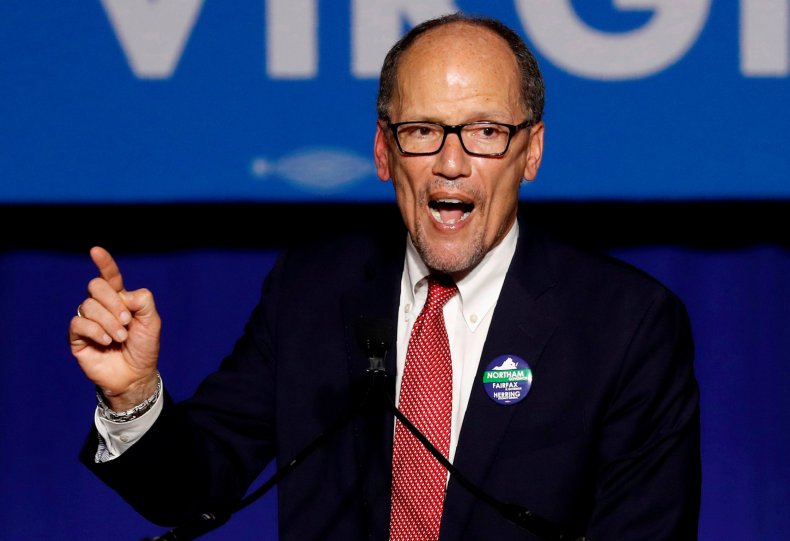 "This gives me optimism," Perez said in an interview with CNN's New Day on the results of the House race between Republican Troy Balderson and Democrat Danny O'Connor.
"Not only about this seat but about other House seats, the U.S. Senate, and governor's races," he said.
The race also appeared to have left President Donald trump brimming with optimism as he called victory for GOP candidate Balderson even as the race remained too close to call. With 3,435 provisional ballots still to be counted, Balderson was leading O'Connor by 0.9 percentage points on Wednesday, with state rules suggesting a slimmer margin could result in a recount.
"When I decided to go to Ohio for Troy Balderson, he was down in early voting 64 to 36. That was not good," Trump said in a tweet on Tuesday night.
"After my speech on Saturday night, there was a big turn for the better. Now Troy wins a great victory during a very tough time of the year for voting. He will win BIG in Nov," he added.
Trump's claim that his appearance helped turn around Balderson's fortunes sp dramatically was incorrect. Two polls before Trump's rally on Saturday showed Balderson and O'Connor within a point of each other.
Trump's talk didn't appear to have made any impression on Perez, who insisted that the Democrats had a good chance of taking control of the House in November—using the Ohio race as an indicator that the GOP would have to fight hard not to lose seats to the Democrats.
"There's 60 seats for the House...that are more competitive than this race yesterday," Perez told CNN.
"And so as I look at this race…and I look at the landscape not only in that district but across America, people want candidates who are going to be fighting for health care. People want candidates who are going to protect Social Security and Medicare. People want candidates who are trying to bring people together," he said.