Ohio State Buckeyes Crush the Peaking Ducks for National Title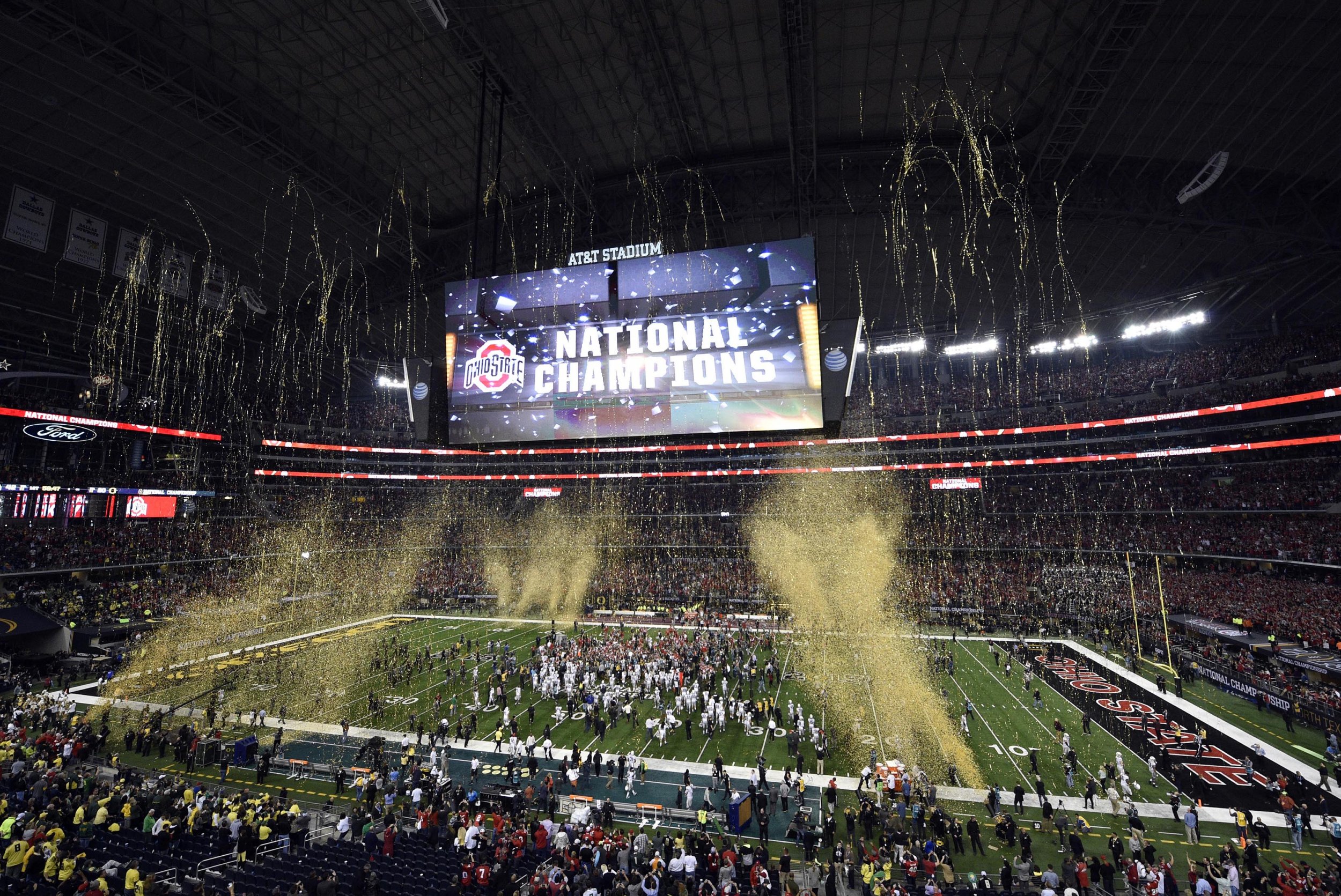 It happened late in the third quarter, as flawed but inexorable Ohio State nursed a 21-20 lead against Oregon in Monday night's national championship game. Although the Buckeyes would ultimately win the inaugural and prolix College Football Playoff National Championship Game 42-20, at this moment the outcome was very much in doubt. That is, before this moment: The game's signature play took place in a 21st century sports Alhambra in a contest that was being "megacast" by ESPN, but was as primal as a pair of rams butting horns on the side of a cliff.
After Oregon had marched down the field on the game's opening drive to stake itself to a 7-0 lead, the Buckeyes had appeared dominant. However, both of Ohio State's second-half drives thus far had ended in careless turnovers—giveaways, truly—and coach Urban Meyer's sideline gesticulations after each reminded all who were watching that this man, only 50, had once retired due to chest pains and depression.
Now the Buckeyes faced third-and-three at the Ducks' 28, with roughly two minutes remaining in the third quarter. Cardale Jones, the school's ostensible third-string quarterback, was flushed from the pocket. Jones, a 6-foot-5, 250-pound redshirt sophomore from Cleveland, darted upfield where, two yards shy of the first down, he was met head on by Oregon's 6-foot-4, 310-pound nose tackle, Alex Balducci.
Quarterbacks are not designed to withstand head-on collisions with nose tackles, much like Jaguars are not built to withstand such crashes with HumVees. Boom! Jones, who admittedly is built more like a tight end, exploded into Balducci and rocked him one yard backward. He continued forward, taking his team with him as he has done ever since he was pressed into service in late November, and crossed the first-down marker.
Three plays later, Ezekiel Elliott rushed it in from nine yards out on the final play of the third quarter and the Buckeyes led 28-20. Ohio State, which had been deemed roadkill at least three times this season, were about to become the only school who will ever be able to claim it won the first authorized college football playoff.
"This will go down as one of the great stories in college football history," Meyer, a native Ohioan, said afterward, and who are we to question him?
After all, this Buckeyes team lost its Heisman Trophy candidate quarterback, Braxton Miller, due to a season-ending injury in August. When Ohio State lost by two touchdowns at home to unranked Virginia Tech on September 6—the same day Oregon spanked another Big Ten favorite, Michigan State, by 18 points in Eugene—not a few pundits pulled the plug on the Buckeyes'—and the conference's—chances to reach the four-team playoff.
That was before the advent of backup quarterback J.T. Barrett, who proved more than a capable understudy. The native Texan set a Big Ten record, accounting for 44 touchdowns running or passing, and finished fifth in the Heisman Trophy balloting. However, before the Wichita Falls, Texas, native could consummate a sentimental homecoming script for a national title game in Arlington, Texas, he suffered a broken ankle in the fourth quarter of the Buckeyes' final regular season game, against longtime rival Michigan.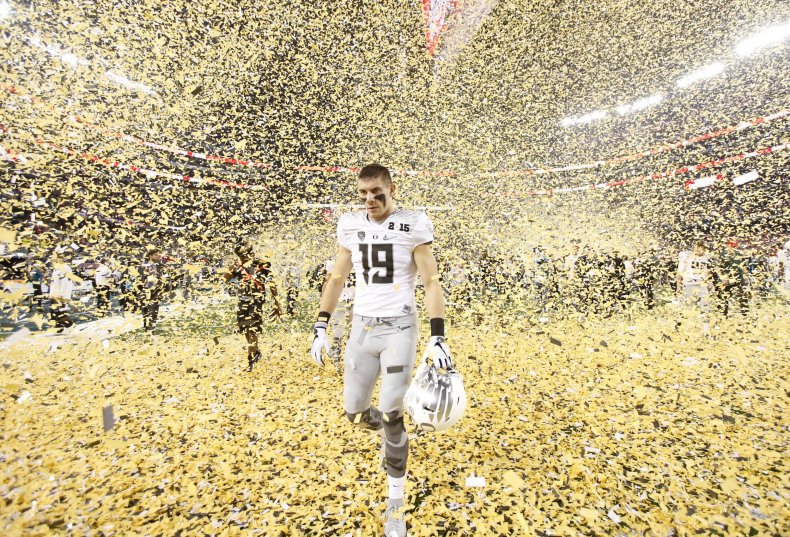 As November bled into December, Ohio State remained on the outside looking in. The Buckeyes, 11-1, were ranked fifth by the College Football Playoff selection committee and were about to take the field in the Big Ten championship game with a quarterback who had yet to make a collegiate start. At that point Cardale Jones's lone brush with fame was for an ill-fated tweet he had sent out two years earlier as a freshman: "Why should we have to go to class if we came here to play FOOTBALL. We ain't come to play SCHOOL classes are POINTLESS."
Whatever. Jones and the Buckeyes ravaged Wisconsin and tailback Melvin Gordon, who would finish second in the Heisman Trophy balloting, 59-0. We will never know what exactly was said in the playoff selection committee room that weekend—perhaps someone reminded his colleagues that the top two television markets when No. 5 Notre Dame visited No. 2 Florida State back in October were Birmingham, Alabama, and Columbus, Ohio—but that weekend the Buckeyes leap-frogged the Horned Frogs of TCU into the college football final four. (The Horned Frogs had won by 52 points that afternoon, but their conference, the Big 12, does not have a postseason championship game—yet.).
And so, after crashing the party as a No. 4 seed, the Buckeyes laid waste to the field. In Jones's three games as a starter Ohio State tackled a trio of opponents that featured the three Heisman Trophy finalists (Gordon; Amari Cooper of Alabama; and this year's winner, Marcus Mariota of Oregon). Ohio State silenced—at least for a season—the idea of Southeastern Conference hegemony by overcoming Alabama in the Sugar Bowl, then debunked the "Speed Kills" narrative of the Ducks by limiting them to less than half their average points per game (47).
For Meyer, the Urban renewal project is complete. Four autumns ago, he was a burnt-out former coach doing commentary on ESPN. In three seasons in Columbus he is 38-3 and with last night's victory is only the second coach (Alabama's Nick Saban) to win national titles at two different schools (Meyer got two at Florida). Like Saban, Meyer has now won three national championships in the past decade and in each of his three title-clinching wins, his squad triumphed over that season's Heisman Trophy winner (Meyer's Florida teams beat Troy Smith and Ohio State in 2007 and Sam Bradford and Oklahoma in 2009).
Meanwhile, college football found an ideal balance between the chaos of the BCS system and the madness of, well, March Madness. It's worth noting—and so we will—that over the weekend four of the nation's college basketball teams ranked in the top seven (No. 2 Duke, No. 4 Wisconsin, No. 5 Louisville and No. 7 Arizona) lost, and all but the Cardinals to unranked opponents. Top-ranked Kentucky needed double-overtime to escape with a victory at unranked Texas A&M.
That rash of upsets elicited two responses from the sports world: Ho and Hum. That's because everyone knows the college basketball season does not really begin until the conference tournaments commence in late February and early March. Sixty-eight teams qualify for the NCAA men's basketball tournament, where a 6-0 record is the equivalent of a gavel hammering down as the judge declares, "Objection overruled."
No one thought last season that Connecticut was one of the nation's top four college hoops squads. But the Huskies won the national championship. In college basketball, November, December, January and February is just a four-month dress rehearsal.
At the other end of the spectrum was a college football format that heretofore would have eliminated the Buckeyes two weeks before the autumnal equinox. Play out the scenario in the BCS format and we'd likely have seen No. 1 Alabama facing undefeated defending national champion Florida State in the national championship game. Oregon, as it has before, would be left to quack about East Coast bias. The Buckeyes and their denizens, curiously enough, would have been left to sate their bowl appetites with a Rose Bowl date versus…the Ducks…in a contest that would have had no bearing on who won the national championship.
Instead, this season provided an opportunity for more inclusion without giving fans a season that was more watered-down than the vodka tonics at a strip joint (not that we'd know). Last night in Arlington, Texas, and 11 days earlier in New Orleans versus Alabama, Ohio State proved it belonged. It wasn't just a matter that the better team won. No, the best team won.