Ohio State Budget Slashed By $775 Million For Two Months To Offset Impact of Coronavirus Pandemic
Ohio's legislature is implementing a $775 million reduction in state spending through the end of June, Governor Mike DeWine announced on Tuesday.
The eight-week timeframe for upcoming budget cuts, which will primarily affect Ohio's K-12 schools, colleges and Medicaid programs, was determined to coincide with the current fiscal year's completion.
Addressing state residents during a news conference held on Tuesday, DeWine explained that Ohio's general revenue fund has fallen below estimated budget projections established at the start of the fiscal year over the course of the new coronavirus pandemic. In messages shared to Twitter later Tuesday afternoon, the governor said economic shortfalls caused by the outbreak were responsible for the downturn in state revenues, which were "on track" to meet yearly estimates at the end of February.
"As we have all seen, COVID-19 has had a profound impact on the American economy. And Ohio's economy as well. Prior to the onset of the coronavirus pandemic, Ohio's economy was strong and our budget was on track," his office wrote in a tweet. "For example, by the end of February, state revenues for the fiscal year were ahead of estimates by over $200 million. We now have the figures in through the month of April, and our fiscal year-to-date revenues have taken a dramatic turn."
Referencing analysis from Ohio's Office of Budget and Management, the governor's office noted that state revenues are expected to remain below budget estimates into the next fiscal year. To prepare for further economic suppression in light of those projections, DeWine opted not to use Ohio's 'Rainy Day' emergency fund, which totals $2.69 billion. Instead, a handful of state-funded departments will confront budget reductions roughly equating to the estimated $776.9 million decrease in tax revenues incurred by the state since March.
DeWine's office said Ohio's education sectors will face the most significant cuts, with $400 million withdrawn from state expenditures to K-12 schools and higher education institutions, as well as an additional $55 million taken from other areas of the legislature's budget related to education. Ohio's Medicaid programs will see a $210 million reduction in state funds, and the remaining $100 million difference will be cut from spending to all other state agencies.
"Decisions like this are extremely difficult, but are part of my responsibility, as your governor, to make. While we do not know what the coming months will hold, we do know that COVID-19 is here with us and will be here for quite some time," DeWine's office wrote in another tweet Tuesday afternoon, adding, "If we don't make these cuts now, the cuts we will have to make next year will be more dramatic."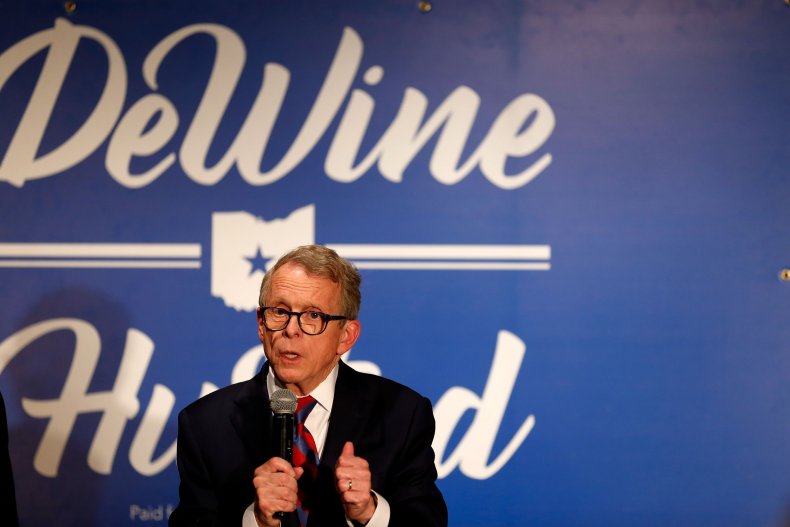 Certain segments of Ohio's economy have begun to reopen after DeWine issued the state's stay-at-home order, in conjunction with mandated nonessential business closures, in March. With social distancing and sanitation measures in place, Ohio healthcare providers were permitted to resume operations on Friday, while general offices followed on Monday, alongside manufacturing, distribution and construction companies.
Additional consumer, retail and service providers will reopen on May 12. Schools will remain closed for in-person instruction, as will personal care service facilities, theaters and recreational sites. Restaurants and bars continue to operate as take-out and delivery service establishments only. These restrictions are in place until further notice.
According to Johns Hopkins University's tracker, Ohio has confirmed close to 21,000 total cases of the new coronavirus and 1,135 deaths as of Tuesday afternoon.
Ohio State Budget Slashed By $775 Million For Two Months To Offset Impact of Coronavirus Pandemic | U.S.