The NFL's Likely Top Draft Pick Was Ejected From His Final College Game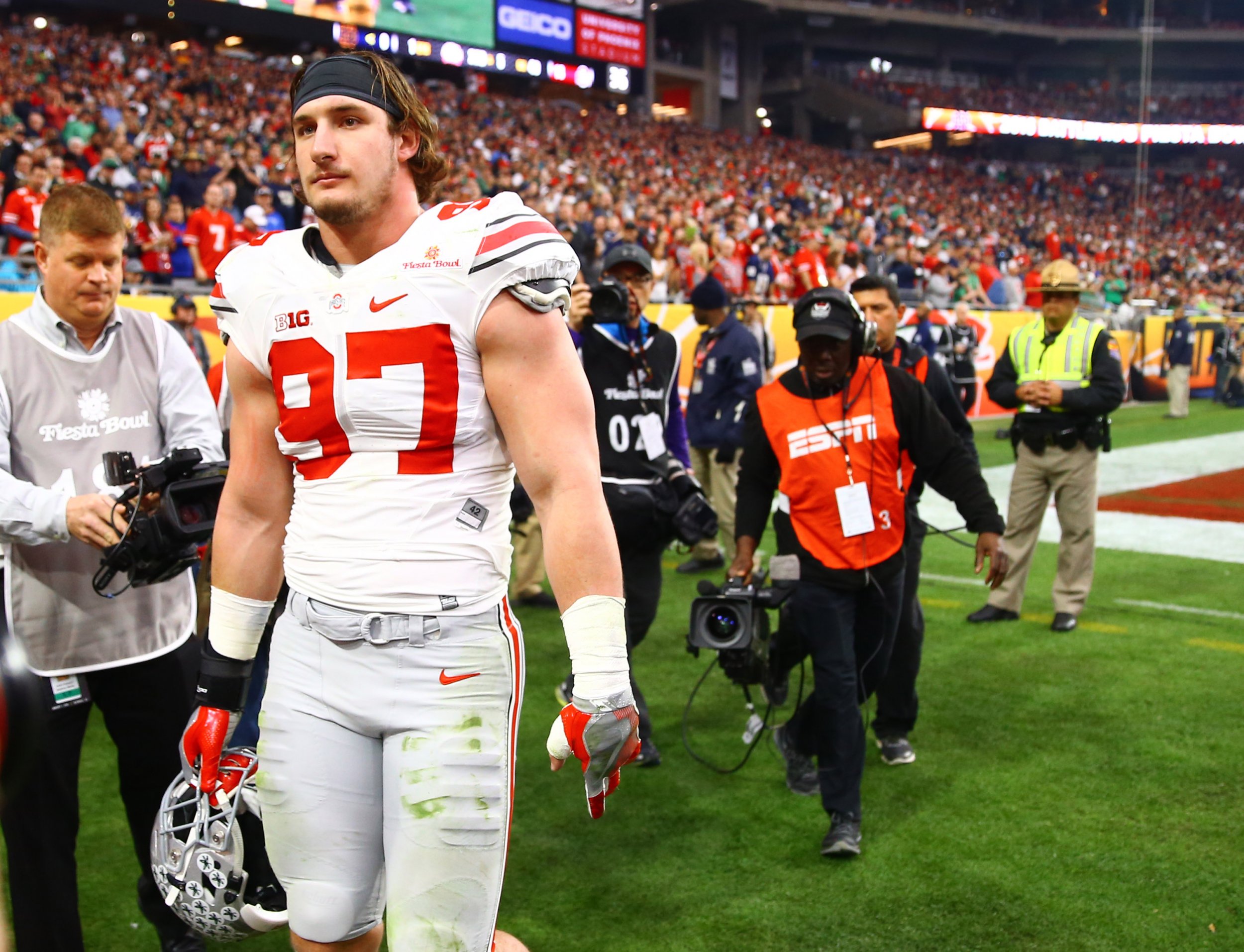 Most experts project Ohio State defensive end Joey Bosa to be the first overall pick of the 2016 NFL Draft. The 6'6", 275-pound Florida native is a fierce edge rusher who should be able fit right into any NFL defensive scheme. On December 31, the day before the Buckeyes were to take on Notre Dame in the Fiesta Bowl, Bosa made it official that his professional career will begin this year by telling coach Urban Meyer that he would indeed be forgoing his senior season to enter the NFL Draft. All that was left was his final college game on New Year's Day.
But for Bosa, that final game didn't even last 15 minutes. In the first quarter of Friday's Fiesta Bowl, he was ejected for "targeting," which the NCAA rule book defines as when "a player takes aim at an opponent for purposes of attacking with forcible contact that goes beyond making a legal tackle or a legal block or playing the ball." Here's the hit in question. Notre Dame's DeShone Kizer was the unlucky recepient of Bosa's helmet.
It may not seem like enough to warrant an ejection, but with both the NFL and NCAA focusing on player safety more than ever, recklessly flying into an opponent's head is always going to draw a flag, especially in the collegiate ranks. On Thursday, Louisville linebacker James Burgess was ejected for targeting after only 11 seconds had elapsed in the Music City Bowl. The message is clear: Lead with your head, leave the game.
Shortly after his ejection on Friday, Bosa expressed his regret on Twitter.