Ohio State Schedule: Which Games Will Urban Meyer Miss?
Ohio State football coach Urban Meyer has been suspended for the three games after he was found guilty of mishandling domestic assault allegations made against assistant coach Zach Smith.
The university announced its decision on August 22 at the end of a two-week investigation, which revealed Meyer had also deliberately misinterpreted what he knew about Smith's circumstances in a public statement last month.
Suspended without pay for the next three weeks, Meyer, who was placed on administrative leave on August 1, has also been banned from interacting with the football team until September 22. Athletic director Gene Smith has also been suspended without pay and his suspension will take effect between August 31 and September 16.
"Although neither Urban Meyer nor Gene Smith condoned or covered up the alleged domestic abuse by Zach Smith, they failed to take sufficient management action relating to Zach Smith's misconduct and retained an Assistant Coach who was not performing as an appropriate role model for OSU student-athletes," the school said in a statement.
"Permitting such misconduct to continue is not consistent with the values of the University and reflects poorly on Coach Meyer, Athletic Director Smith, and the University. Their handling of this matter did not exhibit the kind of leadership and high standards that we expect of our Athletic Director, Head Coach, Assistant Coaches and all on the football staff."
Zach Smith was arrested for domestic assault in 2009, when he was working as a graduate assistant on Meyer's staff at the University of Florida. Last month, Smith's ex-wife, Courtney, alleged Meyer and other staff on the Buckeyes' football program knew her husband was abusing her, but failed to stop him.
Meyer, who fired Smith on July 23 after a series of allegations of abuse emerged, initially denied knowing of any domestic issues between the Smiths, before backtracking only days after he was placed on leave.
The suspension means Meyer will miss Ohio State's first three games of the season. The Buckeyes open their campaign with back-to-back home games against Oregon State and Rutgers—whom they thrashed 56-0 last season—on September 1 and 8 respectively, before taking on Texas Christian University in Arlington on September 15.
Meyer, who is under contract until 2022 and will earn $7.6 million this season, will be back for the home game against Tulane the following week.
"I wish I could go back and make different decisions, but I can't," Meyer said. "These difficult lessons are a constant reminder of the duties and obligations that I have as a member of this university and this community. I take full responsibility, I take this responsibility very seriously and I will do better."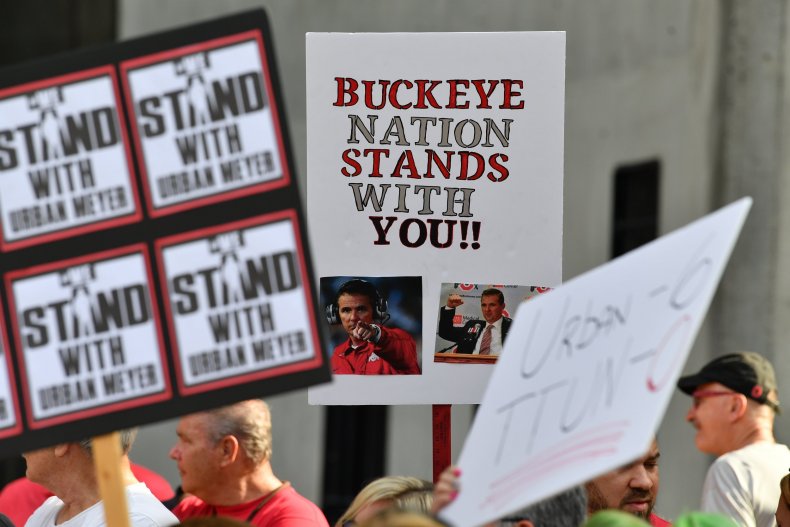 The Buckeyes went 12-2 last season, recording a 8-1 record in the Big Ten to win the East division and they defeated Wisconsin in the Big Ten Championship 27-21, but missed out on an invitation to the College Football Playoff.
Ohio State was instead invited to the Cotton Bowl Classic, where they beat University of South Carolina 24-7.
The AP Top 25 preseason rankings released earlier this week had the Buckeyes in fifth spot, behind Alabama, Clemson, Georgia and Wisconsin. Despite losing seven players to the NFL draft—including first-round picks Denzel Ward and Billy Price—the Buckeyes have retained some of their most talented players, but the fallout of the Meyer case could take its toll.
One of the most successful college football coaches of the modern era, Meyer has a 73-8 record in seven seasons at Ohio State, which he led to the national championship in 2014. The 54-year-old also won two national championships–in 2006 and 2008–during a five-year spell with the University of Florida, in which he went 65-15.