Ohio State, Texas A&M Must Schedule Each Other After COVID Cancelations
Should either Ohio State or Texas A&M be excluded from this season's College Football Playoff (CFP), their fan bases would likely call for an expanded playoff. The Buckeyes and Aggies are ranked No. 4 and 5, respectively, in the latest CFP standings.
Both teams probably feel they deserve to be in the top four, and both teams had their games this weekend canceled because their opponents had COVID-19 issues. Now, Ohio State and Texas A&M should man up and play each other.
First, here's what happened to get us to this point:
On Monday, Ole Miss was forced to cancel its road game at No. 5 Texas A&M because of COVID cases in the Rebels' program.
On Tuesday, Michigan canceled its game against No. 4 Ohio State because of soaring COVID cases on the Ann Arbor campus.
Second, here are some facts:
That means neither the No. 4 or No. 5 team will have games this weekend, and both could use another signature game to impress the CFP committee. Each team has one impressive home win this season. Texas A&M defeated No. 6 Florida on a last-second field goal, and Ohio State held off a late rally to beat No. 12 Indiana.
Ohio State (5-0) likely won't have enough games to qualify for the Big Ten Championship game next weekend (Dec. 19), which would make it difficult for the CFP committee to place the Buckeyes into the playoff.
Texas A&M (6-1) lost its only game at No. 1 Alabama this season, and the Aggies have looked tough in their other games. However, Florida looms just one spot behind them (mostly because of the head-to-head clash). But if Florida knocks off Alabama in the SEC Championship game, the Gators could leap the Aggies and maybe get into the top four.
No. 2 Notre Dame (9-0) and No. 3 Clemson (8-1) will play next weekend in the ACC Championship. A Notre Dame win would knock Clemson from the playoffs, but a Clemson win doesn't necessarily knock Notre Dame from the mix. Notre Dame beat Clemson earlier this season in double overtime.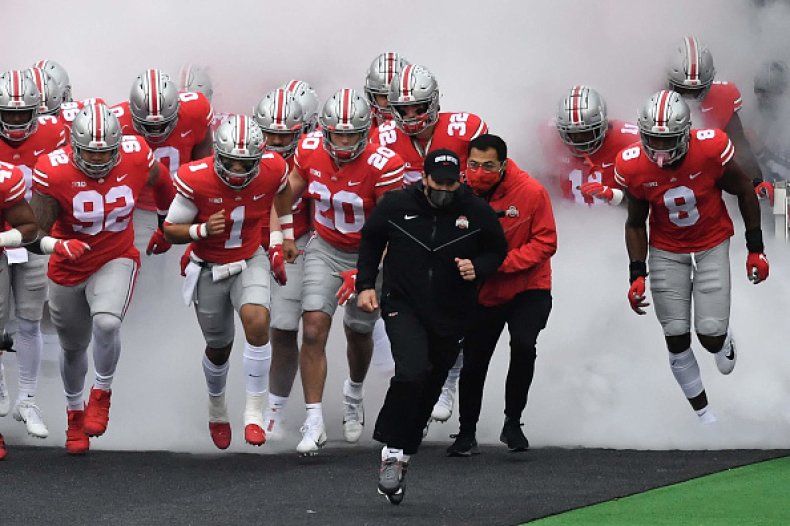 Third:
An Ohio State versus Texas A&M game this weekend would have extraordinary build up, would have huge playoff implications and it would probably have high drama. All of those make for great college football.
BYU and Coastal Carolina pulled this off just last week, and with only two days of notice. Both teams were 9-0, and Coastal Carolina had its game against Liberty canceled because of COVID issues with Liberty. BYU and Coastal Carolina agreed on Thursday to have a game Saturday in Conway, South Carolina, home of the Chanticleers. In return, Coastal Carolina will play a future game at BYU. Coastal Carolina won the game, and no one had harsh words for BYU scheduling the last-minute game.
Ohio State could make the trip to College Station, Texas, this weekend and play before a crowd of about 20,000, complete with the Fighting Texas Aggie Band. It would be a defacto quarterfinal game for the College Football Playoff, it would give Ohio State enough games to qualify for the Big Ten Championship and it could give the Buckeyes another future home game against an SEC opponent.
Lastly, if either of these teams wants to prove they belong in the playoff, they should meet on the field to decide it and not let a group of people locked in a hotel ballroom in Dallas try to say who's better.
The players deserve it. The fans want it. College football needs it.