11 Wounded, Assailant Killed In Ohio State University Attack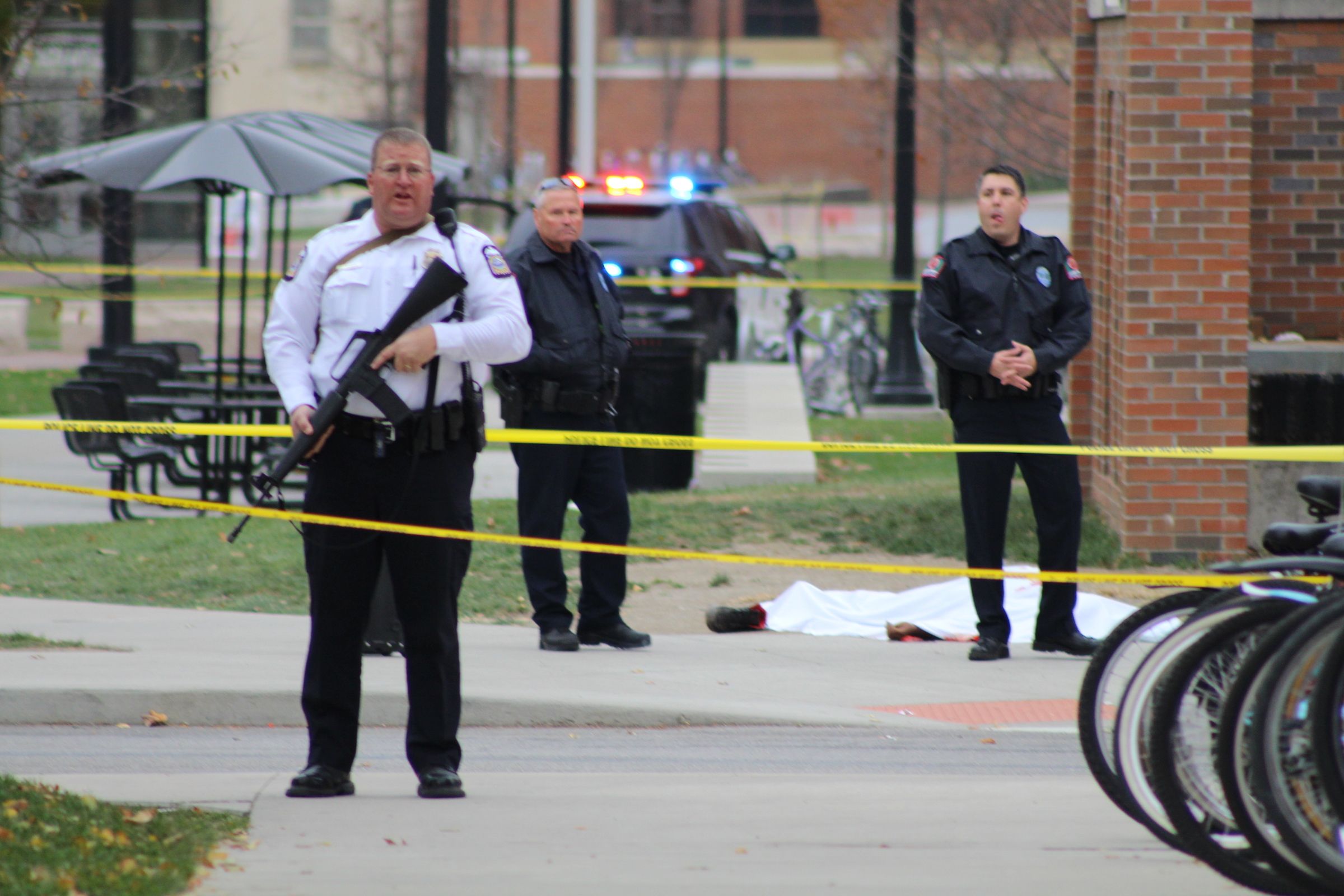 Updated | An assailant used a vehicle and a butcher knife to attack pedestrians at Ohio State University on Wednesday, school officials said at a press conference. The male suspect injured 11 people before being shot and killed by a campus police officer.
Just before 10 a.m., the suspect drove a vehicle into a group of pedestrians who were gathered on a street corner on the Columbus, Ohio, campus, OSU's president, Dr. Michael Drake, said. The suspect then exited the vehicle and slashed more people with a butcher knife. About a minute after campus police received the report, an officer responded and shot and killed the assailant, according to a campus public safety official.
"We prepare for situations like this but always hope never to have one," Drake said.
Related: Author Q&A: School Shooters: Understanding High School, College and Adult Perpetrators
None of the 11 victims have life-threatening injuries, a medical official said. The injuries are all related to the stabbing and vehicle ramming, though the university initially described the assailant as an "active shooter." The victims include at least seven students, one faculty member and one other university employee.
The university of 66,000 students first issued a campus alert at around 10 a.m., instructing people to shelter in place and to "run hide fight." The alert said a shooter was in the vicinity of Watts Hall, a building that houses the materials science and engineering department.
Gerard Basalla, the student body president, says he was at home and getting ready to head to class when he got the alert. "I really was just fortunate that my class was a little later in the day," he tells Newsweek. Once he learned of the incident, he was in constant contact with school administrators so that he could keep students informed. "One of my main jobs is to be able to get out information as fast as humanly possible to students, and I feel like we did that today," he says.
University officials gave the all-clear at around 11:30 a.m. The school said classes were canceled for the rest of the day and that 14 buildings would be closed until further notice.
The student newspaper, The Lantern, published images showing multiple police cars and other emergency vehicles on campus, and caution tape. Students posted additional images showing that they had used chairs to barricade a classroom door from the inside.
The Bureau of Alcohol, Tobacco, Firearms and Explosives said it was responding to the incident. Facebook reportedly activated its "safety check" feature so users in the area could report that they were safe. The nearby OSU Wexner Medical Center said in a statement that it was treating several victims.
At a second press conference on Wednesday, the university identified the assailant as Abdul Razak Ali Artan, an Ohio State student. An official said security camera footage shows that Artan was alone in the vehicle.
Artan is a Somali refugee who came to the United States in 2014 and was a legal permanent resident, NBC News reported. In an August interview with The Lantern, Artan said he had just transferred from nearby Columbus State Community College. (That school listed him as having graduated in May.) "This place is huge, and I don't even know where to pray," he told the publication. "I wanted to pray in the open, but I was kind of scared with everything going on in the media.... If people look at me, a Muslim praying, I don't know what they're going to think, what's going to happen." The publication identified him at the time as a third-year student studying logistics management.
The university identified the campus officer who shot and killed the assailant as Alan Horujko. He joined the campus force in January 2015. He is an alumnus of the university.
School and local officials said they are still investigating the assailant's motive. However, security officials have in recent years warned of an uptick in vehicle ramming attacks, with extremists or other types of assailants using vehicles to kill people. At least one ramming incident previously happened on an American college campus, at the University of North Carolina in 2006. No one was killed.
In 2010, the Department of Homeland Security and the FBI released a memo warning of vehicle ramming attacks. In the past three years, Al-Qaeda and ISIS have encouraged such attacks in their publications. In July, an assailant drove a truck into a crowd of people in Nice, France, killing at least 84.
Extremist networks have also encouraged followers to use knives in attacks. ISIS claimed responsibility after a man stabbed nine people in a Minnesota mall in September.
"Ohio's thoughts and prayers go out to the Ohio State community," Governor John Kasich said on Twitter. "Be safe, listen to first responders." Kasich also spoke at the second press conference.
Basalla, the student body president, says he has received messages of support from student leaders across the country.
Read more from Newsweek.com:
-France Attack Aftermath: Security Experts Warn of Uptick in Vehicular Terrorism
-What Led Jaylen Fryberg to Commit the Deadliest High School Shooting in a Decade?
-Mass Shootings and News Media: A Connection?
This story has been updated with images, details from two press conferences and comments from Student Body President Gerard Basalla.